Event running July 21-24 promises more than 50 performances to help people discover the Wharf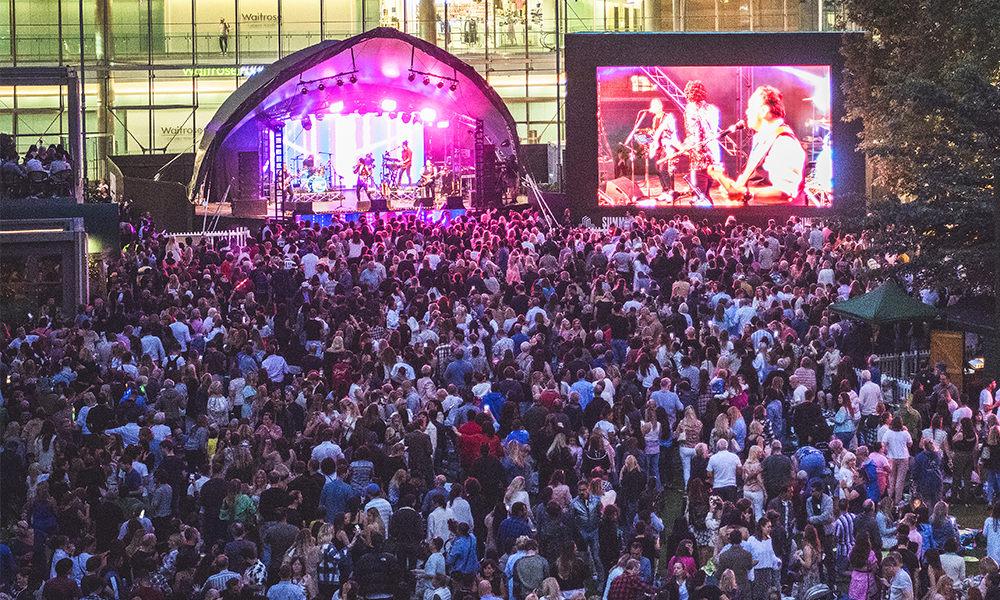 Subscribe to Wharf Life's weekly newsletter here
Grandmaster Flash. Live, in Canada Square Park. For free.
Those words alone are testament to the fact that Festival14 is something new for Canary Wharf.
The DJ and hip hop pioneer –responsible for the first expression of scratching ever released on a record – is set to mix among the towers as the headline act on the main stage on July 21, 2022. And that's just the first night.
Running Thursday-Sunday, Festival14 is set to fill the estate with more than 50 performances encompassing comedy, theatre, dance, family activities and, of course, music.
our MUSIC picks for FESTIVAL14
- July 21 - Grandmaster Flash
8.15pm, free, Canada Square Park
- July 22 - House Gospel Choir
8.30pm, free, Canada Square Park
- July 23 - Ronnie Scotts Jazz Orchestra
time TBC, free, Canada Square Park
- July 24 - Sona
time TBC, free, Canada Square Park
The mostly free events will run daily between noon and 10pm at a diverse selection of venues designed specifically to encourage visitors to explore Canary Wharf.
"We'd seen the success of events like our Winter Lights festival, which takes place across lots of different parts of the estate and the amazing buzz people feel when they arrive for that," said senior arts and events manager at Canary Wharf Group, Pippa Dale.
"So we wanted to create a similar feeling for Festival14 so that it's very obvious when people get here that there's something really exciting and new happening.
"People in Canary Wharf are often quite set on the places they know – the places they go to lunch, for example – so we're hoping this will help them explore and discover different areas."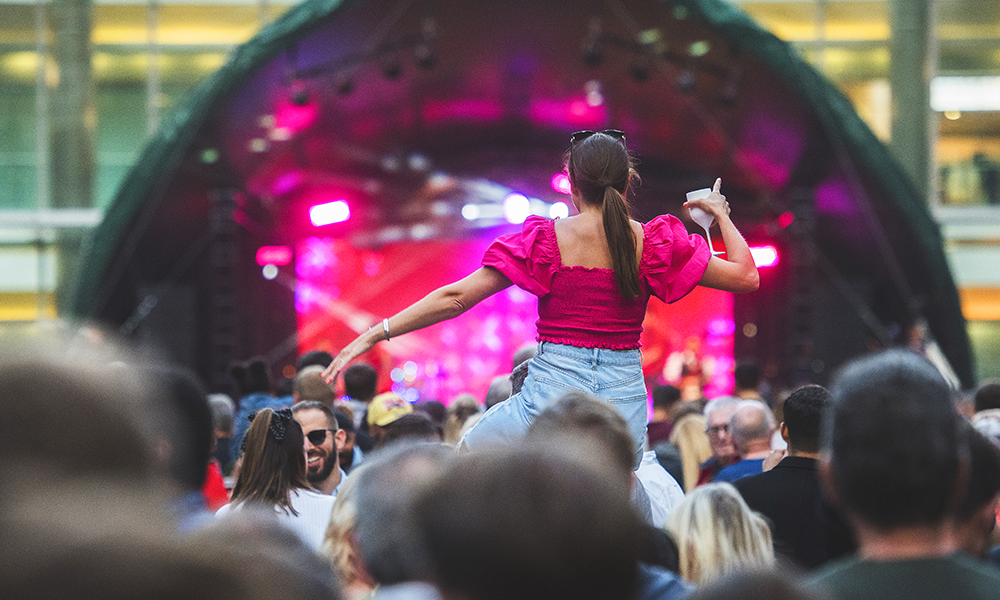 In addition to the dozens of performances and activities, there will also be a street food market every day in Montgomery Square and special offers from some bars, restaurants and cafes for the duration.
Canary Wharf Group director of arts and events Lucie Moore said: "Moving forward, we're looking at putting on larger scale events over shorter periods of time to bring as many people as possible to the estate but also to change perceptions about the area.
"Events and cultural activities have always been really important to Canary Wharf in terms of placemaking and, since Covid, they're something people are looking at and talking about even more.
our COMEDY picks for FESTIVAL14
- July 21 - Milton Jones, Jessica Fostekew
7.15pm, £11, Westferry Circus Roundabout
- July 22 - Reginald D Hunter, Jo Caulfield
6pm, £11, Westferry Circus Roundabout
-l July 23 - Paul Sinha, Felicity Ward
6pm, £11, Westferry Circus Roundabout
Follow this link for bookings
"These events are a real team effort and we couldn't be able to do them without the work of so many people across Canary Wharf Group's teams.
"The estate is now busy and buzzy and with the arrival of the Elizabeth Line, there's the potential for even more people to visit.
"That's an opportunity for us, in terms of events, because there are people who will come in from other areas who may not have done in the past.
"For Festival14 it will be really interesting to see what numbers we get in comparison to things like Winter Lights in past years."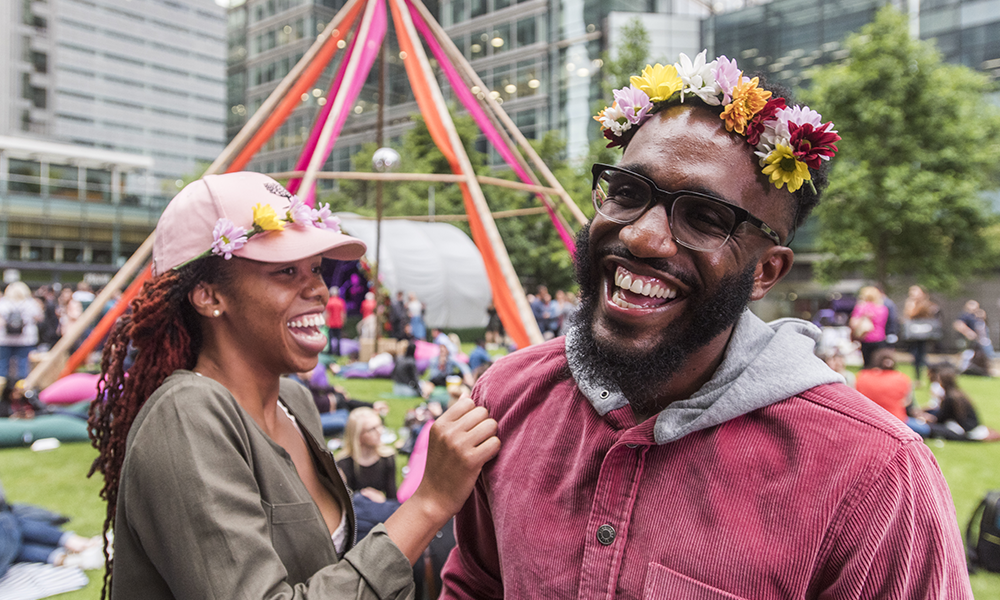 The full programme for Festival14 – a name inspired by Canary Wharf's postcode, E14 – is still being finalised, with all updates expected online by July.
Pippa said: "In contrast to previous years with our Tuesday night music concerts, we've booked some bigger acts.
"It's a packed programme and, especially at the weekends, people will be able to listen from noon right through until 9pm or 10pm at night.
"Grandmaster Flash is our opening headliner and we think he will appeal to the audience that's already here – a bit of nostalgia after a day in the office and a bit of a party.
our THEATRE picks for FESTIVAL14
- July 21 - 440 Theatre, Hamlet
1pm, free, Westferry Circus Roundabout
-l July 22 - The Canary Cabaret

7.30pm, free (ticketed), Crossrail Place Roof Garden
- July 23 - Mischief And Mayhem

5pm, free (ticketed), Crossrail Place Roof Garden
- July 24 - The Handlebards Romeo & Juliet
1pm, free, Westferry Circus Roundabout
Follow this link for bookings
"I'm really excited about having House Gospel Choir – they're a group I've admired for a long time and we've been waiting for the right event to book them.
"They're pretty local too, as is Hackney Colliery Band. We're also really pleased to be able to host Sona on the Sunday, during her UK tour.
"The outdoor comedy at Westferry Circus also features some big names, so that's ticketed because we have limited space and we're expecting it to be very popular.
"We'll be having open air theatre at that venue too with the return of The Handlebards who are fantastic and 440 Theatre who do Shakespeare plays in 40 minutes."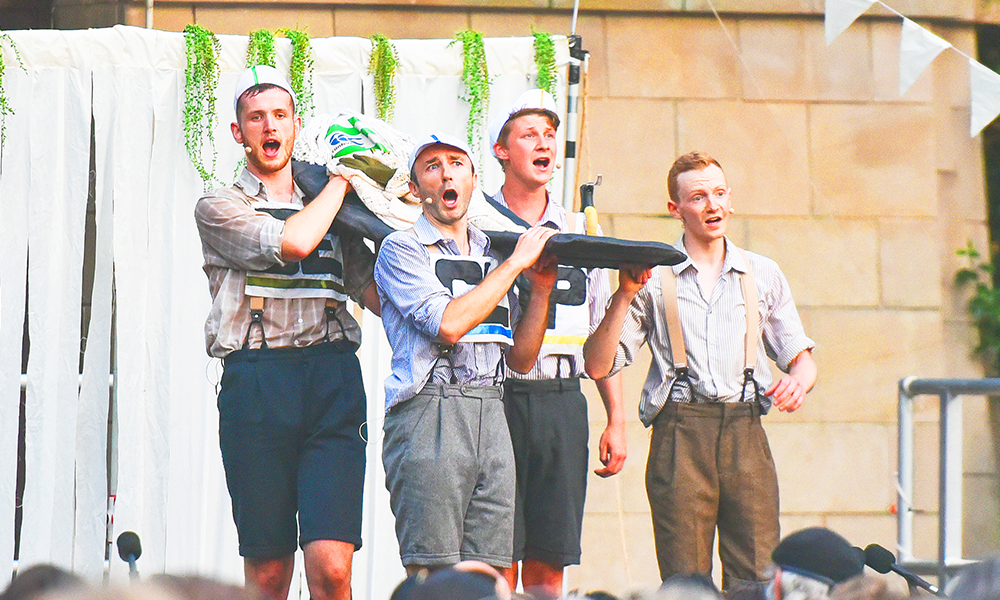 There will also be a series of theatre performances at Crossrail Place Roof Garden – ticketed but free due to the capacity of the venue.
"Whenever we do anything we try to include the local community and local businesses and organisations around the estate," said Lucie.
"We're very fortunate to work where we are but we're aware there are areas around us that need supporting.
"The Space has been operating up in the Roof Garden for years now and they were an obvious choice for us as a partner for part of Festival14 because they know that venue, we know what they do and they've put together a whole programme for us there."
A range of kids activities will take place on the Saturday and Sunday, including dance music party Big Fish Little Fish Family Rave at Westferry Circus and puppetry in the form of Bus King Theatre: Marvelo's Circus at Montgomery Square.
"We're really hoping, especially for families, that they will come and spend the whole day with us – do a workshop, have lunch and listen to some music," said Lucie.
"We've really tried to cover a lot of areas and there will be one or two unexpected events too, such as a van that serves up takeaway poetry. We're not finished yet."
Here's a little Grandmaster Flash to get you in the mood…
Read more: The O2 celebrates 15 years of gigs, events and performances
Read Wharf Life's e-edition here
Subscribe to Wharf Life's weekly newsletter here
- Jon Massey is co-founder and editorial director of Wharf Life and writes about a wide range of subjects in Canary Wharf, Docklands and east London - contact via jon.massey@wharf-life.com