How chef Jackie Christian is celebrating her mother's legacy in Greenwich and Hackney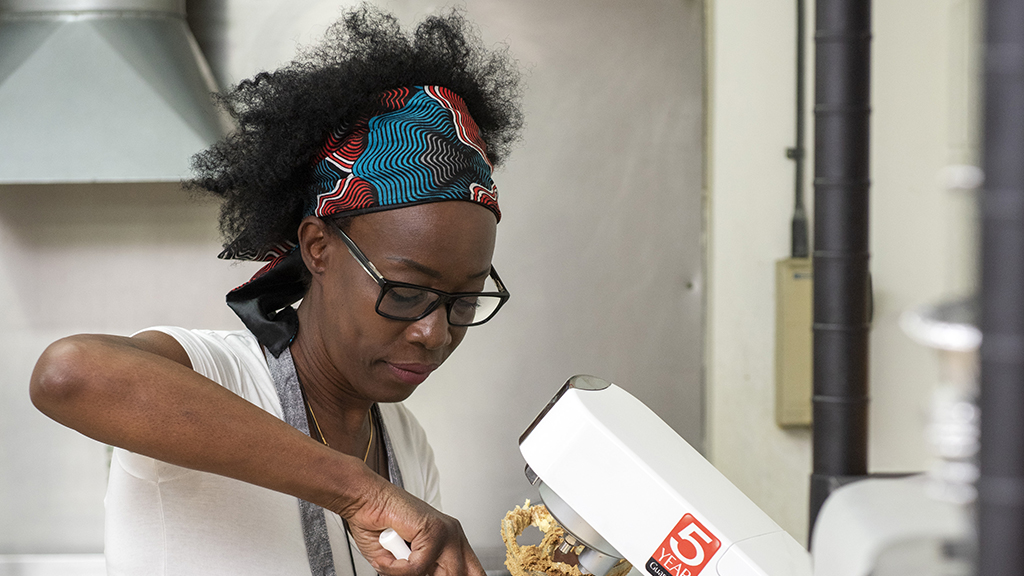 It would probably take something the length of a novel to do justice to Jackie Christian's story. The Stratford resident, working with her sister Natalie Walker, is the driving force behind Doreen's Jamaican Homemade Rum Cakes, which have been delivering sweetness and generous levels of Wray And Nephew overproof spirit to the mouths of Londoners for the past six years.
"Our mum, Doreen, always cooked these amazing dinners for family and friends," said Jackie.
"She'd also make rum cake and banana bread and, because I was the second eldest, she'd get me to help out doing bits and pieces around the kitchen when I was a teenager.
"Because of that, I wanted to become a chef so I went on a catering course – you did six months in college and six months working in the industry.
"So when I was 17, my first job was working at the Mayfair Hotel with Gordon Ramsay – he was my boss and that was the start of my career. After my training, I was called into the office – I was wondering what I'd done because Gordon was in there. But they said: 'We love the way you work and we're going to save you a job here'.
"I was amazed, so I went back to college, finished my course and started at the Mayfair, working as an a la carte chef. From there I went to L'Escargot in Soho – I loved it so much – and then to Fred's Club, which was on three floors and for the rich and famous. We had Boy George, Neneh Cherry – all the celebrities."
After years working long hours at the top of the London restaurant scene, Jackie and her husband decided to start a family and she stepped away from the industry.
"I have to be proud of myself because I've had a tough time," said Jackie. "I lost my husband to a heart attack out of the blue when my son was five. We lost our mum and, just recently, our sister but I know that they're watching – they are our angels."
It was inspiration while thinking about her mother that led Jackie's life to change direction again. Having forged a successful career in contract catering, Jackie had hit an impasse. She was happy to be cooking, but bored by the repetitive nature of the work.
"Someone asked to buy a cake from me and I was looking at Ma's picture. That was the time I decided to continue her work. She used to make rum cakes with me and then give them away to neighbours and friends. If you got one it meant you were a bit special because of the love that goes into baking one. So I resigned from my job and decided to go for it, just working from my home in Stratford."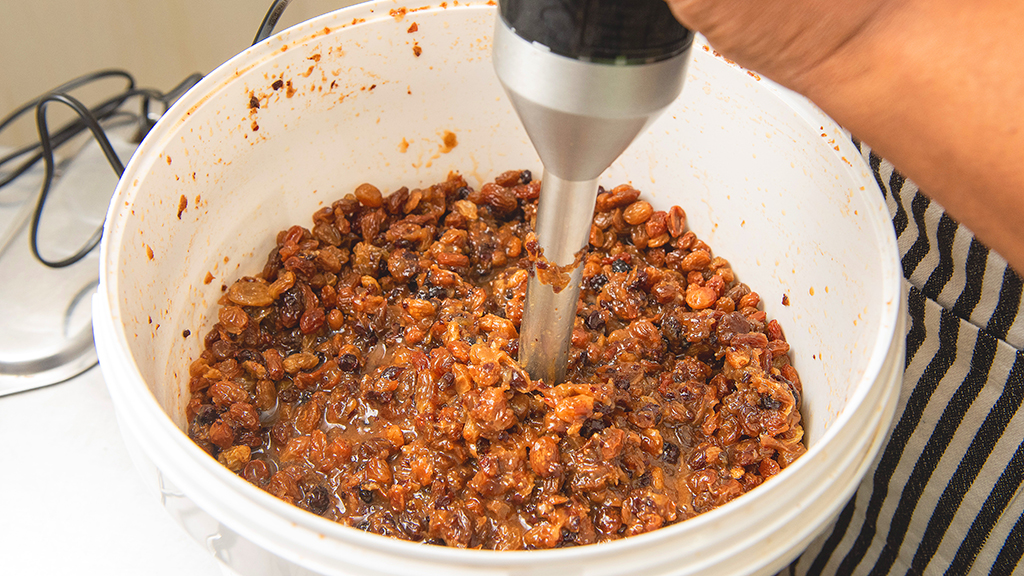 Born in London after her mother emigrated from Jamaica, Jackie uses a recipe passed down through at least three generations for her signature product, soaking fruit in overproof 63% ABV Wray And Nephew white rum before partially blending it and adding more rum as the other ingredients are folded in by hand.
"By using this spirit I'm preserving the theme as well as sticking to the original recipe," said Jackie. "Before the pandemic, I would go to Jamaica once a year, buy the rum and bring back the sunshine to England to bake into the cakes.
"It's about telling the story of our mother to our customers and letting them try the cake. I had no idea if this would work as a business in the beginning but it has. It's not a cheap cake to make.
"You need to soak the fruit for ever in the rum – I have a big barrel for that. Mummy didn't like it whole so we blend it until it's like a chunky puree, add the other ingredients and bake the cake.
"Each one takes about three or four hours in the oven and then we put more rum on it and leave it to soak and infuse."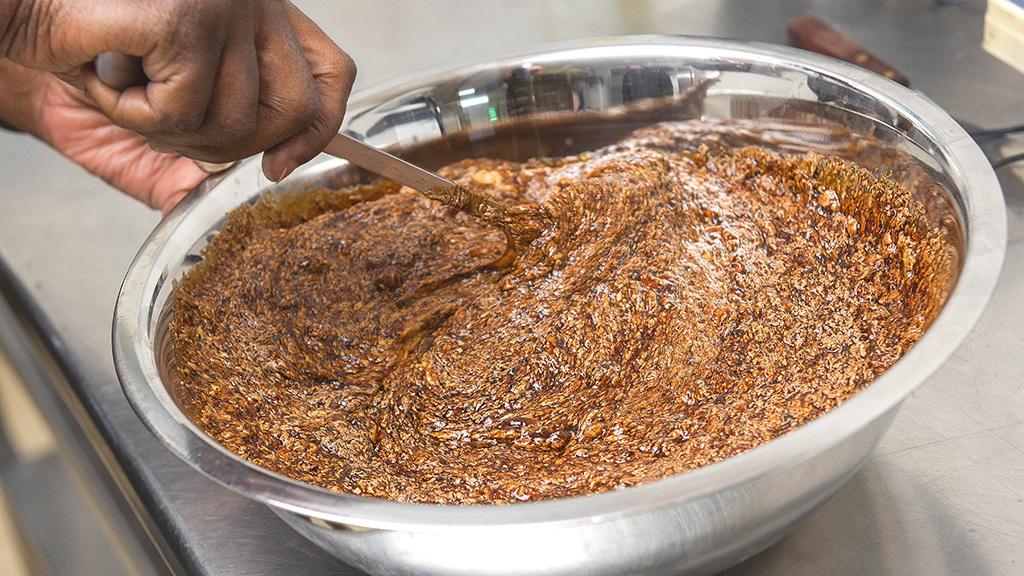 Having started with a regular stall at Greenwich Market, Doreen's has built up a significant following in the borough allowing Jackie and Natalie to expand the business to Bohemia Place Market in Hackney.
Lockdown saw online sales start up too and Jackie got the keys to a commercial kitchen in Woolwich, which will allow her to grow production and take on staff to assist.
"We got the unit at Thames-Side Studios in October last year," said Jackie. "Now I can get a team in because it's just been Natalie and me. I've always had management roles when working in contract catering, so I know how to lead a team. You have to treat people with so much respect. No job defines a person.
"When I employ someone to wash up, I wash up with them. If they're the last one to leave, I'll stop whatever I'm doing and help – we'll grab the brooms and mops and clean together.
"Lots of people have asked me to take on work in the past and now I can accept more. People need to know what real rum cake tastes like – hand crafted as a labour of love.
"What feels good is when a customer tells me that my cake reminds me of their mother's – it makes me cry and then they cry too.
"It's happiness – because that means I've smashed it with my mother's generation and now we're starting to capture the younger people too.
"They say they've never had it, then after a sample, they're hooked. It is tough – we get so busy that I don't get a rest. Sometimes it's an eight-day-a-week business.
"But when you see reactions and responses from the customers you feel so good. That's when I know I'm doing this right. That love feels amazing.
"My mum gave me the inspiration to become a chef and to start this business, and this is giving that love back to our customers."
As well as offering Doreen's classic rum cake in a variety of sizes and shapes – all of which should last a long time on the shelf thanks to the high levels of rum within, the business also sells a vegan version.
Also available are Jamaican rum truffle brownies, stem ginger and chocolate brownies, lemon and coconut muffins and Appleton Estate rum sponge cakes made with a darker, spiced spirit.
Orders can be placed online or the various products can be found and (frequently) tasted at Greenwich and Bohemia Place markets.
Read e-editions of Wharf Life's print edition here
Subscribe to our regular newsletter here