Founder Nadia Piechestein repairs, reworks, alters and creates clothes at The Forge in east London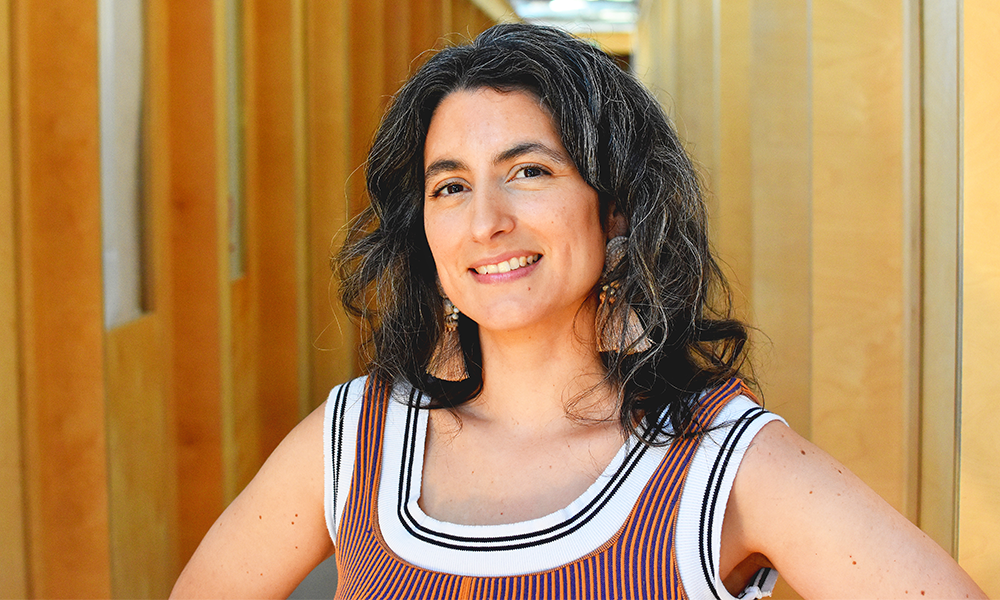 Subscribe to Wharf Life's weekly newsletter here
At the heart of TLZ Movement is the joy of taking something that already exists and changing it to make something new.
Nadia Piechestein studied fashion in Buenos Aires before going on to found one of the first ethical fashion brands in Argentina.
Her clothes were made with sustainable khadi cotton, made by a cooperative, with the clothes produced by another cooperative in the city that offered classes to former prisoners to help with their rehabilitation.
As a dancer herself, her styles focused on costumes for performance as well as pieces to exercise in.
Relocating to London a few years ago, with her husband Herman, she arrived with her collection in the UK, bought a sewing machine and initially started making clothes here.
"But then I decided not to make any more clothes at all, because I think we already have enough on this planet," said Nadia.
"My idea was to make existing clothes better so people can keep them rather than throwing them away.
"So I stopped making clothes and I started repairing, customising and altering them.
"That's what I do for customers, but I also teach people how to do it themselves."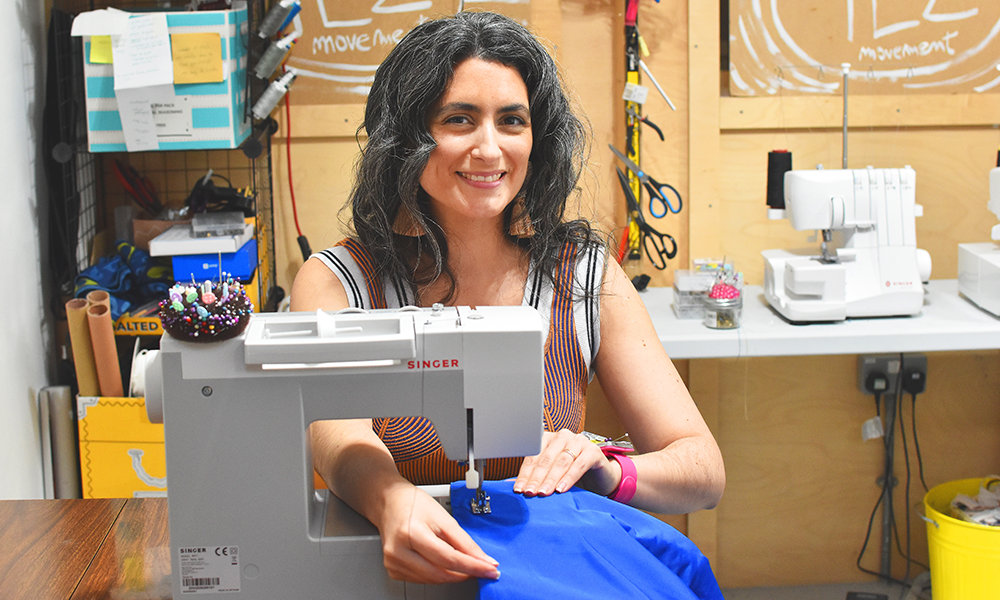 TLZ Movement is now located at The Forge on the Isle Of Dogs' Westferry Road and is a member of Craft Central, the charity that runs the facility.
Nadia essentially offers three core services.
She reworks existing garments, using up-cycling and dead stock materials from other producers that would otherwise go to waste.
She uses these to refresh and customise clothes for their owners to give them a new lease of life.
Nadia also offers a more standard alterations and repairs service to ensure clothes fit correctly to start with or to rescue damaged garments.
For this she is happy to create visible or invisible repairs depending on her customers' desires.
Then there are her workshops at The Forge, where participants can learn mending techniques, how to use a sewing machine, copy their favourite clothes, weave and rework.
"I'm not against the theme of having a bright new garment – that's my inspiration," said Nadia.
"If you're bored with a piece in your wardrobe, you can bring it to me and I will put something new into it.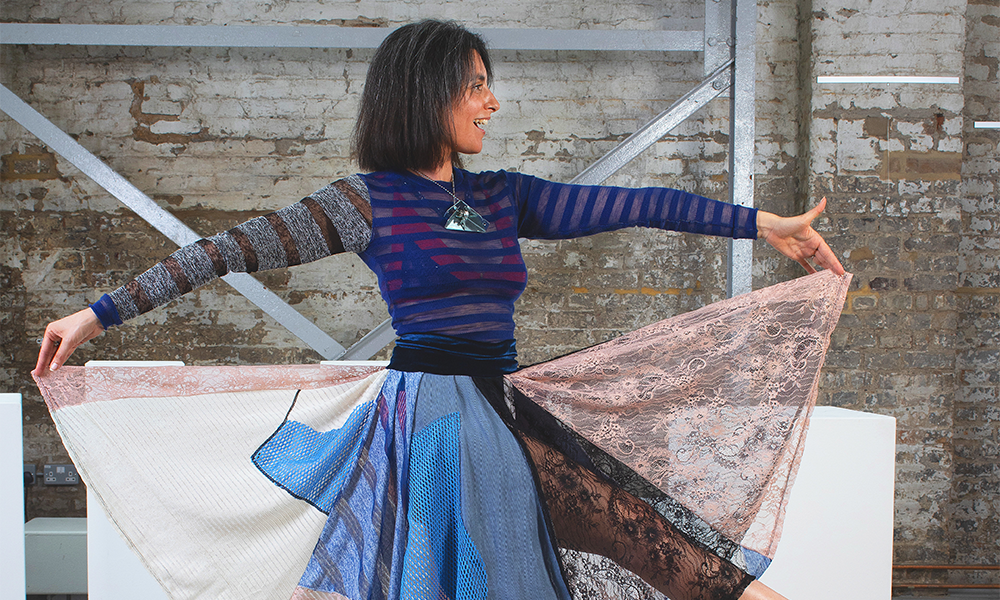 "That way you get the feeling of having a new piece of clothing again.
"The best way is to think of it as caring for your clothes, as keeping them and continuing to love them. It's also something nobody else will have.
"For Christmas this year, I asked friends for garments they no longer wore – I didn't tell them what I was doing.
"Then I reworked them, gave them back and my friends were amazed. When they wore them, they had that story to tell.
"When I make visible repairs or additions, the more people can see the time and effort that has been put into something.
"It connects the owner with the maker and shows how much you care about a garment.
"Here at Craft Central and in London, I collaborate with other makers and textile businesses a lot, using pieces and scraps of fabric that would otherwise go to waste."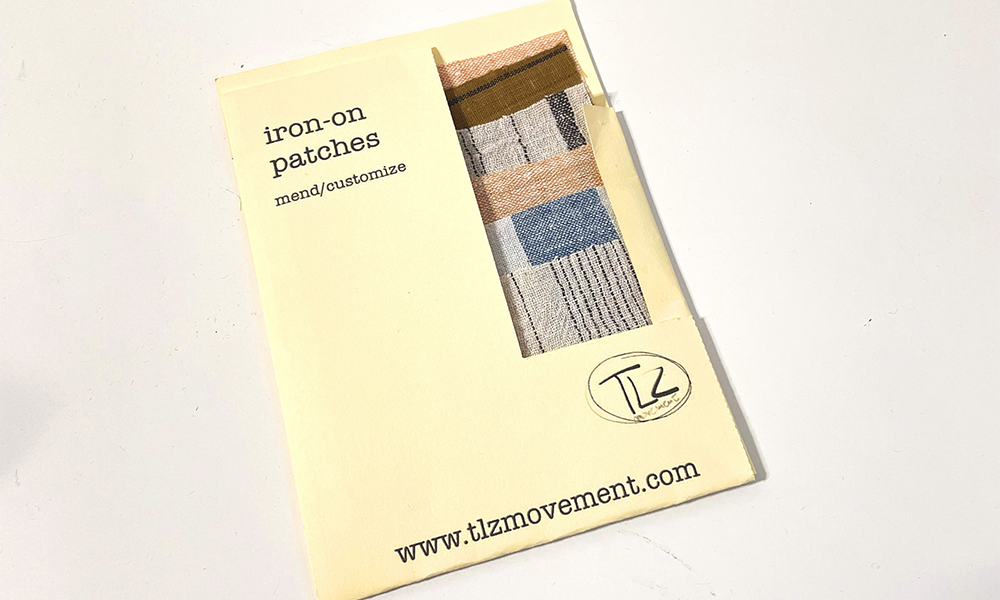 In a world of ceaseless pressure and communication, the convenience and discount pricing of fast fashion is an ever-present temptation.
Never in the UK have so many garments been available to consumers so cheaply.
But at what cost to those engaged elsewhere in the world making them – or for the planet in terms of the resources necessary to produce them and the inevitable waste mountain they create?
To help address some of these issues, Nadia has created iron-on patches that can be used both to repair and customise clothes.
Made with khadi cotton sourced from India, they can be applied with a normal household iron, so no need to get out the thimble.
Available in a variety of designs with prices starting at £18 for six, they are aimed at time-poor individuals looking for a rapid fix or update to their apparel.
"Patches can go in the washing machine at less than 40ºC and should last a long time," said Nadia.
"I would encourage people to think that wearing them is a statement about Planet Earth.
"It shows that you care about the environment and it spices you up as a person.
"People can buy them online and use them to create any shape they want – they just need to cut them.
"It's something that can be really creative and they are great for kids too who are always putting holes in things.
"With TLZ I'm really happy with what I'm building here now.
"I've been part of London Fashion Week and London Craft Week – I really want to boost what I'm doing now and expand in east London and into the City.
"It would be great to see the patches stocked in small shops so that people can embrace repairing and customising their clothes.
"The majority of my customers are from the Isle Of Dogs and I have so much gratitude for that – there are no words. I love them.
"I also want to reach a new audience through teaching so people can understand all the good things they can do.
"That's why I've started creating team building events for businesses and organisations.
"People can come with their colleagues, have some drinks and learn the basics of sewing before being challenged to repair a garment that they can then take away."
Nadia also works with arts companies to give performance costumes new lives after their stints on stage.
TLZ Movement's next event is set to take place on February 18.
People are invited to bring damaged garments to The Forge for a free mending session using her signature patches between 11am and 4pm.
Read more: How Dishoom Canary Wharf is all about a story
Read Wharf Life's e-edition here
Subscribe to Wharf Life's weekly newsletter here
- Jon Massey is co-founder and editorial director of Wharf Life and writes about a wide range of subjects in Canary Wharf, Docklands and east London - contact via jon.massey@wharf-life.com