Lynsey Bendon talks space at Harbour Exchange as growth follows increased student demand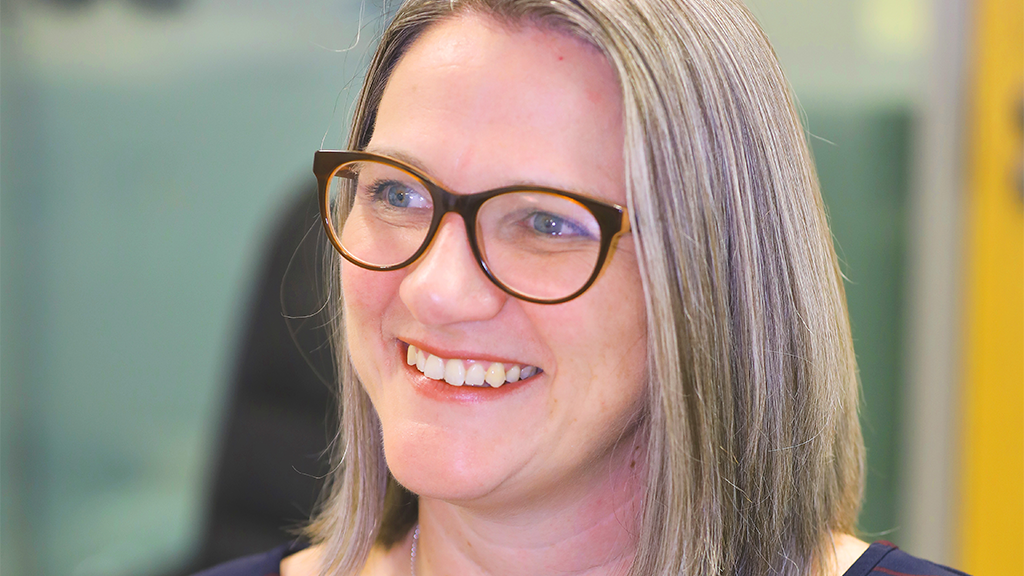 "We were shown a lot of different places, but this is where we want to be – it's perfect – it works for us and it works for our students," said Lynsey Bendon.
There's excitement in the voice of the assistant director of operations and student experience at the University Of Sunderland In London as she talks about its expansion at Harbour Exchange on the Isle Of Dogs – a move that will allow it to keep up with demand for places while retaining the links it's built in the area since its creation in 2012.
"It's on the opposite side of the DLR tracks to our Marsh Wall site, so it's very close by," said Lynsey. "We've been able to start with a blank canvas to design what we need as a teaching space.
"It has flexible rooms and it's a lovely environment in terms of group and study areas. We've listened to what our students need and want – everything down to having a kitchen that's really accessible where they can make their own food but also meet with staff. We're thrilled.
"It's also really nice to be able to grow from where we are because the students love our location next to Canary Wharf and our connections to local businesses but also the food, culture and shopping."
The expansion of the campus, which will see the university taking a whole floor at Harbour Exchange, has been driven by significant demand.
More than 4,400 students attended courses at its Marsh Wall base over the past year, with 2,794 joining across four intakes since March 2020.
While about 10% are international – reflecting perhaps the university's outward-looking stance, having opened a Hong Kong campus in 2017 – about 50% are drawn from nearby London boroughs.
"Our students are what we call in the industry 'non-traditional'," said Lynsey. "The average age is 36 and we have 60-40 female to male split.
"Our motto is that we're a life-changing university and we like to think that our people don't necessarily come to us straight from school, but with a measured decision that they want their lives to change, which we hope to facilitate.
"We quickly realised there was a demand here in London and we tailor our courses to our students – we don't expect them to be 18, straight out of school.
"We expect them to have experience that they can talk about and build on. When we started, some of the courses were targeted that way, but we've rewritten them and developed them through talking to our students to meet their needs.
"Ultimately we want them to progress, we want them to do the best they can for themselves and to fulfil their potential.
"You can't just teach something – you have to build it around them. Our students are very vocal, which is extremely helpful when you work in the role I do, because you need ongoing conversations. We want to be there, supporting them, to help them succeed."
Lynsey, who joined the University Of Sunderland In London in January 2020, is well placed to have those conversations, having left school after her A-Levels.
She said: "I was then unemployed for a short time before going into the workforce. I worked in banking in London in the 1990s, which was a very interesting time. When I came to have my children, I realised that it wasn't a career I could stay in, so I left the workforce for a bit.
"Then I went back as a part-time member of staff on the help desk at the University Of East London. After a few years I specialised as an international student adviser before joining London Metropolitan University as compliance and immigration manager in 2014.
"That was challenging and taught me a lot – but I realised that I wasn't going to progress further in my career without higher qualifications and at that point I was very lucky to be able to participate in a postgraduate certificate through my employer at that time, with the University Of Nottingham.
"So I was there, at 39, looking at a blank sheet of paper, never having done a first degree, absolutely out of my depth, and I can completely relate to our students, when they get to that point.
"But it gave me so much, some fantastic experiences and it taught me so much academically – both how to write reports and also all those things you don't necessarily associate with academic learning. It also gave me so much confidence that I could do these things.
"I always say the tears were worth it, but I had such a good time, it outweighed any difficulties and it enabled me to go into management.
"So, after becoming the international immigration manager at London Met, I became head of student services and, in January, came here. Then lockdown happened in March, so it's been quite a year. I had to learn quickly because I'm also the Covid lead for the London campus.
"Fortunately, it's a really vibrant place, and a really great community, so people were very forgiving when I asked the same question for the sixth or seventh time, because I didn't quite understand what went where.
"Our student growth over the years has been pretty consistent so I don't think our current figures are down to people looking for a new direction just as a result of Covid.
"In our admissions process, we speak to each student individually and help them to make sure they are taking the right decision for them.
"The pandemic has shown us aspects of strength in our teaching and other areas where we've been forced to introduce things that we're going to keep. We're lucky that we get lots of people coming to us through word-of-mouth – Mr X may come to sign up with us in September and then Mrs X will follow in April – and you only really get that if you're giving people what they want and the best tools for success."
The University Of Sunderland in London offers courses across four main areas – business and finance; tourism, hospitality and events; nursing and health and engineering at both undergraduate and postgraduate level. The campus also offers Master Of Business Administration degrees – MBAs.
Read e-editions of Wharf Life's print edition here
Subscribe to our regular newsletter here