D&D London chairman and CEO Des Gunewardena tells us all about the new restaurant, cafe and bar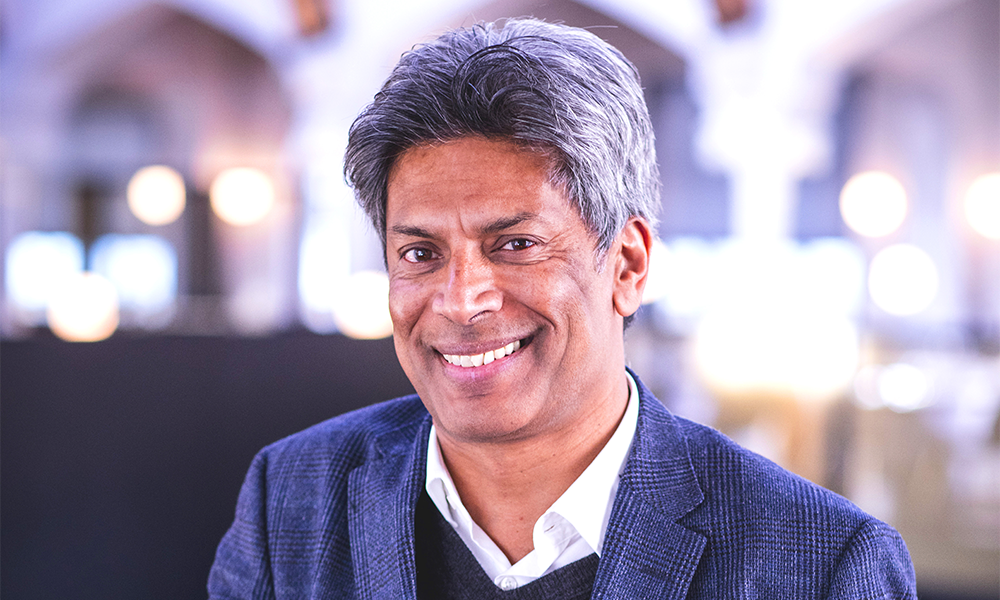 Subscribe to Wharf Life's weekly newsletter here
Look at the cranes poking up behind The Pavilion at International Quarter London's Endeavour Square in Stratford.
They, and the structures emerging from the top of its wooden ripples, herald the concrete arrival of nearby East Bank.  
They mean the BBC, Sadler's Wells, the V&A, UCL and UAL are all on their way to east London and that's just one of the reasons that Des Gunewardena sounds so cheerful on the phone.
While I couldn't see the chairman and CEO of restaurant group D&D London during our chat, his voice held an easy, upbeat tone and no wonder.
The company he runs, which operates more than 40 venues in the capital and overseas, has just opened Haugen.
Spread across all three floors of The Pavilion, it stands on the main path from the Queen Elizabeth Olympic Park to Westfield Stratford City and, crucially, the area's multiple stations.
That also puts it squarely on the route not only for West Ham's regular influx of fans, but also the forthcoming footfall for East Bank. 
It's a fair bet the inhabitants of its arts and educational establishments will need a decent place to unwind and that's what Des and his team aim to provide.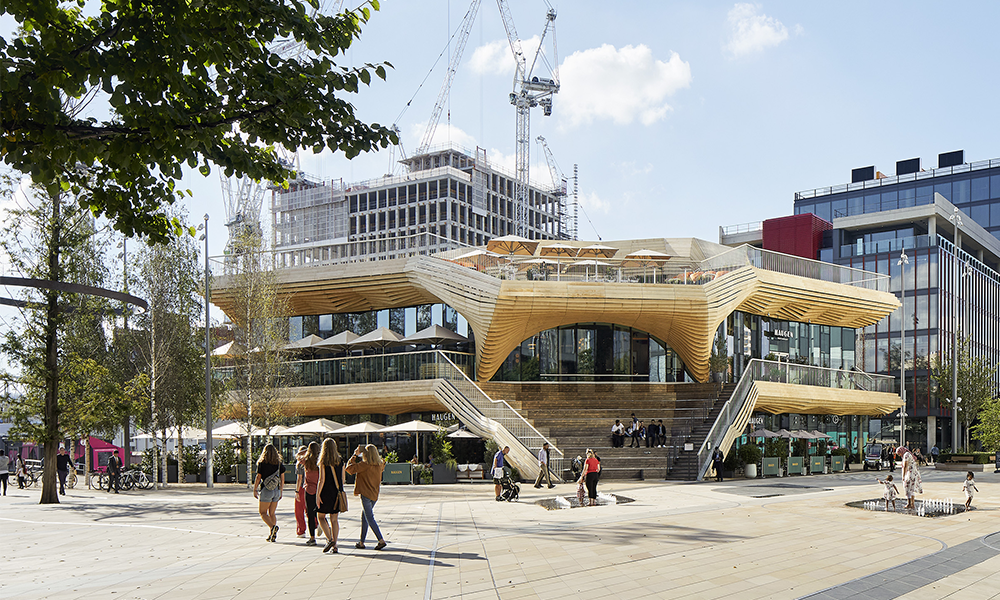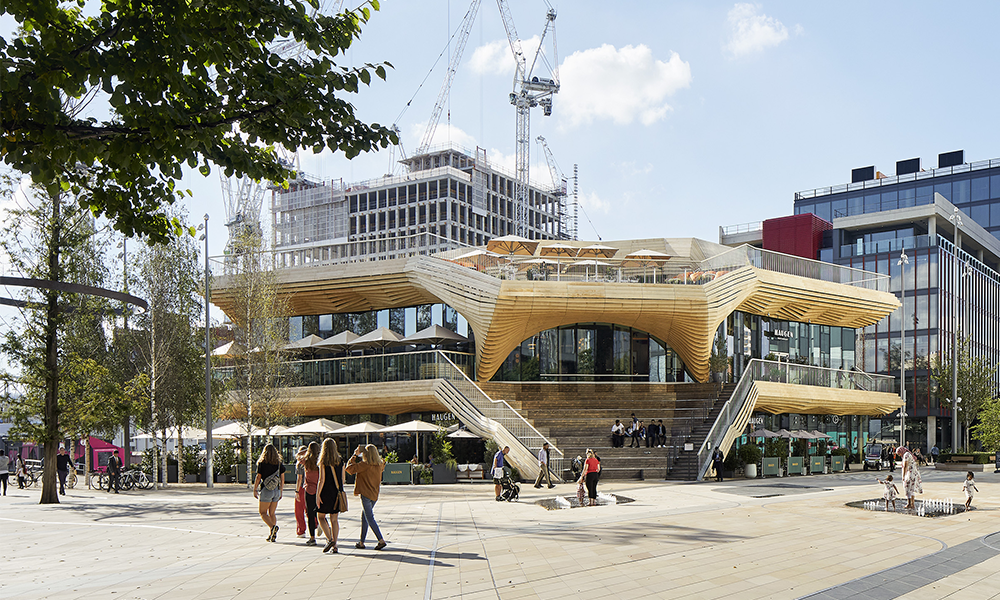 "Firstly, it's in an amazing building, so hats off to Lendlease – the developer – for building it," he said. "They approached D&D about doing restaurants in it, because they know we take on madly big and crazy spaces, so we were perfect for The Pavilion.
"It's a very bold design – when I first saw it, I thought that it was a real statement and the thing about that is it has to be good, otherwise people will hate it.
"They worked with Acme, who are top-class architects and really know what they are doing. They've created a very beautiful building, with all the curved wood and the glass – it is a total eye-catcher.
"When people first saw the building, I don't think they knew what it was – whether it was going to be a museum or a gallery?
"It has that central staircase and looks terribly grand for housing restaurants, cafes and bars.
"People asked me if it was going to be a Japanese restaurant, because it looked like a great pavilion from Kyoto."
Spurred on from the success of its German Gymnasium in King's Cross, however, D&D had other ideas for the space.
"The reason we've created the restaurant we have is because we felt the building looked like a beautiful modern chalet in Switzerland," said Des.
"We've had big success with German Gymnasium so we wanted to do a bit of a variant on that. The food at Haugen is Swiss Alpine so you've got your raclettes, your tartiflettes and your fondues – those are the things that are flying out of the kitchen at the moment.
"We wanted to create the feeling of being in a restaurant in a ski resort – imagine coming inside from a windswept Stratford to open fires, wood and warm lighting and cosy furnishings."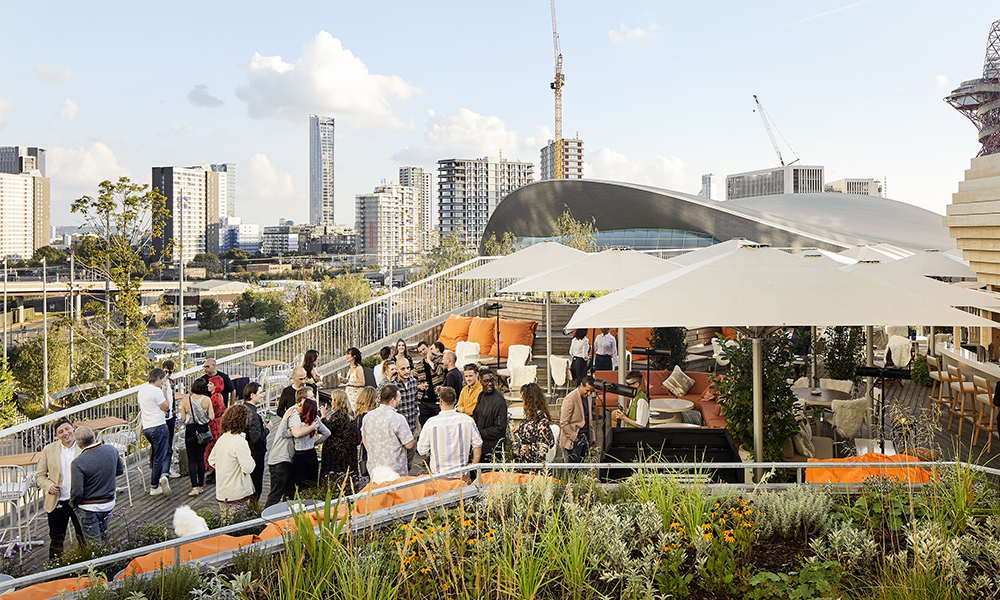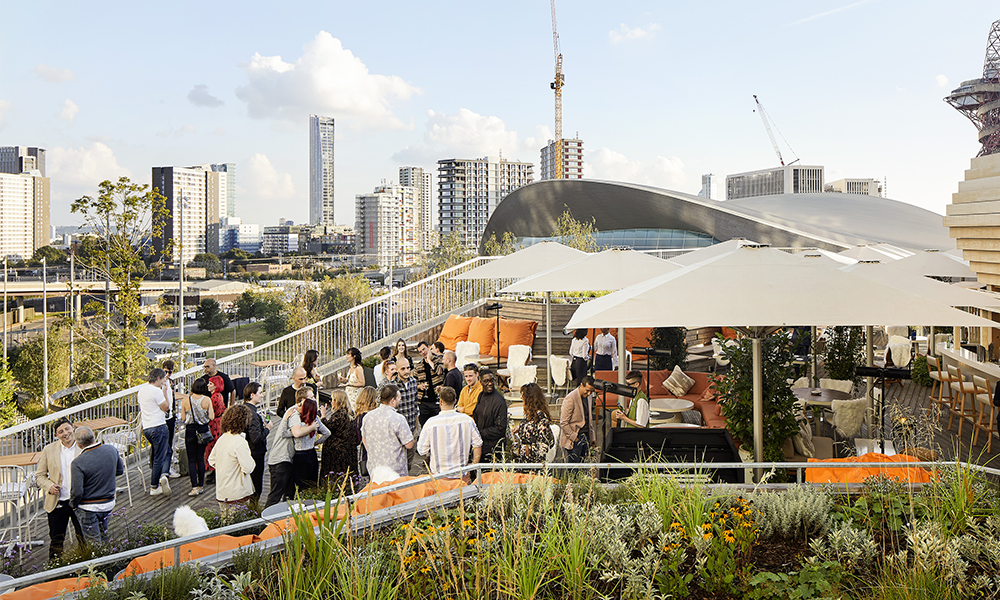 Haugen, which turns out to be a Norwegian word meaning 'mound', boasts a cafe-brasserie on its ground floor and a rooftop bar, sculpted to form an amphitheatre overlooking the square below with a second space open to East Bank and the park beyond.
The restaurant proper – located on the first floor of the building and accessible by lift for those who don't fancy climbing the stairs outside, is set to open on November 1.
Prior to that happening, diners can get a feel for things in the brasserie with two courses for £14.50 or three for £18.50 via a set menu that features dishes including truffled potato soup, Tiroler Wurstsalat with pork sausage and Emmental cheese, Alpine meatballs with raclette and Vegan schnitzel club roll with red pepper hummus.
The a la carte menu is heavy on the cheese, sausage and schnitzel options too, with numerous sharing options including a butcher's platter of pork, chicken, bratwurst, red cabbage and potato dumplings.
Mains are typically around the £20 mark and there is plenty of cake, gateau, torte and strudel to finish for about £7.
"Haugen is a bit of a guilty pleasure type restaurant in terms of the food," said Des.
"Most people manage their food on the basis of what they eat the whole week, so occasionally you can go and have a lovely bottle of wine and a good old tartiflette, which is really good value at £12.50.
"I don't honestly know if Germanic food is having a moment – we don't really follow trends. We have the German Gymnasium and that's very successful and we recently opened a restaurant in Bristol called Klosterhaus, which also serves Germanic food and that's doing pretty well too.
"There are certainly more men and women drinking steins of beer in the places we run. Our main concern is doing things we think will be fun and that are going to work."
While the longer-term future of Stratford looks bright with the influx of businesses, cultural institutions and housing developments ensuring the area will only become busier, it's a short term shortage that has delayed Haugen's full launch.
"As a business we're struggling with staff," said Des. "We're currently employing about 1,700 people across London, but we are desperately short.
"For Haugen it suited us to open the brasserie and the rooftop bar to get the kitchen and the front-of-house team working so we can fully open in November.
"The problem for us is you can't take young kids off the street and have them serve customers who are spending £100 a head on dinner. They want people who know what they're talking about in terms of wine, food and so on.
"The Government's view is that we should just suck it up, pay everyone a bit more money and they'll all come – that's like a Sixth Form economic theory response in practice.
"Right now, for the skilled and semi-skilled jobs, particularly in the kitchen, the staff are not there. It's not an easy issue to resolve, but provided we have control over immigration, why would we not want to ease up on visas and get more people in to work to help the economy, the NHS and the care sector?
"We are working almost day and night on initiatives to get more people into our industry, our business – those who were working in other sectors or different kinds of restaurants and that's how we are addressing the problem at least for ourselves." 
Read e-editions of Wharf Life's print edition here
Subscribe to Wharf Life's weekly newsletter here