Grace Of London set for exhibition alongside Lisa Izquierdo at dealership on The Highway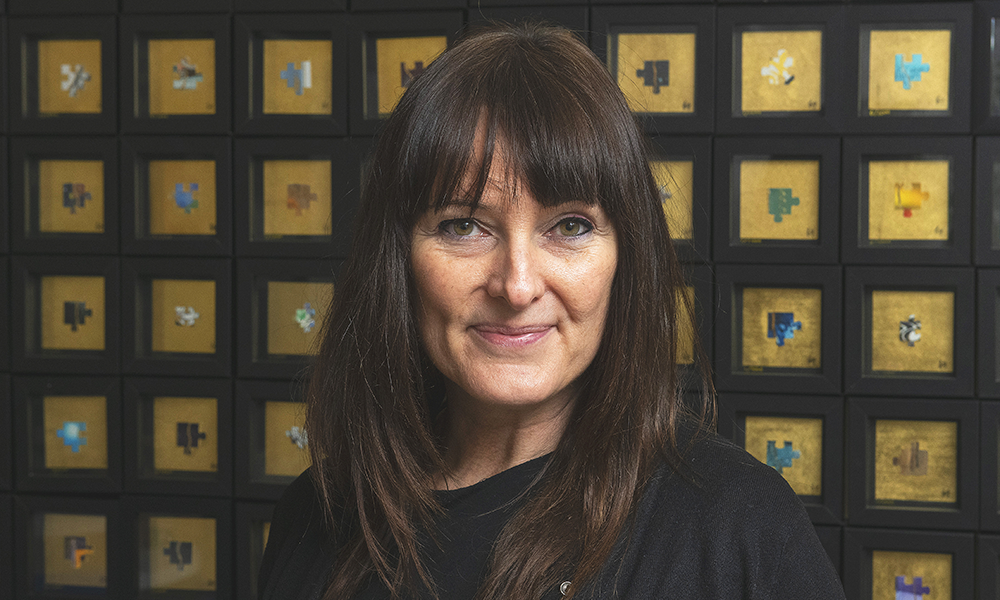 Subscribe to Wharf Life's weekly newsletter here
I hope you're sitting comfortably, because this is going to take some serious attention. In Wapping there's an electric motorcycle dealership called Stirling Eco.
Its founder and CEO is a man called Robert Grace.
Professionally he rose to prominence as an expert tiler and mosaic artist working at the very top of the interiors profession.
That culminated in Grace Of London, which creates decorative baths inlaid with precious metals, Swarovski crystals and the like, for those whose luxury bathing habits far exceed the means of most – think up to £100k a tub. With me so far? Good.
Robert met photographer and artist Anne-Marie Bickerton when she came to shoot one of his baths with a ballerina in it. Inspired, she created a painting based on the images she'd taken, then came up with the idea of cutting it into pieces to share the art.
In collaboration with Robert, they decided to take that idea – calling it Sentiment – and involve other artists, creating the nucleus of what's become the Bickerton-Grace Gallery.
Its physical space, based at Stirling Eco on The Highway, has an ever-evolving display of work by the 100 artists in the Sentiment project, including Anne-Marie herself.
From March 25-April 8, however, it will host a joint exhibition of work by painter Lisa Izquierdo and some of Robert's baths.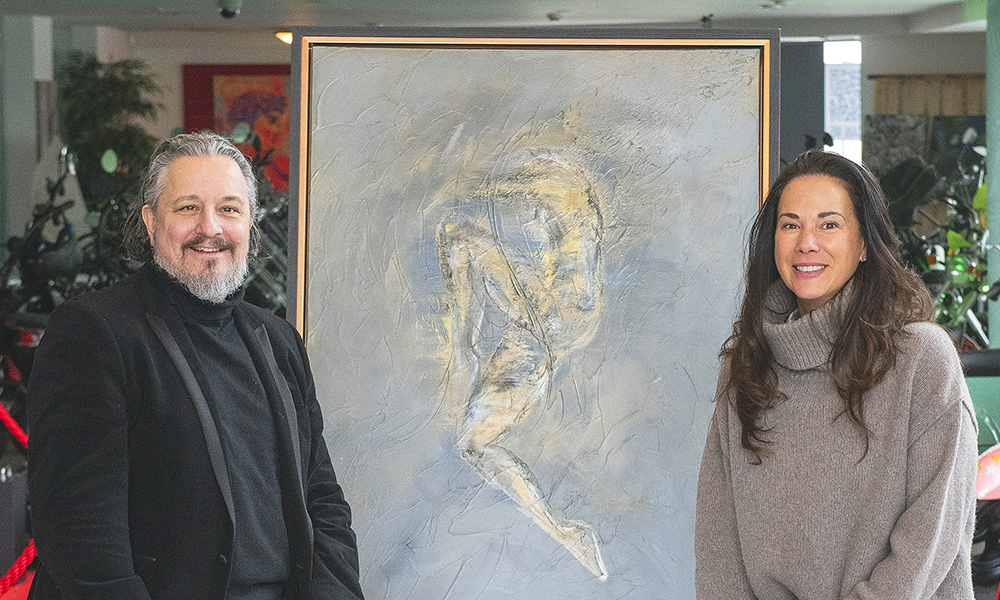 Anne-Marie said: "With the Sentiment collection, an artist sends us a work, which we divide into 1,000 pieces, mount on 24-carat gold leaf and stitch a gold thread through – that's all about connection.
"They can then be purchased, potentially connecting 100,000 people with this installation. We also invite the artists to exhibit in our space and it's an incredibly diverse group – we have classical artists, street art, acrylic painters, pretty much everything.
"Then you have all the collaborations I do with Robert and the pieces in the Sentiment collection themselves."
The electric bikes aren't just a backdrop. Stirling Eco prides itself on offering artistic makeovers for its rides, some in collaboration with Sentiment artists.
Much of the space, which is free to visit, is adorned with artworks large and small.
Anne-Marie, for example, uses the walls to create vanishing pieces that are painted over shortly after creation, with digital versions deleted and only limited edition prints surviving.
It's an environment that feels less about selling two-wheelers and more about unbridled creativity.
"Running a gallery is really interesting," said Anne-Marie. "I get so inspired by the other artists that are on board and it's a bit of a love project really, because I get connected to every one of them.
"Art is an emotional response – it grabs you or it doesn't, and it's very personal.
"It's like a fire in your tummy – I really like that but I can't explain it, like a buzz of energy – it's a nice feeling.
"The idea of Sentiment is that if you see a piece by an artist but can't afford it, you can still buy a piece of something they've created.
"With Lisa, her pieces are very dramatic, beautiful big oil paintings, and they tie in really nicely with what Robert makes – they complement each other without clashing and that's why we've brought these two artists together.
"Visitors will see their work together, but also work by other artists as well."
THE ARTISTS IN THEIR OWN WORDS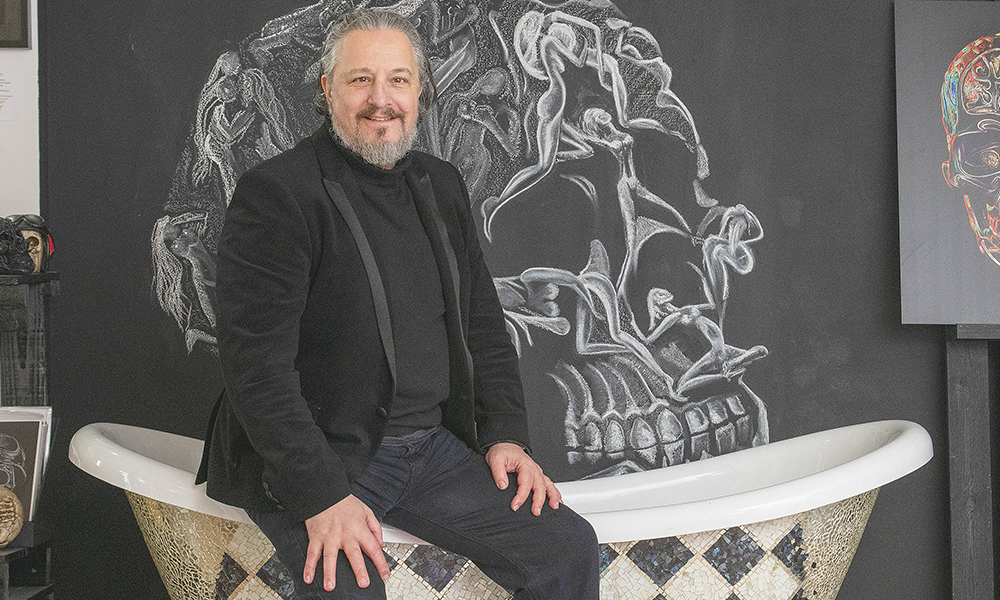 Grace Of London – The words of Robert Grace
"I did an apprenticeship as a ceramic floor tiler and I've always had an artistic background, which set me aside from my peers," said Robert.
"I pretty much won every award that was available as a City and Guilds apprentice, and by the age of 25 I was abroad fixing mosaic domes in palaces.
"I'd worked for pretty much all the royal families in the world.
"Towards the end of my tiling career, I was getting older and I was trying to think how I might use my brain rather than my brawn.
"The idea to create the baths came when a client asked me what colour she should paint her bath – it was in a £60,000 bathroom and I just thought I could create something that would turn the interior from a stunning one to a spectacular place.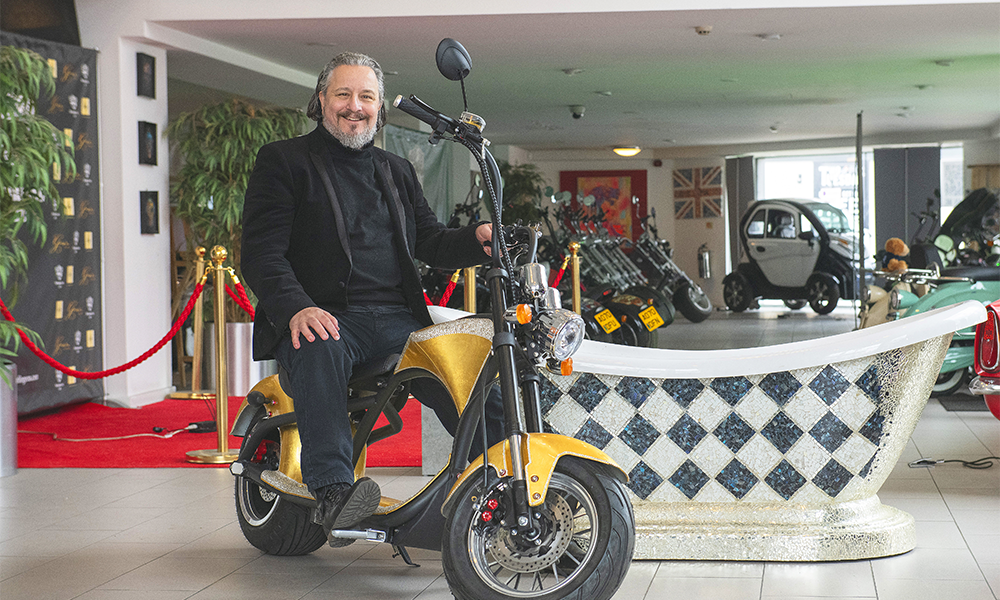 "She painted her bath in the end, but I went back to my workshop and thought about creating some samples.
"Then, with the the help of top refurbishment firm Grangewood, I launched them with a week-long exhibition.
"They cost from about £50,000 but the customer is getting 35 years of experience and something that's unique and hand-cut. I've made some for more than £100,000. The last one I did had over 40,000 pieces of glass.
"The bathtubs are a good match with Lisa's art because her work is astonishing, really beautiful and also the kind of piece you could include as part of an interior design.
"It's subtle, the colours are well-chosen and the textures are beautiful.
"I've worked with some of the finest interior designers in the world and, to be really good in that world, you have to understand how light falls, shapes and colours what's in a room.
"One of the most important things is to understand how to place and decorate with pieces of art themselves.
"I've always been artistic and creative and this is an extension of that."
Robert will show three baths at Bickerton-Grace Gallery as part of the exhibition, including the black and white Harlequin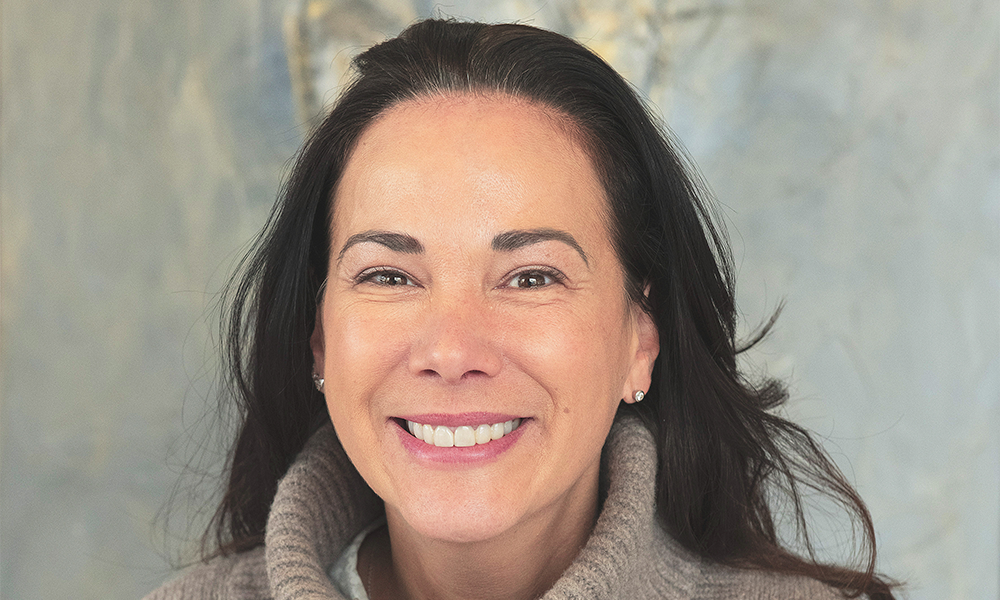 Lili – The words of Lisa Izquierdo
"The pieces I'll be showing at the exhibition will be the from my Essence Of Woman collection," said Lisa, who lives and works near Manchester.
"There are no faces, it's more about texture, movement and dynamic. I've always had an interest in art. When I was very young – aged six – I would draw these elfin-like, elongated silhouettes with wings.
"I think I was inspired by strong women in my life who brought me up, like my mum and my sister.
"I have six collections, all on different subjects, but painting these images was a real way to escape when I was struggling – painting is meditative, a lovely, expressive way to cocoon myself in my little studio and put it all on canvas.
"Everyone goes through bad times and you wouldn't appreciate the good without that.
"It was tough in my 20s, I started modelling when I was 13 and at 15 I went to Madrid on a contract and then Tokyo for a year. On the one hand I got to travel the world and it taught me a lot of lessons in life.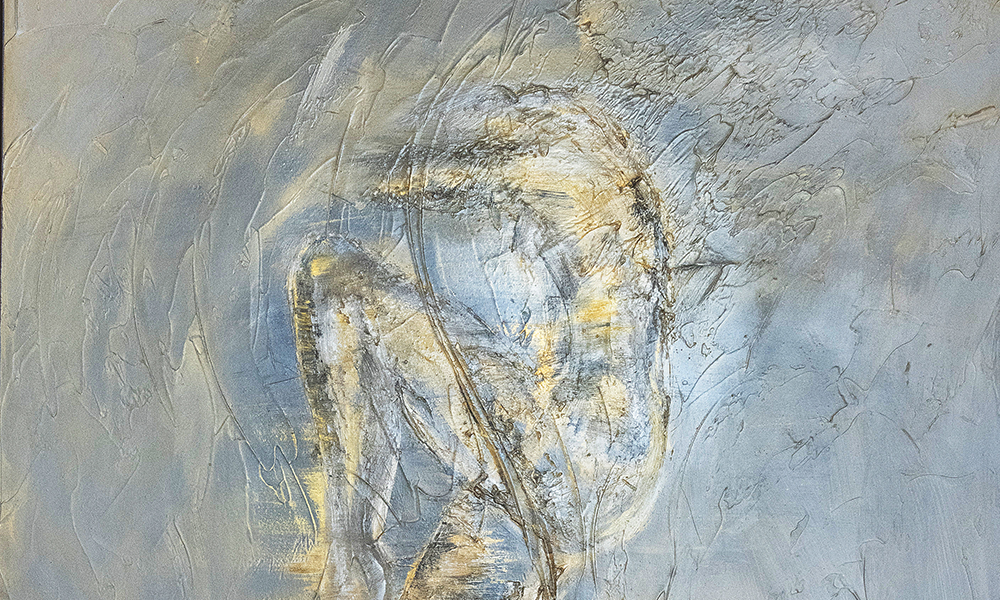 "But I was in an environment at a very young age that was horrible and it scarred me. That's why I don't paint faces, because it's drilled into you that you need to be a certain way.
"There were eating disorders, drug addictions – you see it all – it was exploitation of very young girls. Even now at 46, I have to be OK with eating.
"Those experiences are part of what makes me the artist I am today.
"For me art is the release. I get really lost in painting. Sometimes I can be in the studio until four or five in the morning.
"I'll go home, sleep and go back to the studio and discover what I've created, whether it's an abstract piece or a painting of a man or a woman.
"I hope people feel uplifted when they see my work. I want it to be thought-provoking too and to feel some positive energy – it's a bit hippy, but then that's what I am."
Lisa, who signs her work Lili, will show a selection of her oil paintings at the exhibition.
Read more: See James Cook's typewriter art at Trinity Buoy Wharf
Read e-editions of Wharf Life's print edition here
Subscribe to Wharf Life's weekly newsletter here