Local authority begins rolling out policy to cover secondary pupils across the borough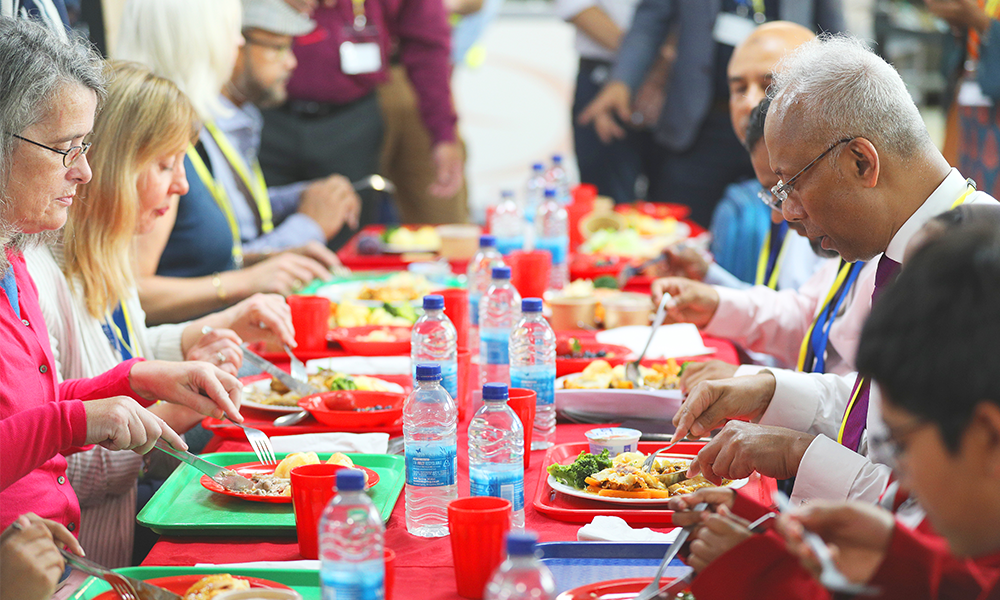 Subscribe to our free Wharf Whispers newsletter here
"This is the day to talk about what is happening – not letting the pursuit of perfection get in the way of achieving good," said Brenda Landers, headteacher at Swanlea School in Whitechapel.
Her lunch hall recently provided the backdrop for the launch of Tower Hamlets Council's extension to its free school meals policy.
This sees all secondary school pupils living in the borough and going to state-funded schools within its borders, fed lunch at no cost to them or their parents.
The borough has funded meals for primary school pupils since 2014 on a similar basis – something the Mayor Of London has decided to do city-wide for this academic year.
This, however has been billed as an emergency measure to help with the cost of living and it's unclear how long it will endure.
In any case, Tower Hamlets had already been planning and budgeting for the extension to cover secondary pupils before City Hall's move was announced.
It's the first borough in England to fund meals at secondary schools, a scheme worth about £550 per child, per year.
Billed as universal, the policy applies to all such families, irrespective of income – meaning those who can afford to pay also benefit.
Such policies – like the Winter Fuel Allowance, for example – often come under fire for squandering valuable resources on those who don't really need the support.
But means testing is not without its own issues – where do you place the threshold? Who is excluded?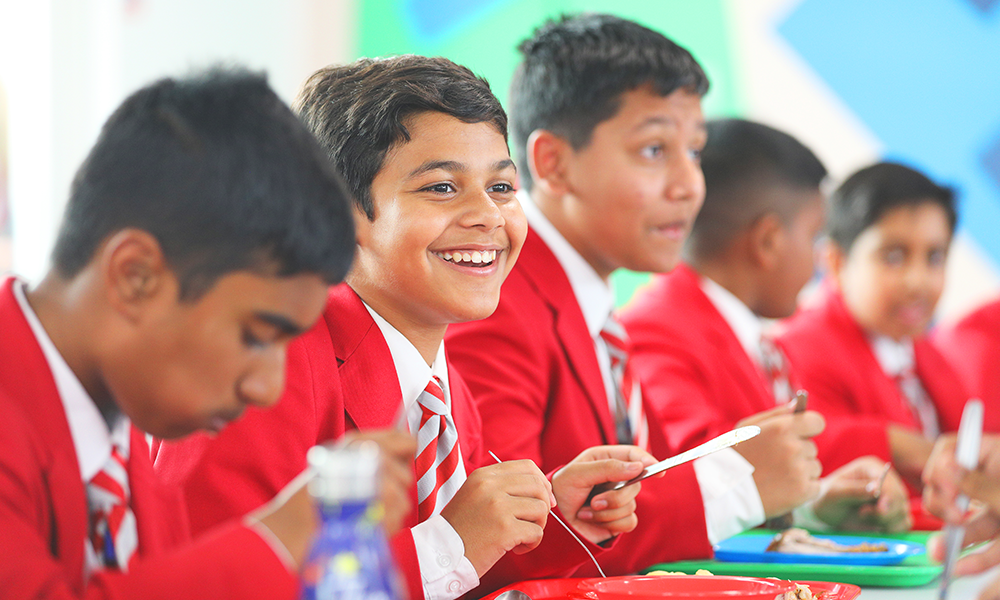 We don't generally apply such ideas to educational settings themselves.
There's an obvious absurdity to expecting students in a single class to attempt the same lesson with a significant imbalance in resources.
Imagine a cookery session where a third of students had bought the ingredients for a recipe, a third had them provided for free and a third turned up with some, but not all, because they couldn't afford the whole list.
It would be impossible for everyone to complete the dish.
So why is lunch any different?
For Lutfur Rahman, Mayor Of Tower Hamlets, the approach is about trying to ensure children don't fall through the gaps.
"As a youngster, you need a decent hot meal," he said.
"This is about caring for the people who need support, so we want nothing to come in the way of their attainment and life chances.
"I remember when I was young, I used to line up for school meals and there were times when my father was out of work and I had free school meals or when he was in work and we had to pay.
"Sometimes if we didn't have the money, I had bread, butter and jam and I didn't always like it. Variety is important.
"Hot food is important. Having such a meal every day helps children function, behave better and achieve more.
"This is a poverty-stricken borough, with one of the highest rates of child poverty in the country.
"For me, education is an important method to escape from poverty. It's so important to me – it gave me a life chance – so we should do whatever we can do to remove the hurdles to good attainment.
"It's my passion and my belief that education should be a universal offer and, whatever we can do to assist this, should also be universal.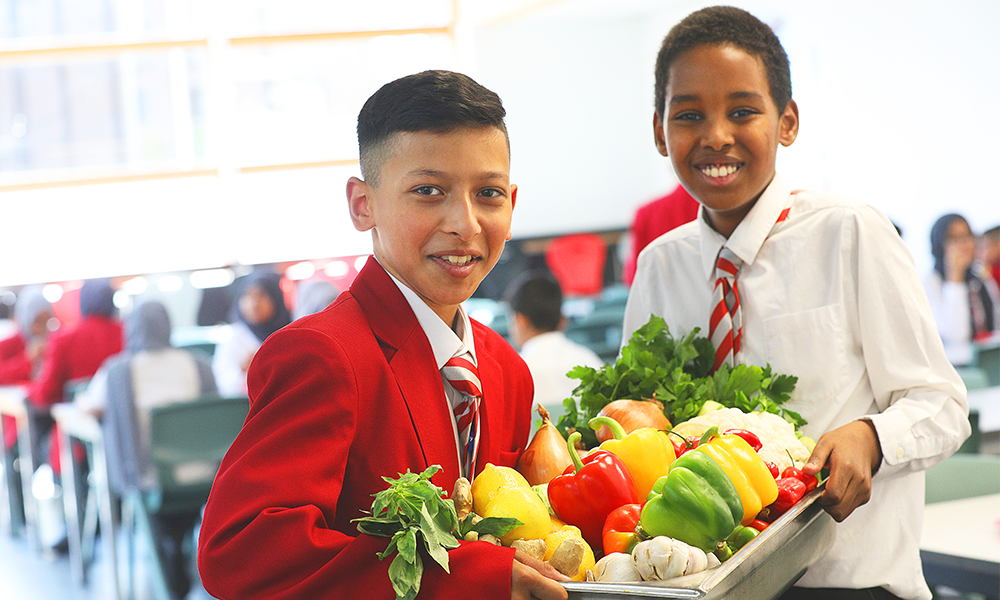 "I don't know what's happening in individual families, but I don't want any children to be at risk – to come to school wondering if they will be given the money for tomorrow or a good packed lunch.
"Now every child can line up for the same food – the same offer.
"It feels good, it feels exciting and I think the take-up over time will be greater than it is currently.
"When the children see they can have a meal – perhaps be with their friends, save some money – I think they'll take up that offer."
While hot meals – even free ones – may not compete with the lure of the playground and friends in good weather, Swanlea School is predicting a rise in pupils eating the food cooked by its in-house catering team.
"I don't expect to see the number shoot up massively right now, but I do expect to see it increase over time," said Brenda, who joined the school in 2005 as deputy head before taking charge in 2011.
"Coming to school is a habit, eating lunch is a habit, so we will see an increase in youngsters doing that, but I expect it to be steady as our pupils get used to doing it.
"Some will prefer a packed lunch – these are teenagers and they will make decisions about those things.
"The educational benefit isn't really a point for discussion for me – it's just good in itself for children to eat. They can have a good meal – and that's enough.
"Also, with universality, there's no bureaucracy from the school's point of view and that's just delightful.
"It's way easier for the school to manage and parents are pleased – especially those who would be considered the working poor.
"About 50% of our youngsters would be getting free school meals anyway, which is a very high percentage – but the next couple of layers up are still poor, just not poor enough to qualify.
"They're the ones that always get hit whenever you have a means-tested benefit – there is always a cut-off point.
"Having a meal allows pupils to focus, to concentrate and it says that we care about them. It gives them time to sit down with their friends, have a nice chat and a nice time.
"Today, lunch was roast potatoes, gravy, vegetables and a chicken quarter, with a vegetarian option of lasagne.
"If we wanted to be popular, we'd give them cake, fizzy drinks and chips – but I'd lose my job. There are very strict guidelines on nutrition.
"Offering free meals is just a good thing to do and also the right thing. In a country as wealthy as this, no child should go to bed hungry.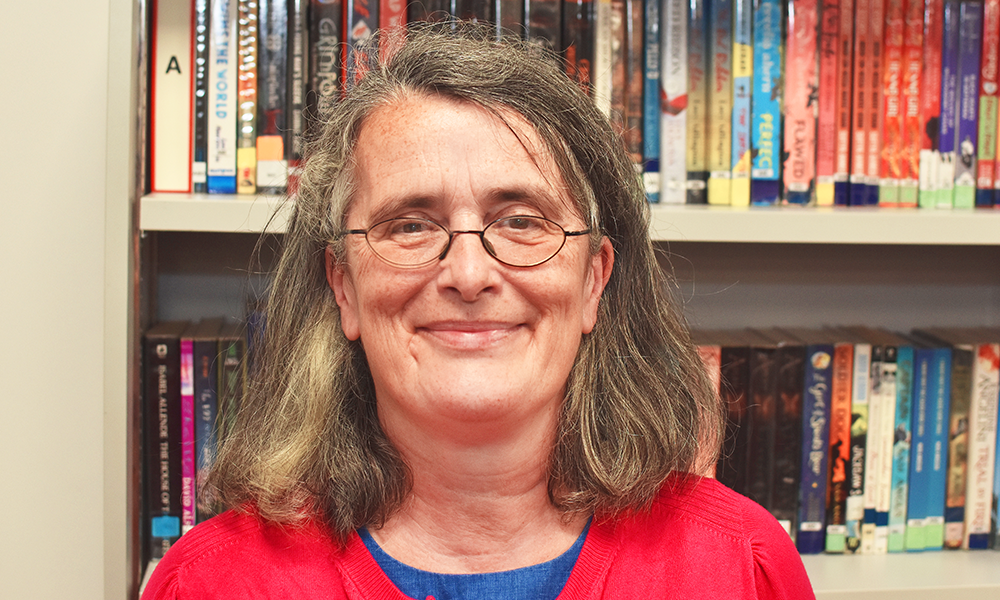 "When we've got good mums and dads doing everything that we say they should and they still struggle to feed their children, that's just not right in 21st century Britain.
"I find that deeply, deeply offensive and this is part of the solution."
The situation for children living in the borough and going to school elsewhere or vice versa is less clear, with the council asking parents to contact it or other authorities for specific advice.
Nevertheless the move begs the question that, if Tower Hamlets can do this and the Mayor Of London can go city-wide for primary pupils, why can't other boroughs in the capital – or the whole country – do the same?
Find out more about free school meals in Tower Hamlets here
Read more: Sign up for the Santa Stair Climb at One Canada Square
Read Wharf Life's e-edition here
Subscribe to our free Wharf Whispers newsletter here
- Jon Massey is co-founder and editorial director of Wharf Life and writes about a wide range of subjects in Canary Wharf, Docklands and east London - contact via jon.massey@wharf-life.com