West India Quay-based firm has BBQ boats and hot tub boats plus a prototype hybrid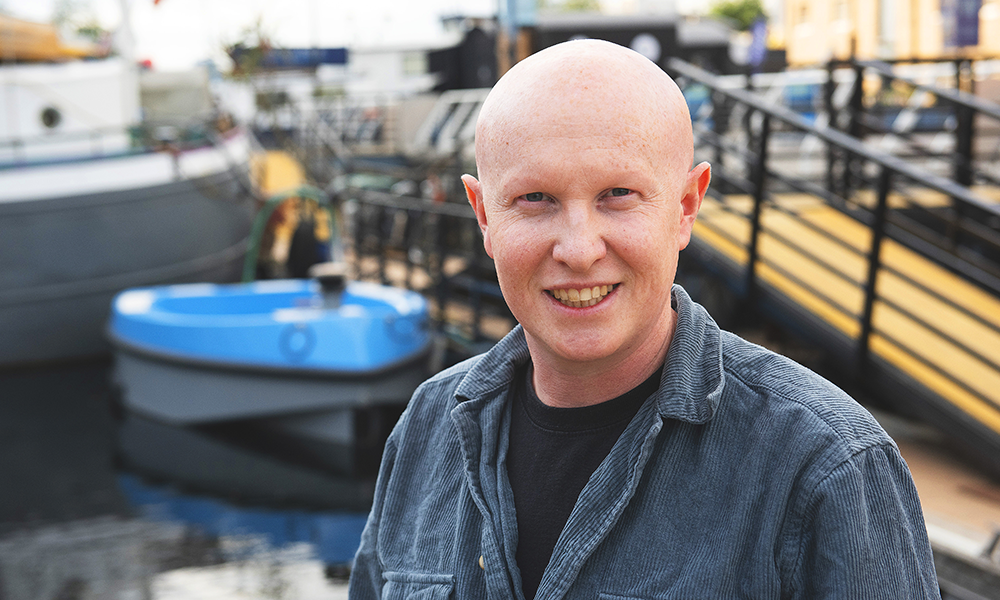 Subscribe to Wharf Life's weekly newsletter here
For the past three years – lockdowns excepted – West India Docks has been home to knots of folk in swimsuits gently slipping through the water in curious bright red craft.
Some sport captains' hats and sip beverages, most wave to passers-by as they inevitably become the subject of social media updates or enthusiastic messages to friends.  
They are customers of Skuna Boats, a company based at West India Quay and founded by CEO Stuart 'Tommo' Thomson. 
"I originally saw the hot tub boats in Holland – they're made by a guy in Rotterdam and I spotted them when I was on holiday and thought it looked a lot of fun," said Tommo.
Despite enforced closures due to the pandemic, his business has had its busiest summer since the first of pillar box red vessels silently sailed away from its moorings and, with a new boat in the pipeline and plans to expand operations to more sites in the UK, the future looks bright.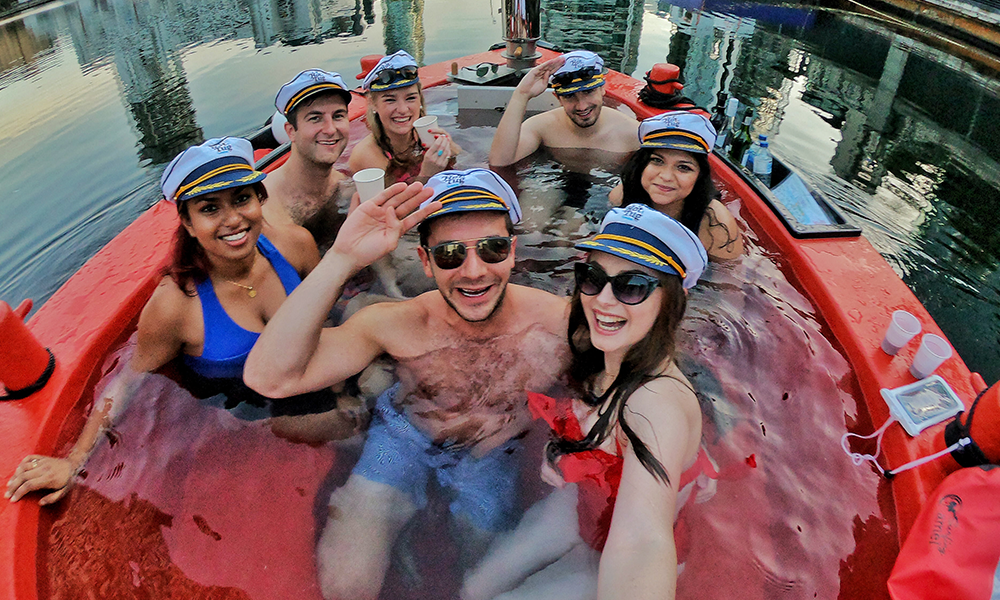 "I had a go in one and thought it was brilliant and that it was definitely something that should be in the UK. 
"We started in the Regent's Canal near Old Street for a year and then moved to Canary Wharf.
"The docks here are a lot more expansive – the boats can travel further and it's a more interesting journey.
"The Regent's Canal has locks so you could only go about 500m. Here the boats can explore a lot more of the dock system so it's a much better place to go out on one."
The hot tub boats normally cost from £225 and have a maximum capacity of seven people equating to less than £33 on weekdays.
They are filled with fresh, pre-heated water for each party which is kept at around 38ºC by an on-board stove that is stoked with enough eco briquettes to last for the duration of the 90-minute experience.
Refreshments, including limited alcohol can be purchased direct from Skuna.
"Whatever the weather – sun, rain, snow – the water will stay at 38ºC," said Tommo.
"We're much busier in summer but the best time of year to take a trip on one is in the winter when it's freezing cold outside. 
"We haven't had snow in Canary Wharf since we opened, but we're hoping for some because it will be a great experience to sail the boats in those conditions.
"The trip lasts an hour and a half – we have a recommended route, which takes up the duration of the hire time.
"There are a few limits on where the boats can go but otherwise customers are free to explore the dock system. They travel at a couple of miles an hour for a relaxing, serene experience."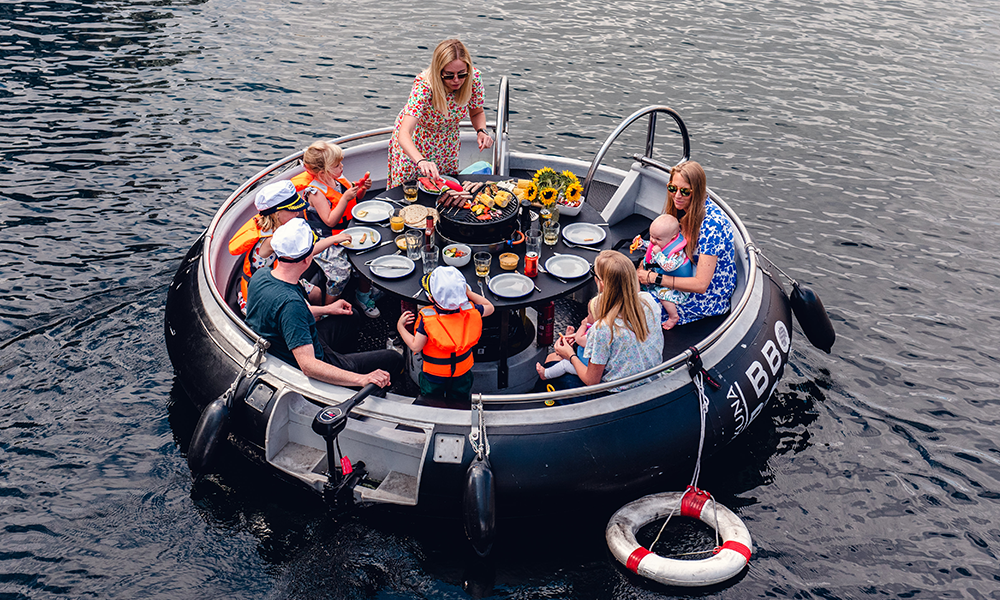 Skuna also operates BBQ Boats for up to nine people who can cook on a grill at the centre of the doughnut-shaped craft. 
Restricted to North Dock by the pedestrian bridge from Crossrail Place to West India Quay, sailors are nevertheless free to bob around the struts of the floating bridge while making their food. Hire starts at £150 and drinks must be purchased from Skuna.
"You can enjoy a trip while cooking your own food with Canary Wharf in the background," said Tommo. "It's amazing to see all the wonderful things people prepare. We do packs of food too that people can purchase or they can order from Pizza Pilgrims."
Expansion beckons, with a pop-up already in place at Lakeside shopping centre. But of greater excitement to Wharfers is the company's new prototype, currently tied up at West India Quay as it undergoes testing.
"We want to expand the hot tub and BBQ Boats to other locations in the UK," said Tommo. "The ones we currently use are made in Holland so we've developed a prototype that's partly made of recycled plastic bottle tops, designed and built over here.
"It's a multifunctional vessel that will be able to transform from a hot tub boat to a BBQ boat to give us greater flexibilty. It's not ready for customers yet, but it certainly should be at the start of 2022."
In October and November 2021, Skuna Boats is currently offering 50% off Hot Tub Boats booked Monday-Wednesday. All BBQ Boat bookings are half price until November 30.
Use code BOATOUT for the former and AUTUMN50 for the latter.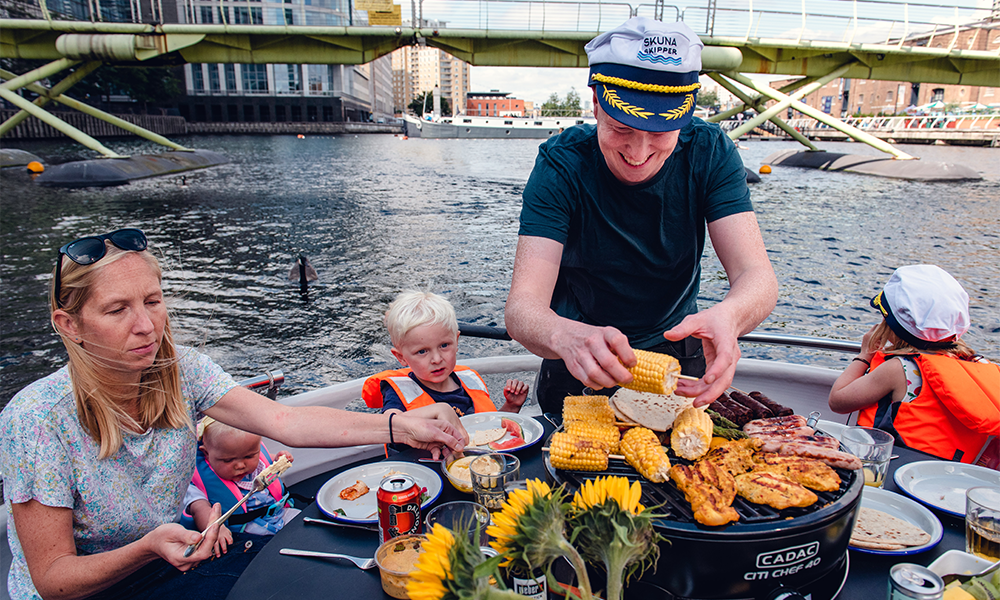 A PERSONAL JOURNEY
I have to admit to a certain scepticism about taking a ride on a hot tub boat. I thought the novelty would quickly wear off, that a quick 20-minute spin would be enough to get the gist and then it would be back onto dry land.
Then something remarkable happened. I'm not sure whether it was the deep warmth of the water, the process of learning to sail the jolly little craft or the dreamlike progress we made through the water, but time seemed to stand still.
The boat was extremely easy to manoeuvre, its tiny engine providing just enough thrust to make it feel like we were getting somewhere without ever careering out of control, even at full throttle.
The juxtaposition of one's body, essentially in a hot bath, floating on deep cool water with Canary Wharf's towers rearing up all around is peculiar.
It's a rare expedition of near total decadence in a world of purpose and direction – a chance to escape for 90 minutes into an experience that's pure fun and pleasure.
Everyone waves. People shout that they wish it was them. The tiny electric motor is silent, the stove doesn't even crackle.
You're a swan gliding effortlessly over the darkness of the dock, between the shadows of the buildings into the sunshine.
Then all too soon it's over and, mentally, you start planning your next trip before you're even changed. Stirring stuff. JM
Read e-editions of Wharf Life's print edition here
Subscribe to Wharf Life's weekly newsletter here