Owner Nicola Micah talks banking, motherhood and serving up all sorts of dishes to east Londoners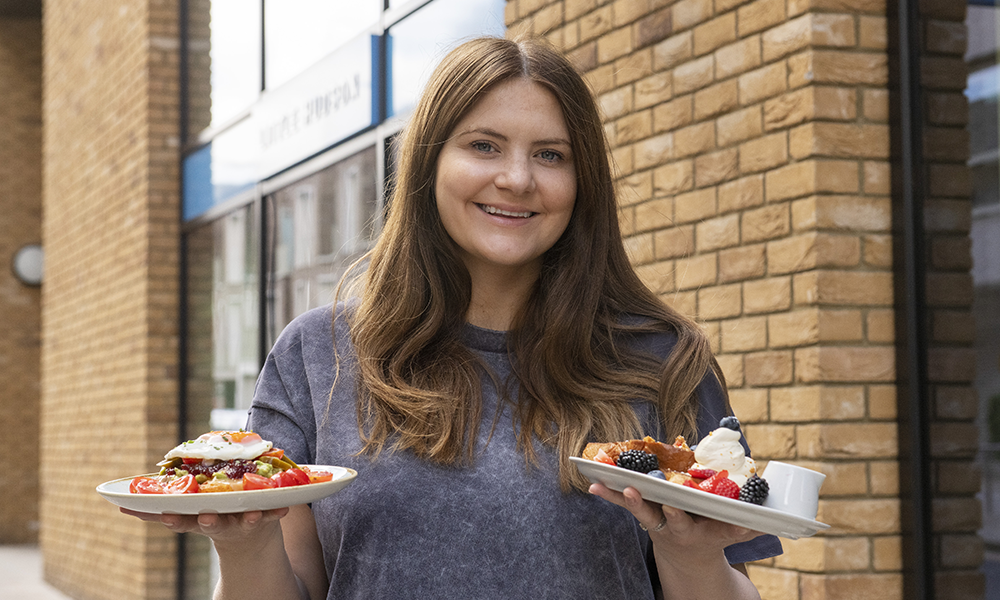 Subscribe to Wharf Life's weekly newsletter here
BY LAURA ENFIELD
The concrete jungle is "where dreams are made of" according to Alicia Keys' song New York.
But for Nicola Micah the Big Apple simply provided the inspiration for her Royal Docks reality.
The Londoner was living it up in Manhattan with her husband – banking by day and soaking up all the city had to offer by night
"We moved to New York in our late 20s and loved it," she said.
"For me, the whole point of being there was to be in the centre of everything.
"But we knew we wanted to start a family and I didn't want to do it there. We knew we wanted to move back home."
By 2019 she was back – running fledgling café Little Hudson around the corner from Thames Barrier Park and raising her newborn son.
It was a huge transition, but one Nicola makes seem as natural as breathing.
"In New York, brunch is such a big part of the lifestyle and I've always loved food – working in a bank wasn't really me," she said.
"So I decided I was going to have a look into it and see if there were any units around.
"When I did, I quickly realised we needed to go for it because there were some available.
"I knew if we waited we might miss out or other places might move in and then there would already be competition.
"Then I got pregnant, unexpectedly, and that really pushed us to do it. I could have moved back to the UK and got a job in banking, but I wanted to do something I really loved."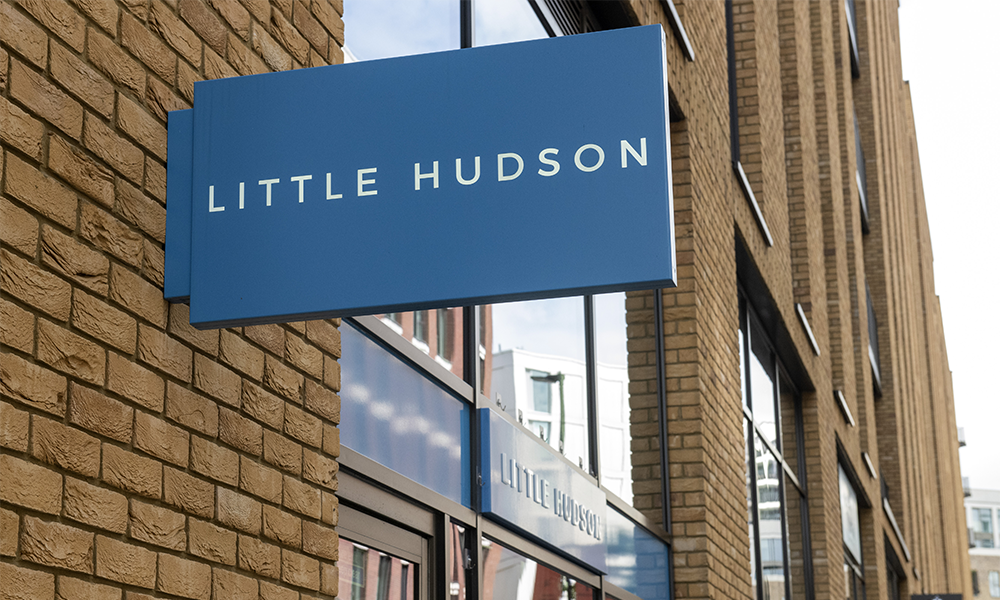 Nicola named Little Hudson to "bring a little slice of New York to Royal Docks" and juggles running it with raising her three-year-old son Rafi.
The café, in Starboard Way, is open seven days a week until 4pm with a staff of 10 and the menu is very much inspired by the brunch scene in Manhattan while also including some English classics.
Dishes include banana and caramel pancakes (£11), a brekkie bagel (£8) with scrambled egg, cheese, chives, turkey bacon or smoked salmon, and the popular ​​Hudson brekky plate (£12) with turkey bacon, two eggs, hash brown, Hudson beans, sautéed mushrooms and sourdough toast.
Nicola said: "When we were planning I was thinking about what kind of place people would go to regularly, not just once every two weeks.
"I wanted to choose the best thing to do in terms of being able to survive.
"Our food is the kind people want to eat every day, because it's not really greasy. I like to keep the menu fresh and change it every few months for people who come quite regularly."
Royal Docks is no Manhattan – the population is still small – but Nicola said that was the draw for her.
"Before we went to New York we were living in the area, so we knew it really well but there was literally nothing there," said the 32-year-old.
"Then they started developing it and all the flats were put up and I thought it was a great opportunity to open something related to food, because there's nothing else around there."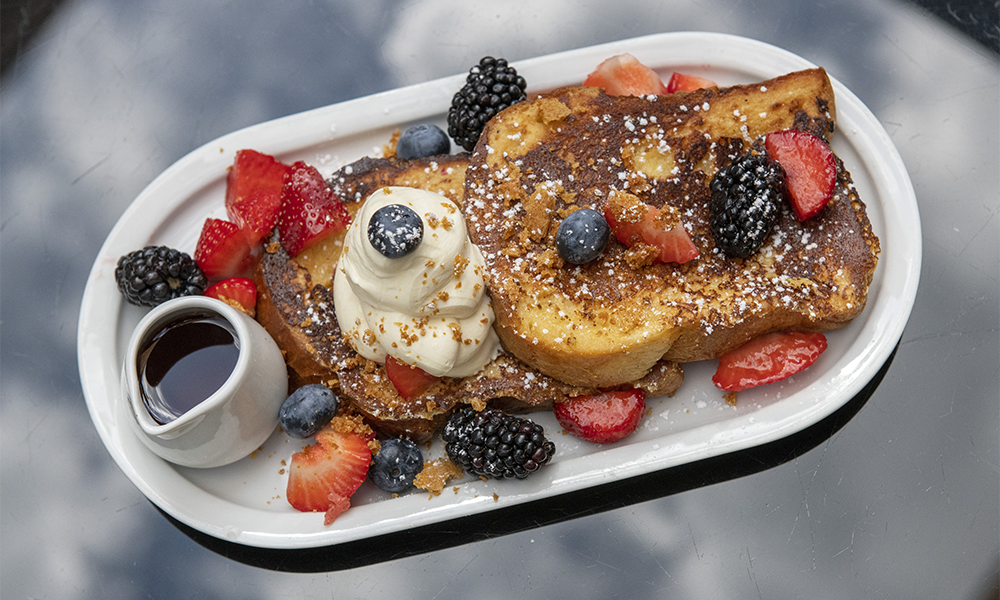 She and her husband left the area to move Stateside after he landed a role with financial services company Moody's.
Data analyst Nicola had previously worked for Santander and HSBC and then found work with Citibank.
When they decided to return, Nicola used her financial skills to create a business plan, carried out market research to build her brand and organised the lease, all from across the pond.
She said of husband Salem: "I'm pretty sure he was freaking out inside, but he was really supportive of it and he always has been.
"When we opened, he was in between two jobs, so was able to help out a bit, which was great because our son had just been born."
Nicola launched the café in September 2019 with her six-month-old strapped to her chest.
"My son has grown up in the café," said the Beckton resident. "When everything was being put together, we set up a play area for him in the back and, when we first opened, I had just started weaning him, so he had avocado and bits from the menu, which was fun."
Nicola is now pregnant again but setting up the business is not an experience she is keen to repeat.
"It was probably good that I was quite naive about the café beforehand," she said. "I can't even imagine being able to do it now while raising two children.
"The beginning was so intense, getting everything right, getting the processes right.
"When you're new, you really want to make sure that every customer is happy so that they come back.
"I didn't realise how intensive it would be, but in hospitality if your main driver is to make lots of lots of money, then it's not the best sort of industry for you.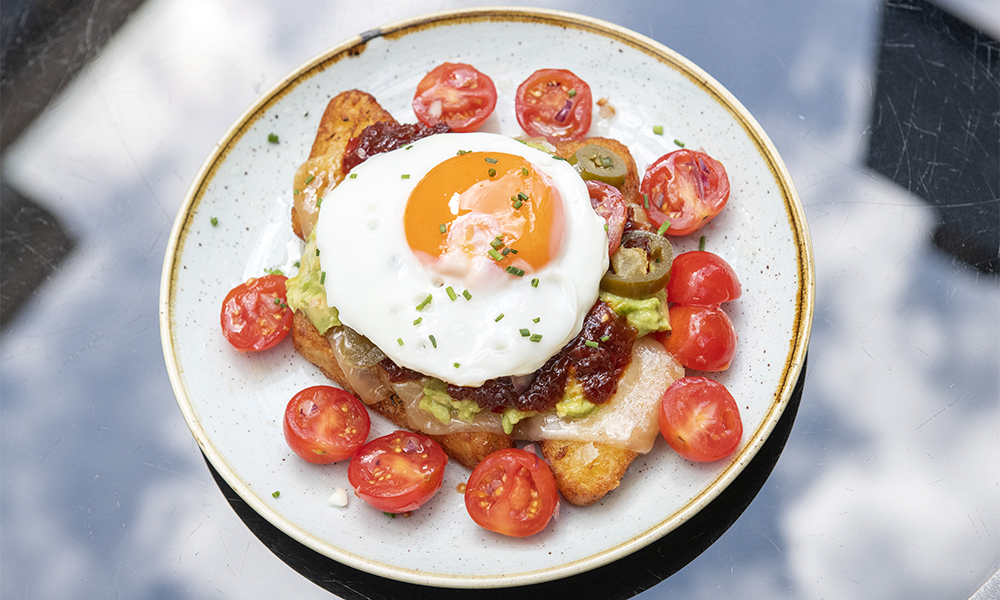 "Even though it's stressful with ups and downs and a pandemic and everything, I actually genuinely do love it, especially now we've got a really supportive team and people who actually care about the business.
"That makes such a difference and we have a lot less stress now."
Six months after opening, the UK went into lockdown and the café was forced to shut. It was a strange time for Nicola.
"Looking back it was actually quite nice, because I had my son so we were able to kind of spend that quality time together," she said.
"But it was really upsetting shutting the café.
"We kept the community involved by doing supply boxes with fruit and veg, milk, eggs, flour, yeast, bread and coffee.
"We delivered them to people's doors using a little trolley.
"No-one in our area could get anything because we only have a small Sainsbury's, so the queue would literally wrap around the whole development.
"When we reopened, we actually had a lot of support then from people who bought from us. All those same customers came in, which was really nice."
Nicola said lockdown also forced Little Hudson to launch on Deliveroo, which has prompted her to consider opening a dark kitchen.
"Delivery has just blown up since the pandemic, it is about 15% of the business.
"Sometimes, on weekends, we have to switch it off because it's so busy already in the café.
"I didn't think people would order brunch for delivery, but they do, especially at weekends.
"I've been thinking about doing some sort of delivery kitchen and maybe expanding other parts of the business as well to do more cakes for events and celebrations and expand the catering side."
The café is open seven days a week until 4pm and has just launched a burger night on Fridays from 6pm-9pm. Nicola is also looking into holding live music events in the future.
So does she want to expand to another location now she is expanding her family?
"Maybe," she said. "But I'll wait a little bit until my next child is a bit older."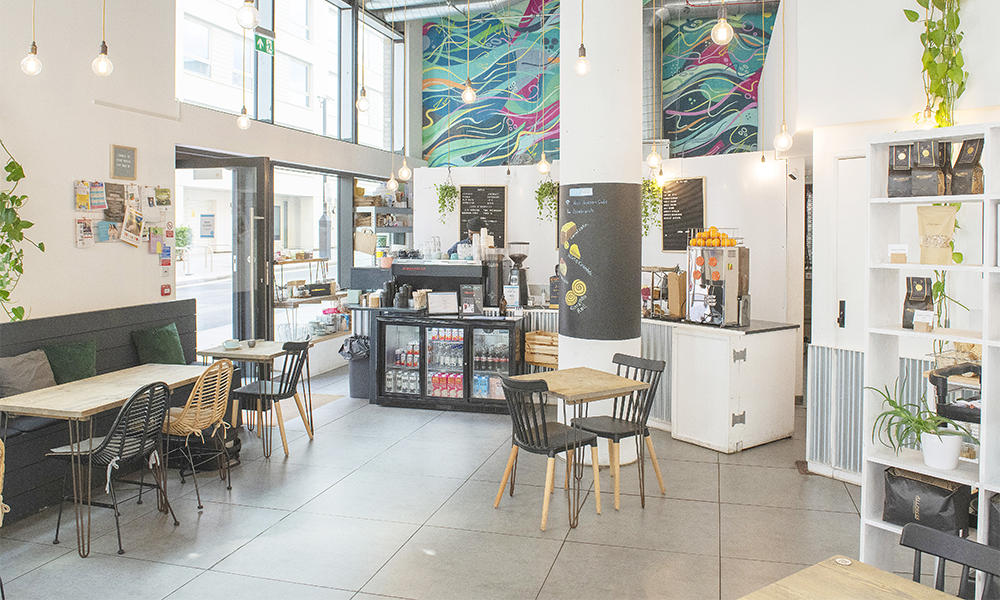 Read more: How chefs created From The Ashes BBQ in Fish Island
Read Wharf Life's e-edition here
Subscribe to Wharf Life's weekly newsletter here
- Laura Enfield is a regular contributor to Wharf Life, writing about a wide range of subjects across Docklands and east London