Co-founder Curtis Bell talks inspiration, meat and serving up pulled pork in a doughnut from his hatch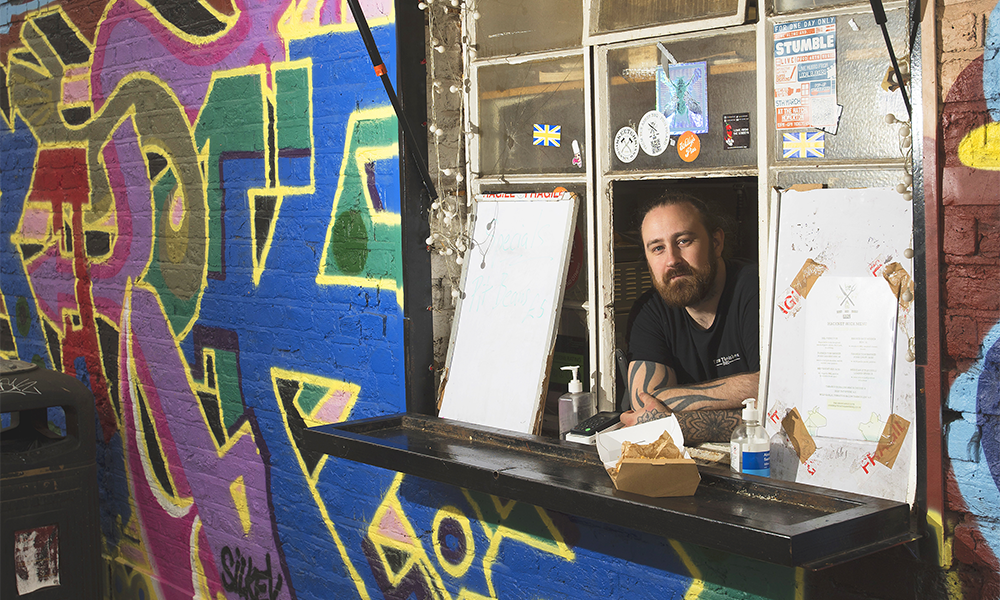 Subscribe to Wharf Life's weekly newsletter here
BY LAURA ENFIELD
Fire can be a sudden spark that ignites with a burst or a softly glowing flame that slowly smoulders.
Curtis Bell has experienced both since founding barbecue business From The Ashes BBQ in June 2020 after just a few weeks of planning.
"It was just a burning desire," said the Swansea-born chef, with no hint of a pun intended.
"My favourite thing was always to cook on the beach. Maybe it's a primitive thing, but I have always just been drawn to the flame. I tried doing the posh stuff – fine dining – and it just isn't me.
"I just like the rawness of cooking in a very direct and simple way over the flames."
Tucked behind a hatch on Fish Island, the takeaway experienced a rush of fame in lockdown, with its salty smoked pork served in sugary handmade doughnuts.
Customers were walking from as far as London Fields to queue for up to an hour. It was a success that took Curtis and his co-founders by surprise.
"It just exploded overnight and we were getting reviews and write-ups in the papers – we had to hire staff," said Curtis.
"It was daunting, unexpected and an amazing thing to happen out of lockdown."
The "we" is Frank Fellows and Martin Anderson, who Curtis met when he moved to the big smoke (pun very much intended), having landed a job at barbecue joint Temper in Soho.
Until then he had followed the recipes of another renowned restaurant, Pitt Cue, "like the bible" – bosses had even offered him a job, which he wound up turning down.
"I felt like it was 'don't meet your heroes' and I wanted to keep it almost as a fantasy," said the 29-year-old.
"By then they had gone from this really gritty, basement barbecue to this corporate steakhouse for City workers and it had kind of lost its magic."
It is that hands-on flavour that Curtis loved and wanted to capture with From The Ashes.
That, he feels, is achieved by working directly with farmers such as Farmer Tom in Herefordshire and McDuff in Scotland to source meat.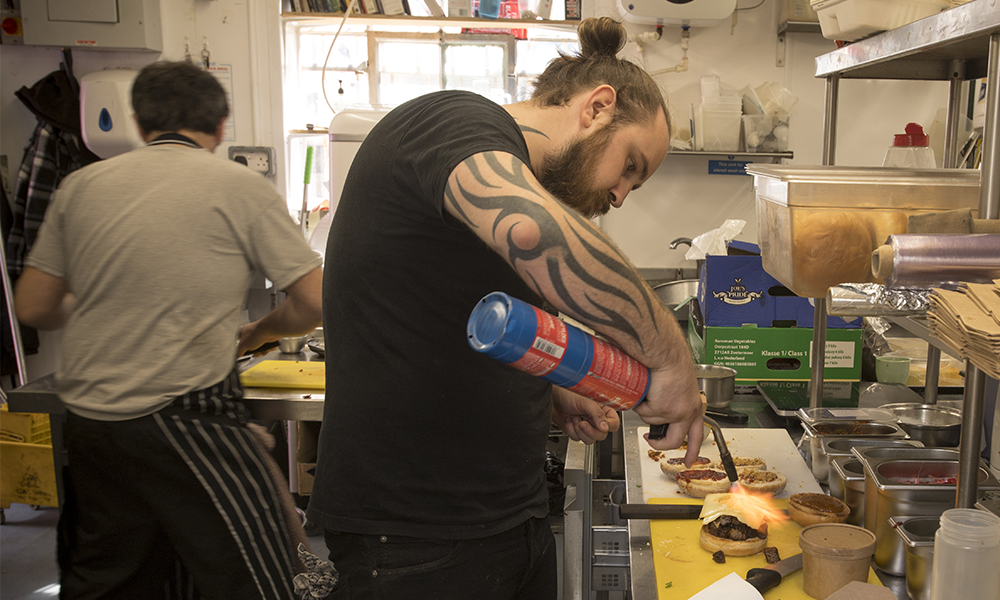 The team also does most of the butchery themselves in a tiny eight foot by six-foot kitchen, so they can stick to their whole animal approach.
"We make sausages from the legs and smoke down the necks and shoulders and bellies and then smoke the loin like a rib roast," said Curtis.
"We get half cows and use the bones for stock and the fat for potatoes and trimmings for mince for a special.
"It's not only more cost effective, it's also a much more efficient way to cook. I think everyone needs to be cooking like this."
They launched the business thanks to a loan from his dad and a pig from Farmer Tom who said: "Pay me when you can".
A friend made them a smoker from recycled parts, which they dubbed "The Piggy" and they began experimenting.
"The hardest thing is patience," said Curtis. "From seasoning it right the way through, to resting it can be 12 hours and the temptation to get into it earlier is huge.
"It does take its toll when you're doing big events and have to start at 6am and go through until midnight. It's endurance, stamina and hard work.
"Sometimes you cut into it and it's overcooked. That's disappointing, but I will braise it down and make a brisket ragu and try and make the best of a bad situation.
"We try to avoid as much wastage as possible."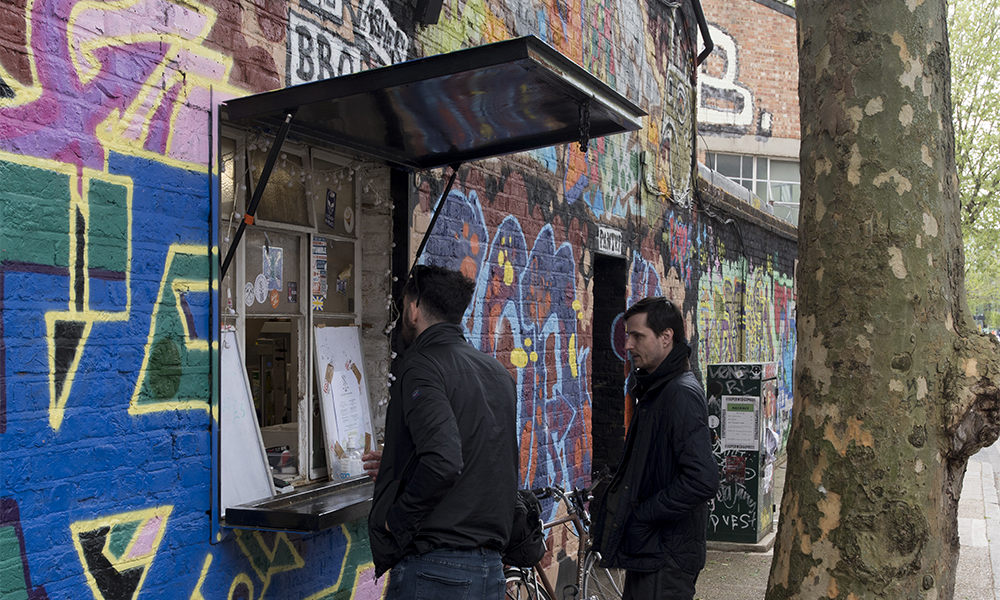 So is it worth all the effort?
"Yes, I love it – all good things come to those who wait," said Curtis.
"You can have a steak, which takes 15 minutes to cook, or a piece of rib, which has taken seven hours. I guarantee you will be way more satisfied with the latter.
"As much as my back hurts and my legs hurt, there is so much satisfaction in the joy it brings people.
"When you put all those hours in and it pays off watching those people bite into it – it's just amazing."
The chance to birth his own business came when he, Martin and Frank were made redundant during the pandemic.
Curtis and Frank opened a dark kitchen for fried chicken restaurant Coqfighter and decided they should "copy the formula" with barbecue.
"The person who was renting out the Coqfighter kitchen had one on Fish Island too and we went over and had a look at it and scrambled some money for the deposit and the first month's rent, and in we went," said Curtis.
Martin came on board and they spent four weeks testing out recipes, eventually landing on a doughnut filled with pulled pork as their signature dish, inspired by Black Axe Mangal restaurant in Islington.
"Lee Tiernan up there is a genius and did a duck liver parfait and prune doughnut which probably changed my whole life, it was that good," said Curtis.
"We were just toying with ideas and one day ordered some really shit Tesco doughnuts and tried putting some pulled pork in the centre of it – it just worked with the sweet, savoury, salt, smoked fat.
"A lot of people are still very cautious but, because you have every sense in your mouth, it's perfect.
"We put it on Instagram as a draw and it worked. It was a magnet and there was a time I couldn't open Instagram without seeing my doughnut.
"Some people may think of it as a gimmick and are not impressed, but I find that hilarious."
A party in June 2020 with all their hospitality mates, kicked things off for the trio and they just began opening the hatch every Friday, Saturday and Sunday.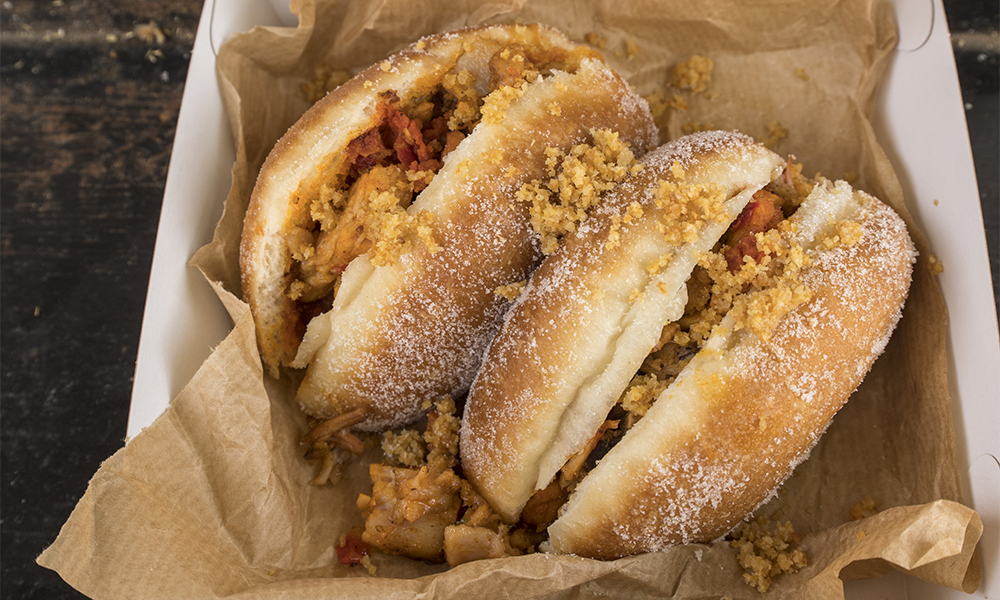 "People started walking up – it built momentum and, the next thing we knew, we had queues round the block," said Curtis.
At the peak, he was waking at 6am on Saturdays to tend to the smoker and meats and start rolling and proving the 120 doughnuts they were selling a day.
Made over two days from a laminated enriched dough, they included sweet options such as custard in different flavours and dark chocolate Hennessy and hazelnut praline.
Other creations included a smoked pork bun with pickles, sriracha Marmite mayo, smoked garlic mayo and a slaw made with hispi cabbage, fennel, apple, lime juice, walnut, jalapeño dressing and gorgonzola sauce.
They quickly attracted queues, which stretched as far as the Premier shop on Roach Road with punters soaking up the sun and free shots handed out by Curtis.
"It was just a really special time and something I would love to relive again," he said. "But we're back in the real world now, sadly."
Since London went back to business, Curtis has found himself having to stoke the flames of success in new directions.
Following their early success, From The Ashes landed spots at food venues Two Tribes Campfire in Kings Cross and Kerb Seven Dials.
And their summer has a full roster of festivals, events and private parties, including Bigfoot Festival, British Summertime, Bike Shed in Tobacco Dock, Big Grill Festival in Ireland, London Craft Beer Festival and Manchester Craft Beer Festival.
Frank left in October last year to work with his girlfriend at the cafe of local company Barkney Wick, but Curtis now has a team of seven chefs and said there is no such thing as a day off for him.
"The hatch will remain open and we want it to go from strength to strength," he said.
"We're looking to get an outside licence so we can have benches and seats.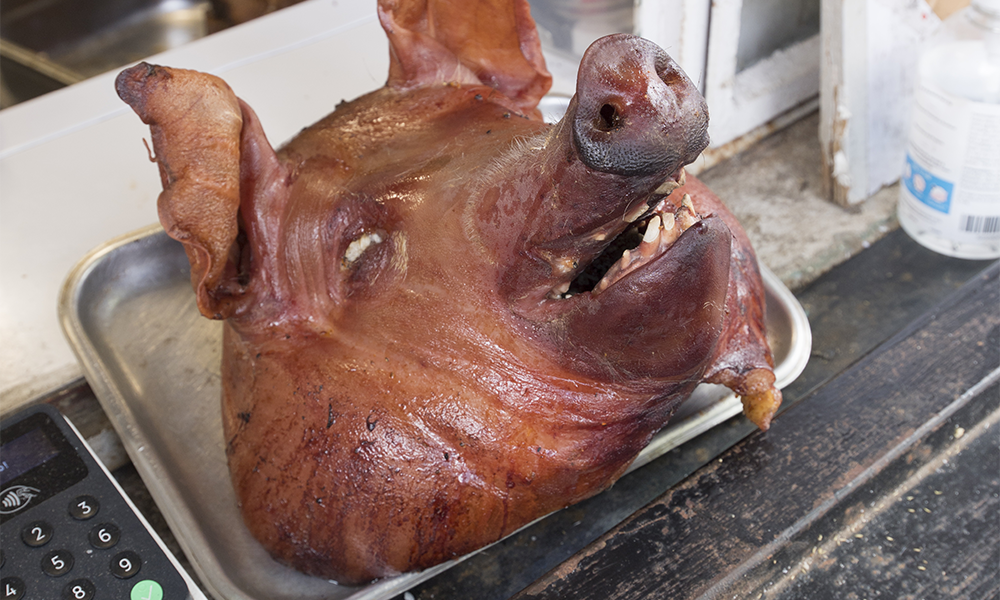 "We now sell some craft beers and park wines, perfect for a summer day when you're sitting on the kerb eating barbecue."
He's also been implementing a huge shake-up of the menu to help with the business' longevity.
"Now summer is coming, I'm changing the menu on a weekly basis," he said. "I ring my farmers and see what's available and create the menu around that.
"This weekend we have got some whole smoked chicken with some wild garlic pesto, an aged sirloin with horseradish cream and roasted beef fat.
"Last week I had an aged beef meatball sub with mozzarella, parmesan and wild garlic again. We're going to become seasonal."
Curtis said the founders had been a bit unsure of themselves as they tried to transition from their blaze of glory in lockdown to the more even tempered real world.
"It's been daunting," he said. "We're still trying to figure out what our dream is but I think it is to be a bit of a household name in London and keep on enjoying what we are doing.
"I just want to keep cooking outside and doing amazing pop-ups – happy and free. I don't want to do anything too serious. I'll never be the person who wants a big huge chain."
Curtis said the pressure of running a small business was enough. They've never had any investors and are just about breaking even.
But with prices skyrocketing across the board, the profit margin is getting smaller.
"We are increasing our prices and I hope customers understand why we need to do that," he said.
"I think the next year will be incredibly tough on hospitality with everyone trying to save pennies.
"I can already feel the pressure, but hopefully, we can keep our heads above water and keep going and growing."
Read more: How Squid Markets is bringing street food and fresh produce to Canada Water Market
Read Wharf Life's e-edition here
Subscribe to Wharf Life's weekly newsletter here
- Laura Enfield is a regular contributor to Wharf Life, writing about a wide range of subjects across Docklands and east London