Marina Simoes and Marcio Yokota opened their kiosk after both losing their jobs during lockdown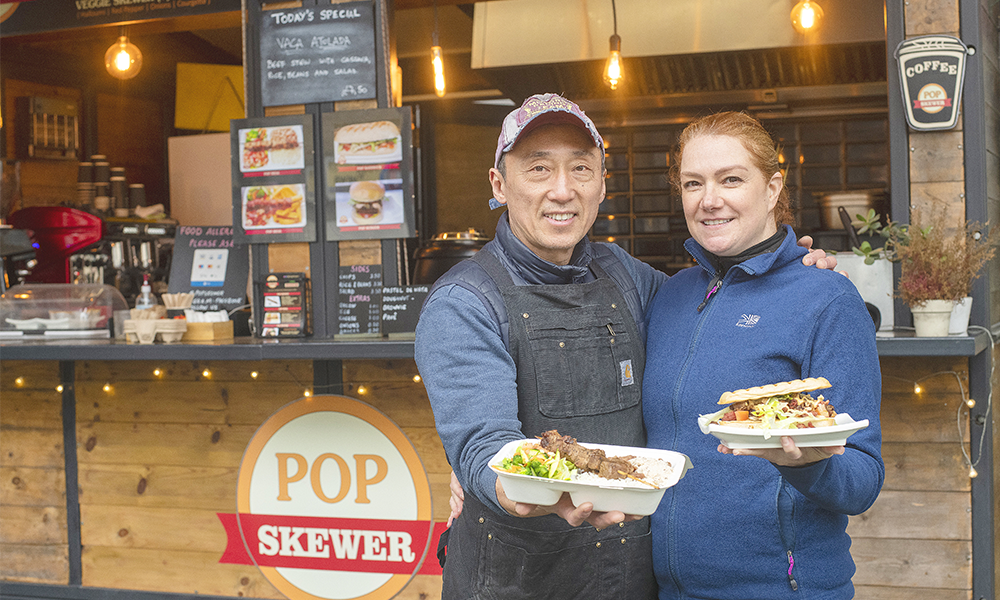 Subscribe to Wharf Life's weekly newsletter here
BY LAURA ENFIELD
Underneath the grey stretch of railway tracks in Wapping lies a surprise. Well, more than one, actually.
Venture off the beaten path of Cable Street and you will find Brazil's most popular street food on offer at Pop Skewer. 
Succulent beef on sticks, halal chicken and sausage are freshly barbecued and served up on the side of the road, just like in South America.
The compact kiosk was opened by Brazilian couple Marina Simoes, 46, and Marcio Yokota, 53, after they both lost their jobs during the first lockdown.
They had never worked together, but decided to use their skills and take a chance on their new venture.
Marina said: "We were both doing something completely different before.
"I was working in property sales and then started temping because I knew I wanted to do something else but never thought of opening my own business.
"My husband was working in a coffee shop as manager but because of lockdown we were both at home unemployed, so we said: 'Why not work together?'.
"He's a very good cook, so we thought we'd do something that uses his skills and gives people a taste of Brazil."
They decided to serve the skewers with another popular dish from their home country – rice and beans.
"In Brazil, they wouldn't normally be served together," said Marina. "But we decided to combine them.
"The skewers are everywhere in Brazil. You grab them and eat them on the street really informally on the stick.
"They're a really profitable business there and, hopefully, we will get the same success here."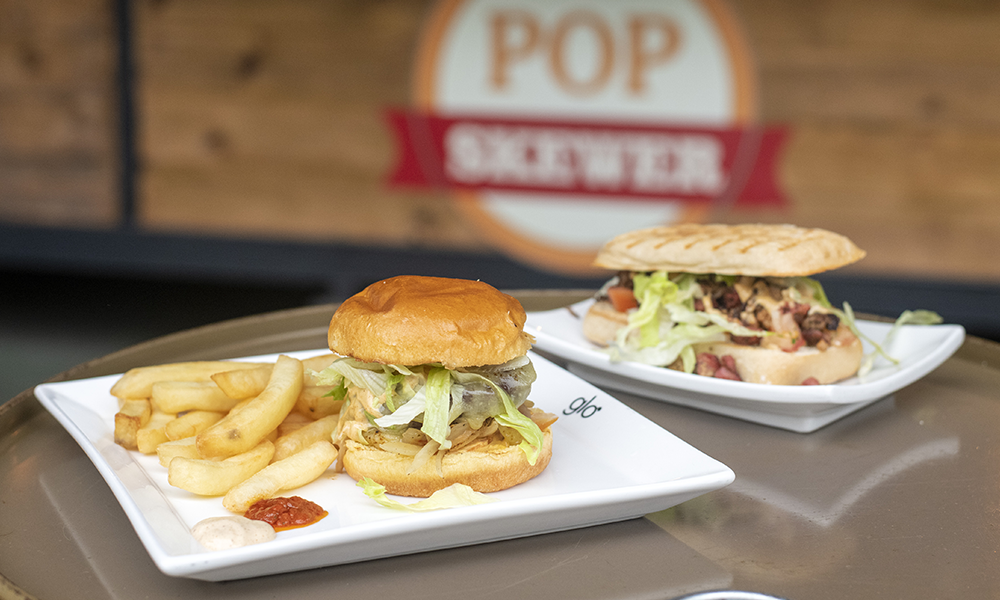 They also serve up a Pop Sandwich and Pop Burger and daily specials like beef stew with cassava, beef stroganoff, beef parmigiana and, once a month, slow-cooked beef ribs.
"Every Saturday we serve the feijoada, which is black bean and pork stew," said Marina.
"It's made with different types of pork meat served with rice, tomato salad, spring greens and the farofa, toasted cassava flour with bacon and something else.
"Forgive me, I forget as I've been a vegetarian for  20 years."
A vegetarian running a meat-based business? How does that work?
"To be honest, I don't like the smell of the BBQ, but I respect everyone whether they are vegetarian or not," she said.
Marina admits she mostly stays away from the kitchen and sticks to handling other parts of the business.
The couple buy all their food fresh every few days and have items like the black beans delivered from a Brazilian supplier.
"I don't cook anything, I'm terrible with that," she said. "Of course, I help put the meals together. But cooking? No."
Thanks to her, Pop Skewer also serves up plenty of vegetarian options, including a halloumi, onion and courgette skewer, a halloumi burger with courgette and lettuce, tomato and homemade sauce and a vegetarian sandwich in ciabatta bread.
Marina said: "Cooking with a charcoal grill makes such a difference to the taste.
"We have never just aimed to target Brazilians and, so far, everyone is enjoying eating it, which we find amazing."
It's not the first time the Bromley residents have taken a leap into the unknown.
Marina, who is of Italian heritage and grew up in Minas Gerais, left Brazil in her 20s on a one-way ticket to London.
She said: "My first job was working in silver service in hotels. I was terrible. Then I started in retail sales and then management and then property sales."
Marcio, who is of Japanese heritage and grew up in Sao Paulo, arrived in England 15 years ago. He left behind a clothes business and found work in restaurants and coffee shops.
Having grown up 370 miles apart, it took them both travelling 5,900 miles across the Atlantic for their love story to begin on the streets of London.
"We met through a mutual friend and have been together ever since," said Marina.
Their relationship is being put to the test with the challenges presented by their joint venture.
They built the business in just eight weeks, launching just after the first lockdown, and have faced struggles with supplies during the pandemic, getting word out to customers on a shoestring, and working together in very close quarters.
"Sometimes I want to strangle my husband," said Marina
"But we have separate areas with me in the front taking orders and the other two guys in the cooking area. Sometimes we do bump into each other and bicker.
"It's been very challenging having our own business under these conditions for the past year, but I'm really enjoying it."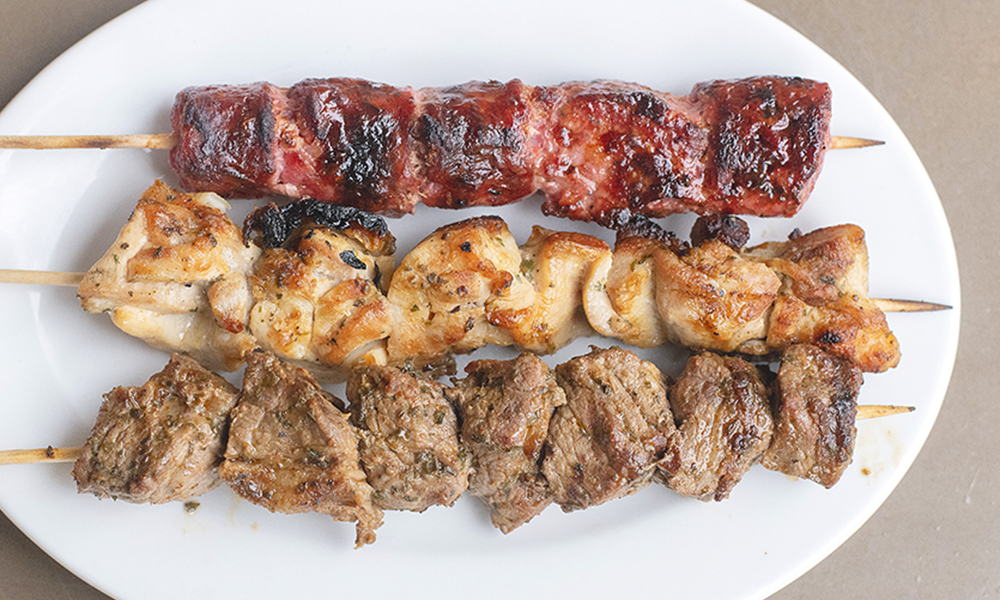 They have also taken on fellow Brazilian Lucas Montagnini and trained him up to work on the grill.
"It was very hard to find someone because of the pandemic," said Marina.
"He was a friend of a friend who was an engineer in Brazil, but he'd had enough and decided to leave and do something else.
"That's what we all do when we come to England – something completely different. It's great and challenging, leaving our comfort zone."
The Pop Skewer site was empty before they took it over and they rely on Instagram, Google and word of mouth to gain customers.
But business can be unpredictable, with the lunch crowd sometimes arriving at 11am and sometimes not until 1.30pm, which makes it hard to plan.
"It can be really unpredictable," said Marina."We are not just building up Pop Skewer but also the location.
"The residents kept us going during the pandemic, but now the office workers are coming back. Hopefully, when the weather gets warmer, there will be lots of BBQ for everyone.
"We really want Pop Skewer to grow and get more customers.
"The past year has been about working hard and not getting much money, so we really want to move to the next level now and become known by everyone for Brazilian food."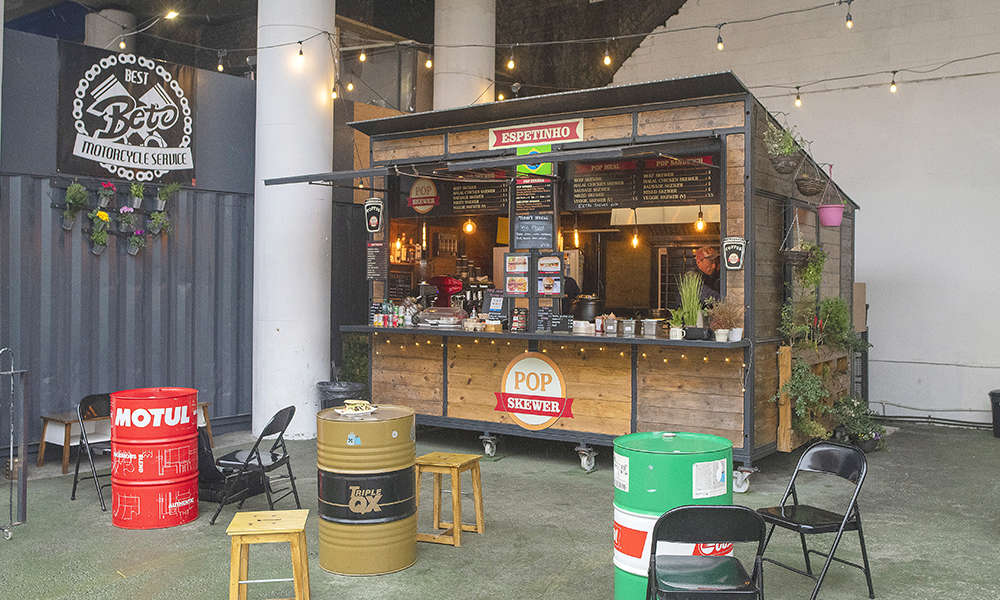 Read more: BabaBoom set to launch kebab restaurant in Stratford
Read Wharf Life's e-edition here
Subscribe to Wharf Life's weekly newsletter here