How relaxation sessions fit with health club's high energy programmes to offer members time out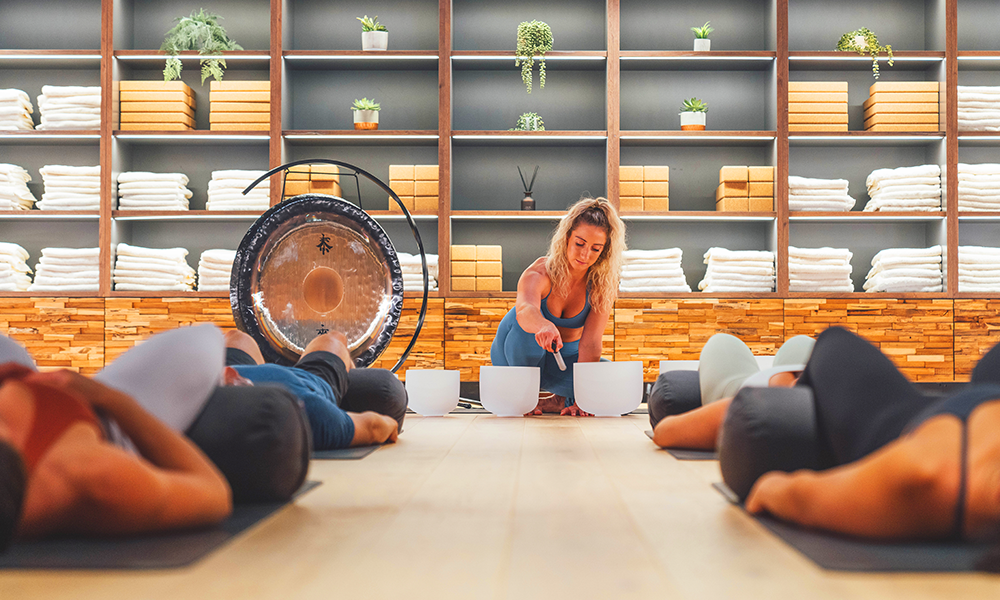 Subscribe to our free Wharf Whispers newsletter here
How often do we get the opportunity to take an hour for ourselves?
The modern world is busy.
There's information overload. We, as individuals, have the ability to be in touch with more people now, than at any time in human history.
There's more content from media sources – social and traditional – all with ideas, advice, entertainment and distraction, screaming for attention than ever before.
We can be at work 24-hours a day, pretty much anywhere in the world. Phones can even be used in the shower.
It's all an endless, demanding torrent of stuff. That is life in 2023.
It's also, perhaps, why Third Space's Sound Bath sessions are proving so popular.
With its Canary Wharf branch the largest luxury health club in Europe – arranged over three floors above Waitrose in Canada Square – it boasts a grand list of facilities.
There's a climbing wall, an enormous functional training space called the yard, a boxing ring, a swimming pool and that's before you even start digging into the extensive free weights, resistance machines and cardio options on offer.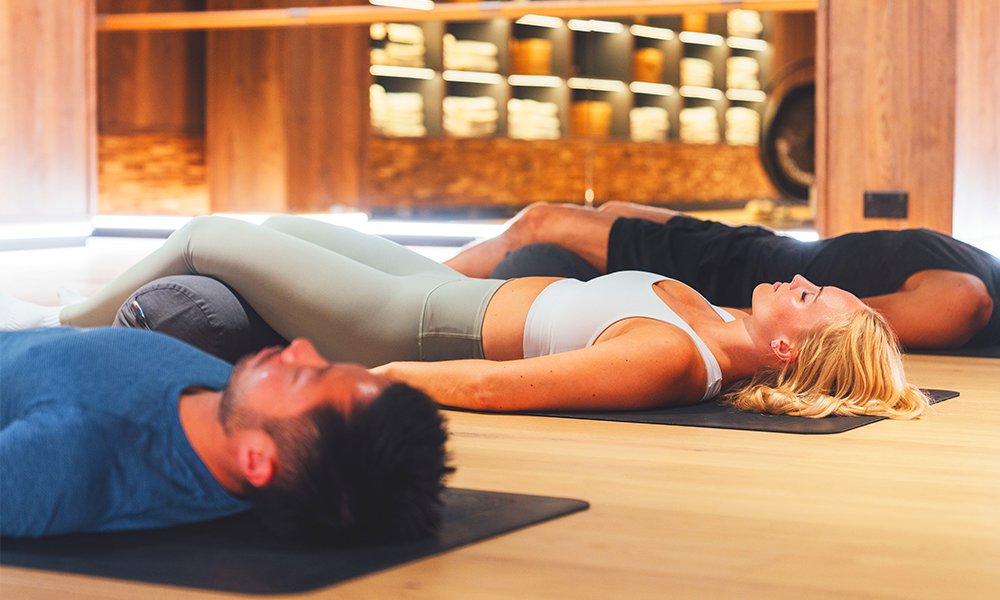 There's also a densely populated timetable of classes with names like Sweat X, Hardcore Cycle and Speed Fiends, keenly focused on helping its members get a serious sweat on.
"We do that really, really well – those high energy sessions when you look at the breadth of that offering," said Gillian Reeves, head of group exercise at Third Space.
"There's a whole plethora of options – strength classes with weights, HIIT classes, cycling classes – which is brilliant for overall health.
"Then you go towards things like Yoga, which can also be high energy with practices like Vinyasa.
"Then at the rest end of the spectrum we have Yin Yoga, which is really popular here because it's much slower and people know intuitively that they need to stretch.
"But we thought: 'Why stop there?'.
"Let's keep going and offer something beyond that.
"People, especially in Canary Wharf, work really hard and have very active lives. There's lots going on and they really need that balance with rest and recovery.
"We decided to put on some trial Sound Bath classes and the waiting lists were really big – the demand was there, people wanted to do it and it confirmed what we were thinking."
The Canary Wharf club is currently offering hour-long Sound Baths twice a week on Monday evenings and Saturday afternoons – but what actually happens in a class?
"It's our way of offering peace and meditation to balance out all the activity – work, stress and exercise – a time once a month or a fortnight to find some stillness," said Gillian.
"We think it might be seen as the least intimidating form of meditation – there's something intuitive about sound and music.
"People really relate to that and so they're prepared to give it a go – they aren't faced with complete silence for a long period of time.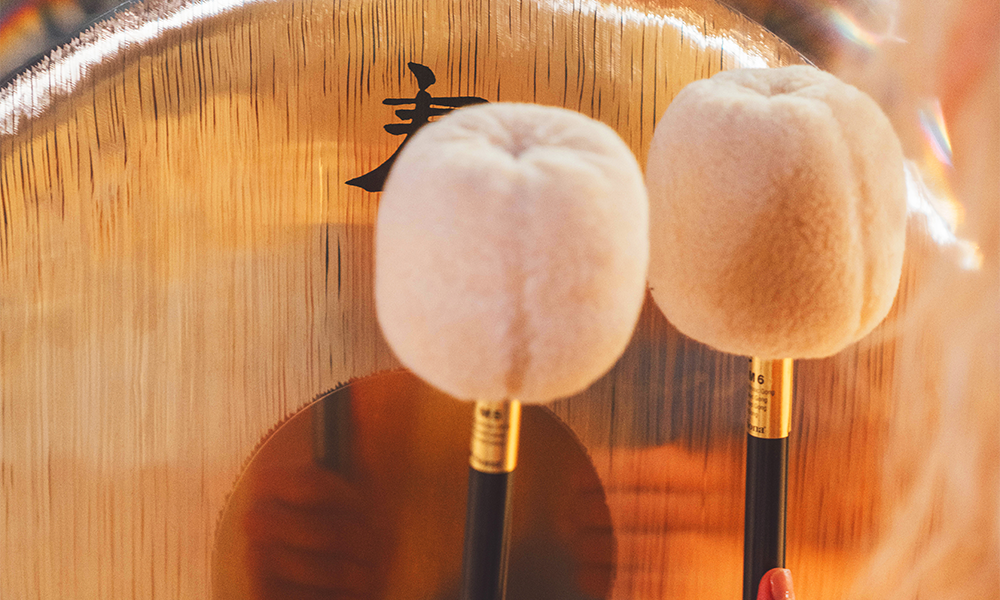 "You can turn up wearing whatever you want, because essentially you're just lying down or, if preferred, sitting on a chair.
"We want you to be really comfortable on the mat so there are bolsters and blankets.
"There's an introduction from the teacher, which deals with safety – the practice is not recommended for people with mental health issues, those with metal plates around joints or women who are pregnant, unless a doctor has said it's OK.
"Then there's a general overview of the class so people know what to expect.
"At launch, all of our teachers will use a common structure with a variety of instruments, but this will evolve over time.
"The classes will start either with a gong or crystal bowls and there will usually be a crescendo towards the middle of the time.
"Then there can be a fade out with some chimes to finish.
"Sometimes a teacher will stay at the front the whole time, and sometimes they'll walk around the class with small percussive instruments.
"At the end there will be silence and then some recorded music to signal the end of the session.
"What people will get from a class depends on them and their intention. For some it may be more spiritual and for others it's relaxation.
"It might be a physical rest or allowing yourself to be still for mental health – if you just want a lie down, then that's great."
Third Space's Yoga teachers have undergone extensive training with musician Tim Wheater and sound artist Cherub Sanson – the former a pioneer of sound healing in the west who has been engaged in it since 1982.
The club's classes make use of crystal bowls from Cherub's brand Cherebella.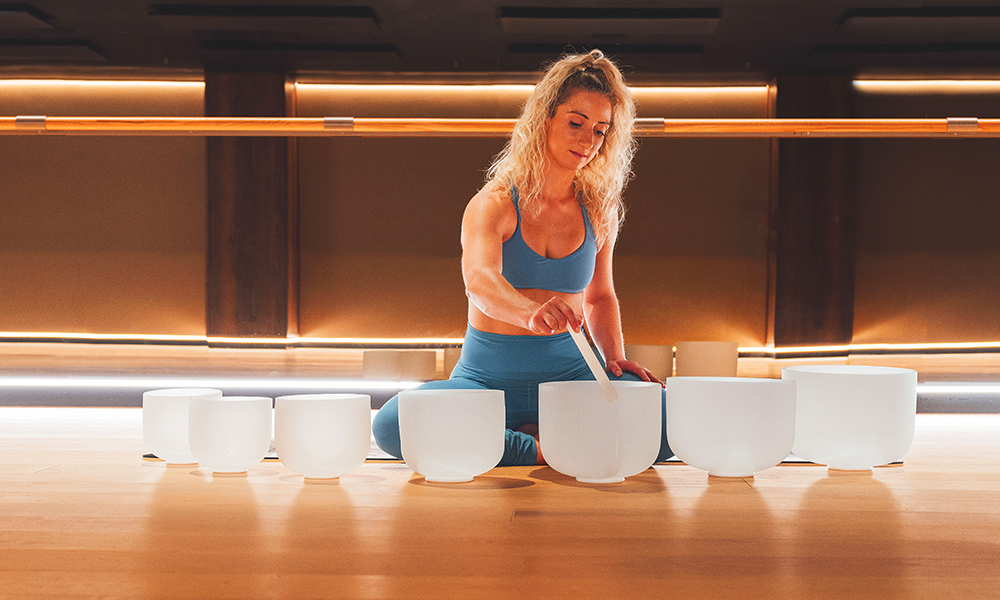 "Because of the vibrations of the different instruments that we use, it will shift people into more of a theta brainwave state – on the cusp of wakefulness but deeply relaxed," said Gillian.
"It has a similar effect to practising meditation and has a lot of benefits for reducing stress and anxiety.
"Our bodies are really clever – if something needs repairing or healing, then they can do that. If we're not running around and doing stuff, then they have the chance.
"Deep sleep, where the body produces delta brainwaves, is really good for us too – people who have participated in the classes have said they sleep better after a Sound Bath.
"The main thing is for people to come with as few expectations as possible – with an open mind, a sense of curiosity – and see what happens.
"As with everything we do at Third Space, our hope is that members feel better.
"With Sound Bath, they should feel good, more relaxed and calm.
"Like all holistic practices, attending a session won't mean all the problems in your life are magically better, but it can certainly help.
"You might be having a bad time and find your perspective shifts, you could have a great thought or come in with a problem that you've solved by the time you leave.
"So far the feedback has been really positive."
Find out more about Third Space Canary Wharf here
Read more: Sign up for the Santa Stair Climb at One Canada Square
Read Wharf Life's e-edition here
Subscribe to our free Wharf Whispers newsletter here
- Jon Massey is co-founder and editorial director of Wharf Life and writes about a wide range of subjects in Canary Wharf, Docklands and east London - contact via jon.massey@wharf-life.com