Recently opened in the West Wintergarden, the brand believes it's found a gap in the market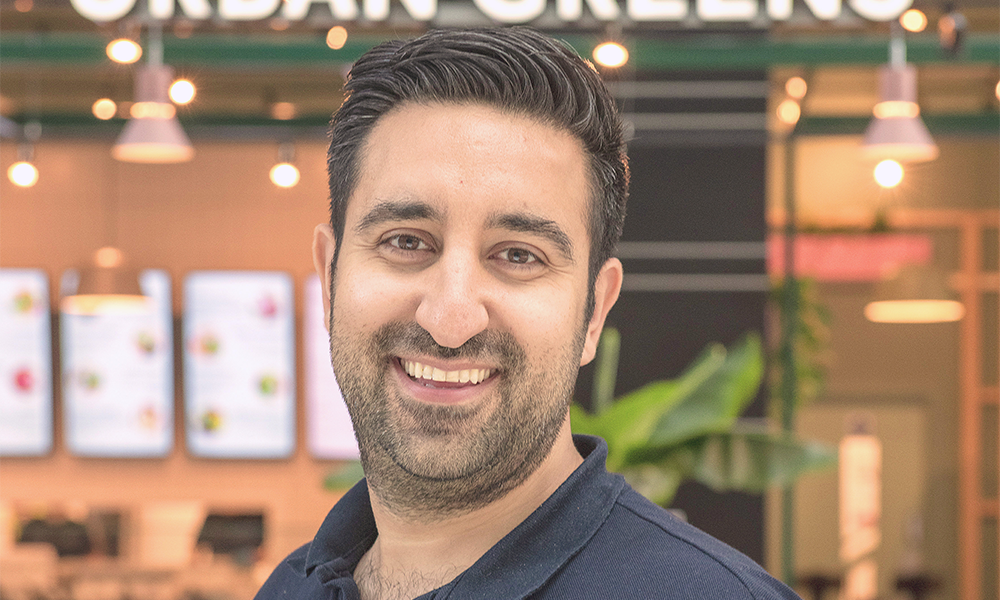 While alone in offering frisbees, Kaleido isn't the only new salad game in town. It's also not the only company to bill itself as delivering something fresh.
Following the success of its first branch in St James' Park, Urban Greens has opened a second in Canary Wharf, filling space opposite Obica in the West Wintergarden with leafy plants and plenty of pickled and blanched ingredients.  
The brand is the brainchild of co-founders Houman Ashrafzadeh, Rushil Ramjee and Ioannis Divas. The three met while studying and remained friends as their separate careers flourished.
"We weren't business partners to begin with," said Houman. "But we'd always explore food places together – we've always had a big interest in it.
"I grew up in Sweden, Rushil in South Africa, although he'd also lived in London for a long time, and Ioannis in Greece. We would travel to South Africa and other places together and spot these amazing places for food.
"We always had the entrepreneurial spirit in us and, although we had successful careers in the corporate world, we knew that we wanted to do something of our own. A couple of years ago, one thing that came to our minds – London has always been, for us, an amazing place with the best restaurants that you can find on the planet.
"But when it came to the healthy fast food side of things, we always thought it was lagging behind.
"We discovered that in Scandinavia and the US a lot of food brands were doing things that we couldn't even find here.
"So we started looking into different brands to get some inspiration and we spotted that, when it came to salads, there was a huge gap – no-one was doing them properly.
"You could find salads that had been around a long time, but these were plain ingredients in a bowl with a bit of dressing chucked in.
"They were nothing special, just very traditional, boring salads, which didn't excite us. People would have them because they were considered healthy, but there was something missing."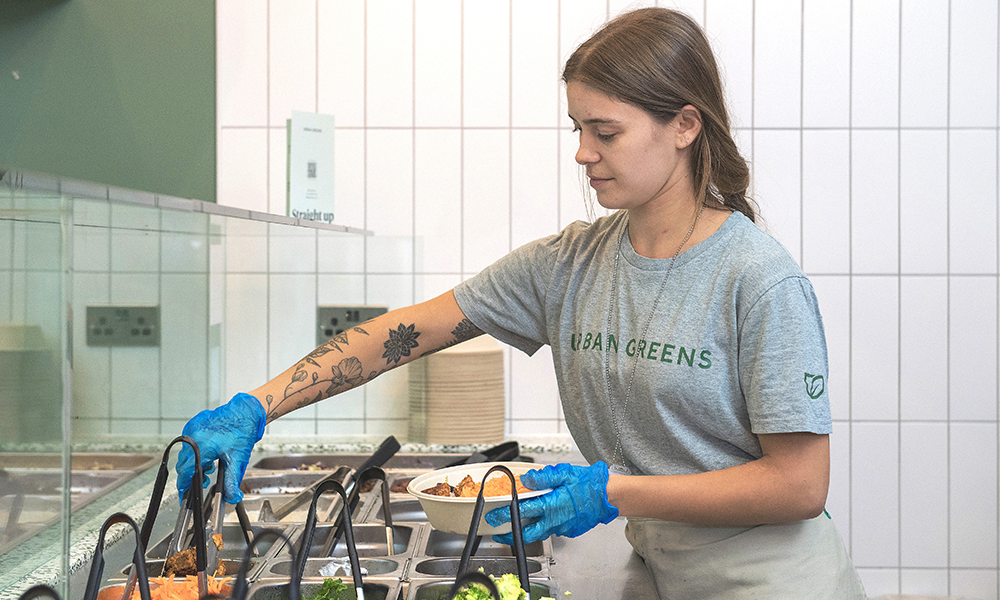 It took the trio about two years to formulate their business plan, working between Athens, London and Stockholm, slowly creating the concept, discussing the menu and eventually negotiating with a landlord to open their first site in 2019.
Rushil and Houman left their jobs to concentrate on running Urban Greens in the UK with Ioannis taking a more passive role.
"It felt scary at first, because we were leaving very steady jobs – very predictable and comfortable lifestyles – doing something that was in a new industry for us," said Houman.
"Our approach was that, we may not have experience, but we know what good food is, what good service is – we know what we like when we go to a good place. We wanted to try to implement those things in our own business.
"We launched in July 2019 and it started picking up really quickly. People would come in and try it and be very pleasantly surprised from a taste point of view, but also by the whole concept."
That reaction may very well be down to Urban Greens' tireless approach to creating a core menu of balanced salads that all offer something out of the ordinary.
"Our salads are not side salads – our portions are quite big," said Houman. "It's also impossible to replicate our salads at home because every flavour is elevated – we don't have any plain ingredients.
"Each salad has a few elements in common – they all have a base such as cabbage marinated in olive oil and salt.
"They all come with one form of protein. That could be quinoa or red rice, for example.
"Then you have something pickled but not just a plain pickle – we add flavours to it. Our carrots are pickled with ginger so that enters the salad.
"Not everything can be pickled, as that would be overpowering, so we add other ingredients but again, we don't just put cauliflower or broccoli in a bowl – we blanch them to take away that harshness.
"They still add crunch – we don't boil them – it's the elevation of taste and flavour that comes with it. There are always vegetarian and vegan options."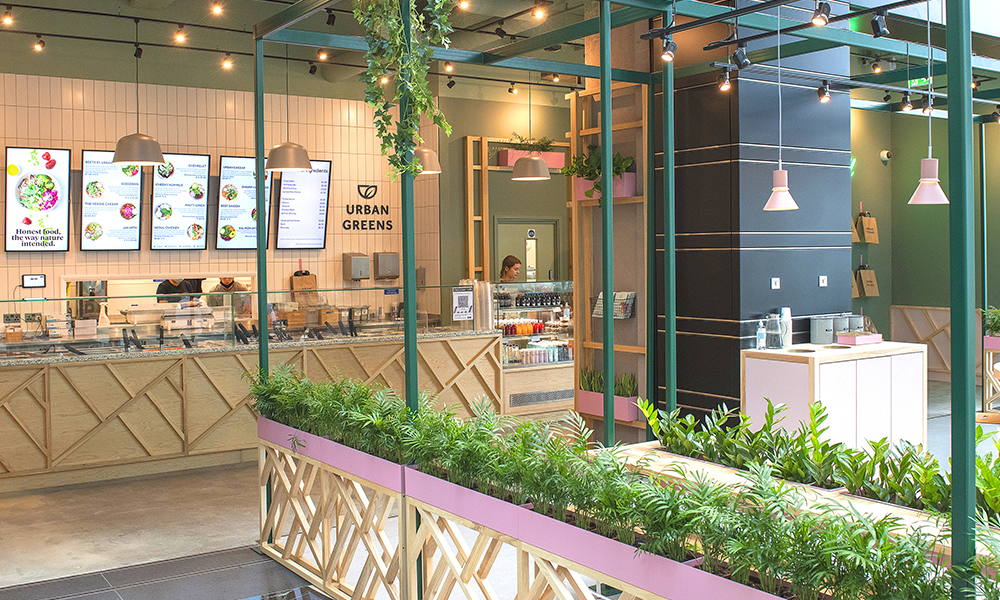 Core dishes include the Jakarta with tempeh, seasame marinated glass noodles, pickled carrots, edamame, bean sprouts, coriander, toasted peanuts and seasame seeds and the Beef Saigon with Irish pulled brisket, glass noodles, blanched broccoli, pickled cabbage, edamame, bean sprouts, fresh mint and toasted peanuts.
"The funny thing is I never get tired of the Beef Saigon or the Seoul Chicken because they both come with a really nice spicy dressing," said Houman.
"But we always try to encourage our customers to get out of their comfort zones and to try something new.
"The prices vary – the vegan ones start from £7.85, the ones in the middle are £8.85, and the premium ones are £9.95.
"When you visit Urban Greens, everything you see is the result of decisions we have been taking consciously – we are in control of it, involved in every little part of the business.
"After we opened our first store we were approached by quite a few landlords and Canary Wharf approached us.
"We took a look into it and, although neither of us had worked in Canary Wharf – we had worked in the City – we definitely thought that it was one place we wanted to move to as an expansion, but it came much sooner than we had anticipated when we were starting up in the beginning."
Read e-editions of Wharf Life's print edition here
Subscribe to our regular newsletter here