The bouldering centre, gym and cafe aims to attract climbers old and new to its recently launched wall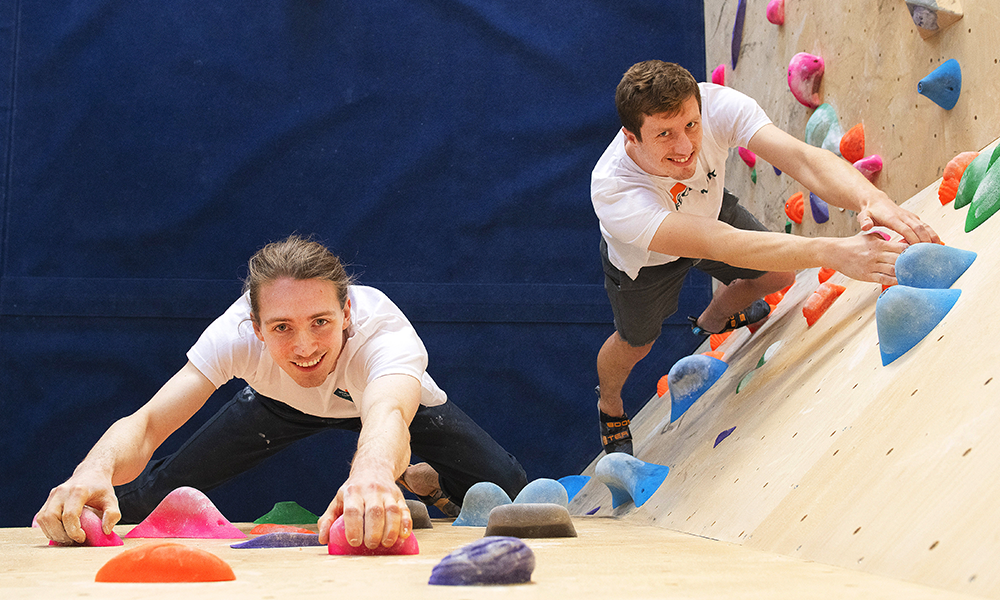 Subscribe to Wharf Life's weekly newsletter here
Like its walls, there are many angles to Rise Climbing, which recently opened its doors at Caxton Works in Canning Town.
It's a temple to the pure, clear cut challenge of reaching the top of something.
But its two co-founders have ensured that it's filled with much more than bouldering problems, brightly-coloured plastic holds, plywood and crash mats.
"One way we describe it is that we want it to feel like home, a place to relax and for people not to feel like they're walking into someone else's space," said Conor Skillbeck.
"We want people to feel welcome, to drop all their stress and worries at the door whether they're here to climb or just for a coffee.
"Most of the world isn't like this – there aren't many spaces where people aren't being challenged.
"Everything tells you the world's miserable and that you should be unhappy so we've created a space where people can have a bit of time off from that unhappiness."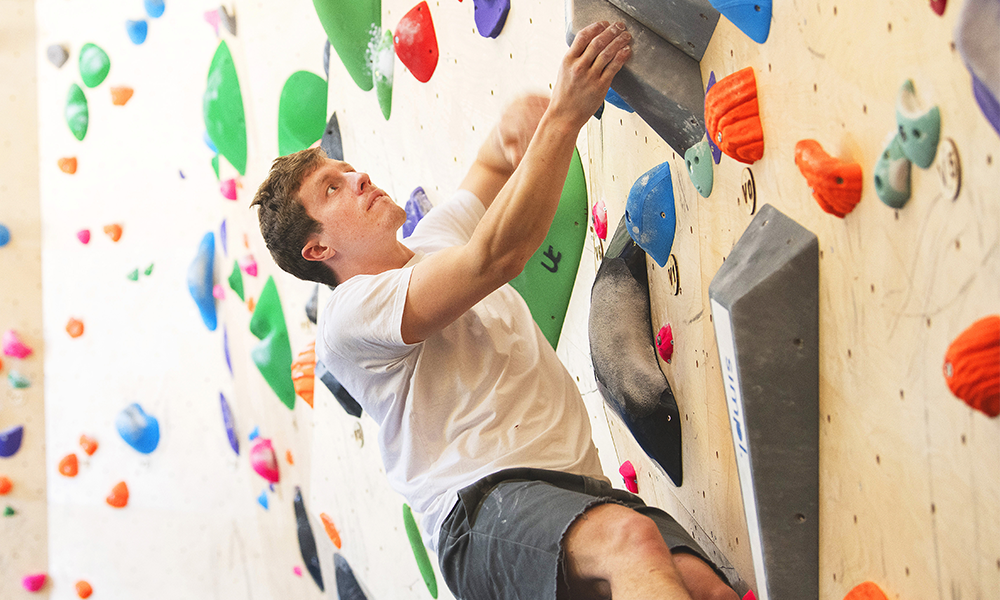 The Rise project began with Conor's friend James Skinner, who found himself working at a climbing wall after leaving his job in medical software.
"I'd been climbing since I was 12 and it was something I'd always come back to," said James. "I ended up sticking around and after working at the wall for a few years, I wanted my own place.
"I looked at all the things I was good at and all the things I was bad at, because good partnerships are with people who complement each other, and they can recognise where their skills overlap. I wanted Conor as a partner because he's a do-er."
James, who'd met Conor through climbing, wrote a business plan, put a picture of his friend on it and showed it to him.
After managing to convince him it wasn't a joke, the two began to plan in earnest, seeking premises and deciding exactly what their own wall would be like.
Conor, who'd worked as a model before embarking on a career in structural engineering, said that having recently married and, with the prospect of kids on the horizon, he felt that if he was going to do something like Rise, then the time had to be now.
After a lengthy search, they found a lofty unit in east London in an area with little climbing provision, giving them the opportunity to build both an extensive, two-level facility and a new community.
The sport is growing at a rapid rate and both James and Conor hope their wall will attract both veteran climbers living locally but, crucially, an influx of those new to the sport who just want to try it out.
To that end Rise is already starting to partner with local schools and is keen to grow its operation in that area.
"Everyone wants to get to the top of something – walking up mountains, for example," said Conor.
"In a sense, it's a completely pointless thing to do, because when you get to the top, you just come down to the bottom again.
"But when you walk along a street with kids, they will want to walk on the wall, just because they get to be on the top of something."
James added: "It's such a fundamental action. Any parent in here will tell you that their kids love climbing trees and that they can't get them off the stairs.
"So we have such an easy sell – a climbing wall combines all of those things in a single space.
"It makes it safer to do them because of the crash mats, but it also means there are easier and harder ways to get to the top.
"People can get better at doing that and when they discover this, that's something they really want.
"For kids especially, it's somewhere they're encouraged to climb higher, when they're usually told to get down."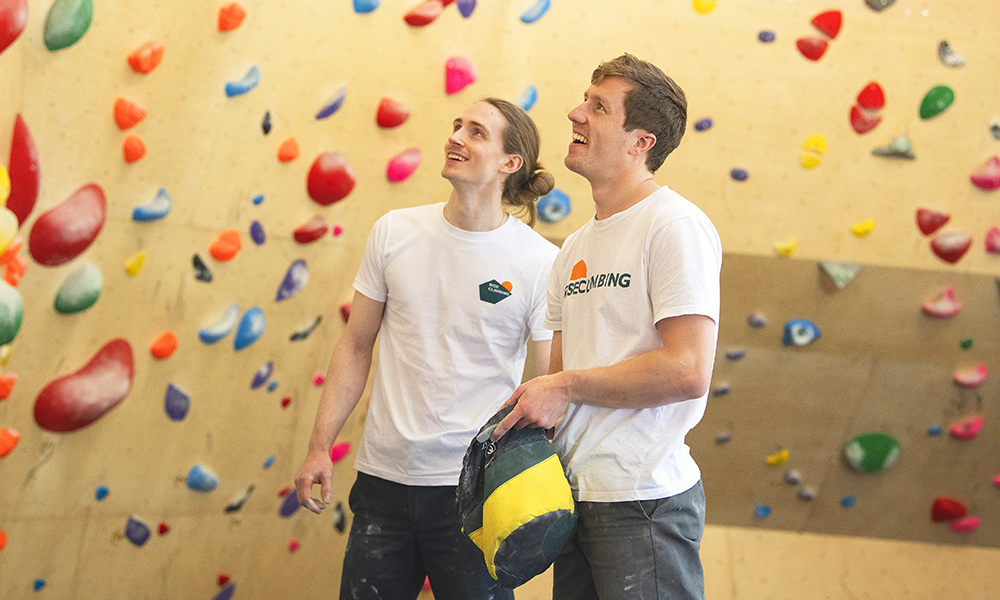 It's not just for the kids, of course. Conor said the ultimate thrill was still reaching the top hold on a bouldering problem for the first time – something touching the second-from-top could never live up to.
"We set 30 new problems every week and the sense of satisfaction when you get to the top is addictive," he said.
"Not getting both hands on it can be a complete disappointment and frustration.
"It's hard-wired into people and you see why they really love it. It's also a sport people can do for many years.
"Two of the top climbers in the UK are in their 40s.
"There's so much in terms of technique, flexibility and strength – people who are good make it easy for themselves.
"They find ways of positioning their bodies, so the hard move on a route becomes easier. It's not just about being strong.
"I think there's a pretty good correlation between how hard you've worked to finish a problem and how much satisfaction you get from reaching the top.
"Sometimes I've worked for six months to get to the top of one climb, and that feels way better than something you do straight away – it's not necessarily how hard it is, it's how much time and effort you put in."
There's also a shared joy among climbers in seeing others progress, develop and conquer the problems they're tackling.
James said: "We had a guy come up to us and say that he did his first heel hook – not just using your foot to climb like a ladder or the stairs, but in an unexpected way – and he said it was really cool.
"He'd seen someone else do it and he'd asked them to explain it and then he'd had a go and said he would be able to use it on other problems.
"That was on one of our easier routes, but even with those, we want people to learn something, to progress. That feels great."
It's this sense of community, camaraderie and collaboration that Rise seeks to embrace and foster, with those who visit for a climb or just for a coffee.
"It's one thing to build a place the way you want it – we did a good job," said Conor.
"The toilets aren't obtrusive and the changing rooms look really nice, but ultimately the space feels good when people are in it. That's when it comes alive."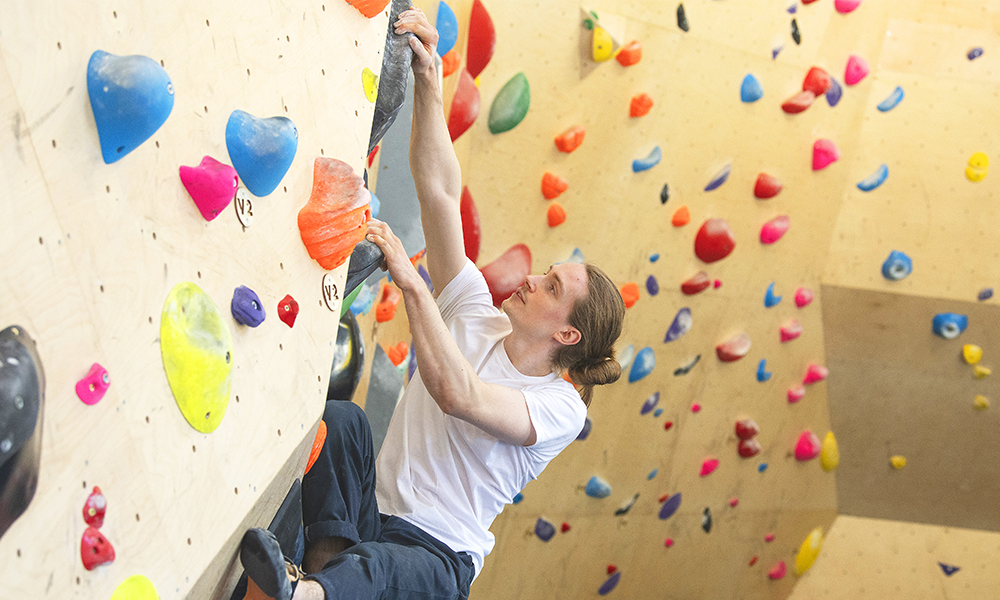 James added: "We want it full of happy people who leave feeling happier than when they first walked in.
"The temptation when you're designing the space is to have holds on every single surface, but we wanted Rise to have a really nice flow to it.
"There are huge mental health benefits to climbing and we wanted our wall to take on board things other walls had done really well and build on them – that it would be a real break from your screen, with challenging problems that will take your mind off everything else."
For all these reasons, Rise is working hard to become an open space where people can meet, share a slice of Armenian cake and have a chat.
"The idea behind our front desk is that it's like a farmhouse kitchen, that it's a relaxed environment where there's less obvious separation between people who work here and those who have come to use the space," said Conor.
"We don't want Rise to be exclusively for climbers – it's for anyone who wants to come and sit down, for the wider community.
"We're also running open social sessions on Wednesdays from 6.30pm and a women's social on Thursdays.
"We're passionate about climbing and lots of other people are too – ultimately that's what will make it successful."
There are myriad ways to climb at Rise, including single entry for £12 or £9.50 off peak (before 4pm on weekdays). Under 18s cost £8.50. Membership options are also available.
Rise will also be participating in the Caxton Works Open Day on July 9, running low-cost intro sessions.
Read more: How Keyboards And Dreams offers flexible workspace in Canning Town
Read Wharf Life's e-edition here
Subscribe to Wharf Life's weekly newsletter here
- Jon Massey is co-founder and editorial director of Wharf Life and writes about a wide range of subjects in Canary Wharf, Docklands and east London - contact via jon.massey@wharf-life.com