It's full steam ahead for the main contractor, which recently moved its headquarters to Canary Wharf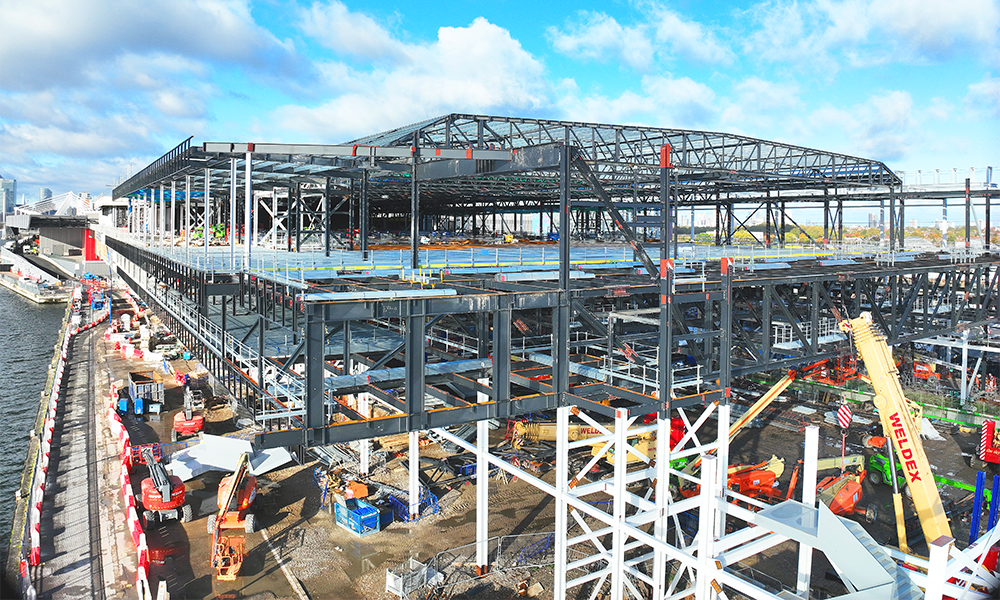 Subscribe to our free Wharf Whispers newsletter here
McLaren is the company responsible for actually building Excel's extension.
The firm, which has just moved its headquarters to Canary Wharf from the City, has seen significant growth itself in recent years increasing its turnover from around £400million to more than £1billion, thanks to a programme of diversification that's seen it enter a number of new markets. 
"We're a roll-your-sleeves-up business where everyone's really valued," said Paul Heather, group managing director of construction for the UK.
"We're strong on our values of being supportive, agile and proud.
"The difference here to other places I've worked is that we all come together and feel part of a team, whether we're out on a project or at head office.
"It's the team ethos – finding solutions – that gets people out of bed in the morning here and that's great to see."
Walk through McLaren's Churchill Place office and you'll see exactly that – open-plan spaces and meeting rooms filled with people collaborating.
It's easy to imagine they're all striving to solve complex problems at a firm that's expanded into many different areas of construction.
Clear focus on agility and solutions is probably just as well, because Excel's extension would be a daunting task for any contractor.
Not only is the scale of the building vast, but everything has to be built without any disruption to the workings of the existing conference and exhibition centre, not to mention the race track that has to weave through the construction site for Formula E twice over the course of the project.
Sir Robert McAlpine, the firm that built the first two phases of Excel, had been awarded the contract for enabling works, before the venue opted to work with McLaren on the main build.
Read More: What Excel CEO Jeremy Rees has to say about the expansion of the venue
"It was a proud moment for us to become involved in such a prestigious scheme as this," said Paul, who moved from McAlpine to McLaren himself in March 2022.
"We engaged with Excel in November 2022 and had our first digger in the ground in mid-January 2023, which is pretty quick.
"The team worked very hard and operations director, Gareth Peebles, knew the job inside out.
"As a company, McLaren ultimately comes from industrial logistics.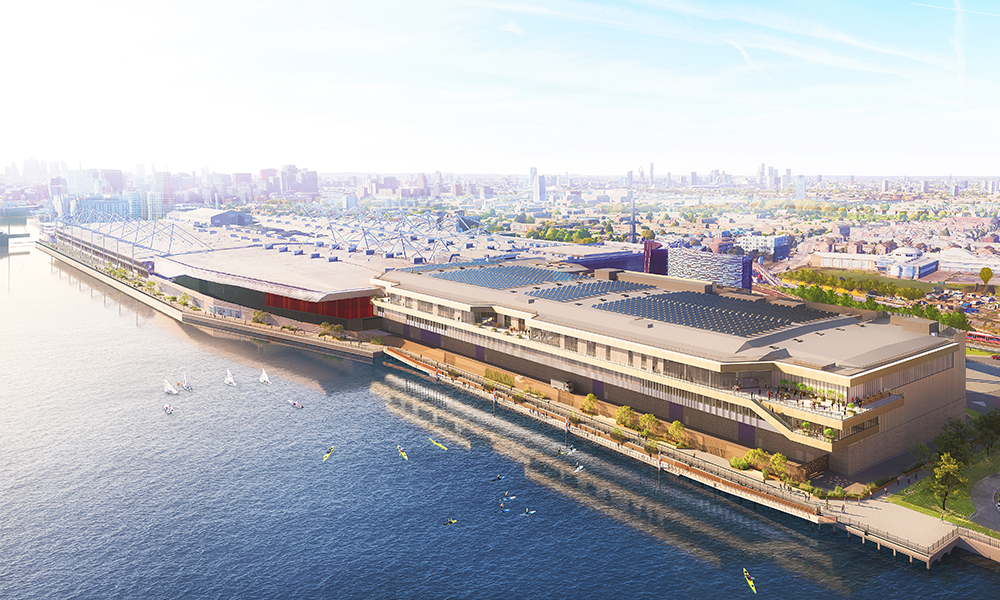 "We'd pretty much cornered the market as big industrial shed builders and had made a huge success of it, constructing distribution centres for clients such as Amazon across the country.
"That mentality is at the heart of many people who work for the business and, because an events venue is similar in many respects, we had some ideas for this project that allowed us to be more competitive – to offer the client more certainty on the programme, which is what the team at Excel wanted."
Sustainability is also at the core of the build, with the new building targeting a BREEAM Excellent rating.
That means both its design and construction aim to minimise their impact on the environment – increasingly a factor for organisers when they're deciding where to host their events.
Paul said: "Using recycled materials and reducing carbon emissions is very much part of the agenda.
"This will be one of the first major projects to use Cemfree masonary mortar – which has no cement in it – and that will reduce emissions by 11,000kg of CO2.
"Half of the steel used is recycled and it's been quite a challenge to find that quantity but we've managed to do it.
"We'll also be installing air source heat pumps, which is a sustainable approach to heating, as well as solar panels over 32% of the roof, which should generate 599kw to help power the building."
With 90 weeks from start to finish allowed, the build is now over halfway completed and construction continues apace.
"We're coming up to winter, so we've got to get the structure up because there's a lot of work to be done internally," said Paul.
"We need the roof on, the cladding on and then it will be time to get stuck into the finishes inside.
"With just a year to go, it's going to be full steam ahead, with no rest, that's for sure.
"The biggest challenge is the speed we have to work at to hit the all-important end date.
"We've learned a lot from the last season Formula E – with the track running through the existing Excel buildings and our site, so we'll all ready for the next season.
"To have to stop when you want to keep going can be a frustration, so there's a challenge to keep everyone motivated, but as soon as the racing is over, we'll be going for it again.
"There have also been challenges to ensure the way we were erecting the steel fitted in with the needs of flights in and out of London City Airport, making certain not to impinge on the air space.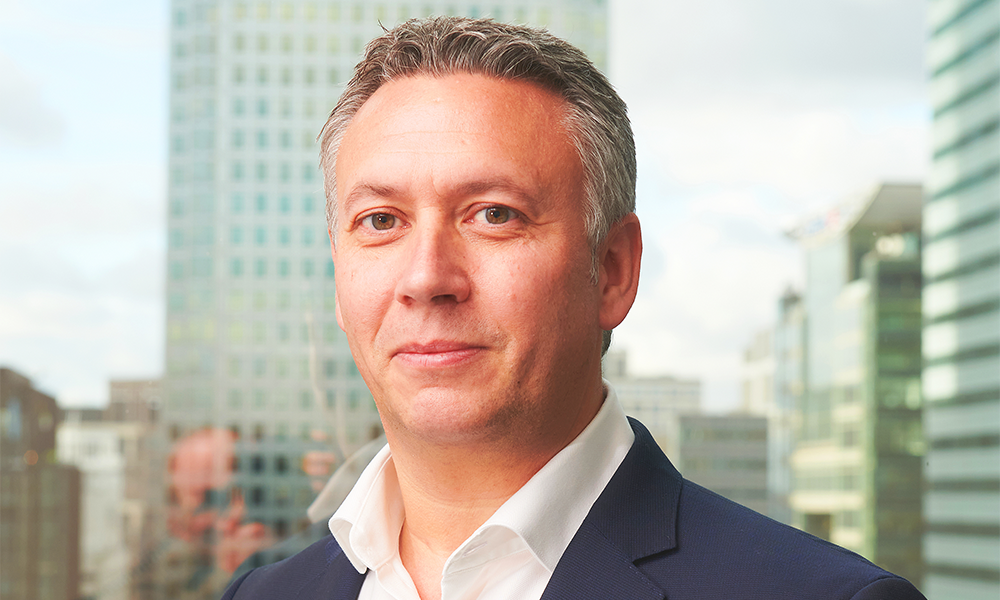 "But we resolved that quickly and the steelwork went in over a number of weekends to avoid having an impact on flights.
"The most important thing is that we can't shut down half of Excel while we build for a year so we have to have a really good relationship with the venue – to know what's coming in and out, what events are on and how that will impact what we're doing.
"As a company, we're very big on relationships and that goes to the highest level of our business.
"Our chairman, Kevin Taylor, will check in with Excel on a regular basis. We always want our customers to have a great experience and to come away wanting to work with us again."
While the Excel build is scheduled for less than two years, its been designed to have a much longer-lasting social impact on the area.
As part of the project, the builder has committed to offering 36 apprenticeships through its employment and skills plan and 15% of McLaren direct staff have applied through local council-run body Our Newham Work. 
The business has also run Women In Construction T-Levels workshops with local colleges and is working with UEL to offer students site visits.
"Construction isn't just about building," said Paul.
"We work with a lot of supply chain partners – sub contractors – and their location becomes especially  important if you have a client that says they want local community engagement.
"We will select who we work with based partly on those criteria.
"They have to be competitive, but we will be saying to our customer that we are bringing locally based people in to work on their project.
"We'll try and select materials locally where we can and, in terms of the community, if we can entice people into the business as new employees who are based here, then we'll try for that as well.
"All of our partners understand that for them to be recognised in the right way on a scheme, then they need to be bringing apprentices from the local area.
"They themselves are proud to say that they are giving people a chance to understand what construction is and what they can do within it."
Full steam ahead on all fronts – there's a deadline to hit.
Find out more about Excel's expansion here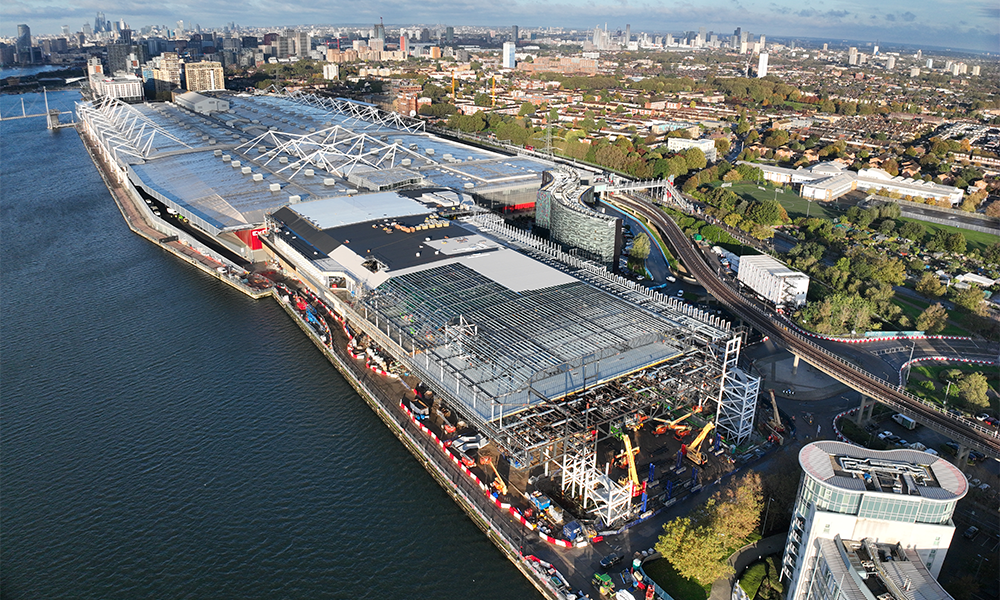 FACTS AND FIGURES
McLaren is building the extension to the Excel centre while the existing building remains in use
1,210 solar panels will be placed on the roof of the new building
Each panel is capable of generating 495w, putting out a total of 599kw back into the building 
The development site for the project is two hectares, including improvements to public space along the dock edge
The project uses 50% recycled steel
Other sustainable measures include rainwater harvesting, hybrid ventilation and Cemfree masonry mortar
McLaren has grown into a company with a turnover of more than £1billion
Read more: How Level39-based WyzePay offers discounts at MMy Wood Wharf
Read Wharf Life's e-edition here
Subscribe to our free Wharf Whispers newsletter here
- Jon Massey is co-founder and editorial director of Wharf Life and writes about a wide range of subjects in Canary Wharf, Docklands and east London - contact via jon.massey@wharf-life.com