Fitness brand will be offering indoor and outdoor sessions in the Red Room and Canada Square
Subscribe to our free Wharf Whispers newsletter here
Wharf Wellness is set to arrive across the estate with free classes, taster sessions, talks and discounts over four days.
Taking place from Wednesday, September 27, to Saturday, September 30, 2023, the festival will feature a multitude of Canary Wharf-based brands including Third Space, Feels Like June, Mallow, Nuffield Health, Bobbi Brown, Randox Health, Love Open Water and recently launched padel tennis club Padium.
Ahead of the event, however, we've decided to focus on Barry's, which will be running three taster sessions – one outside on the sand of the pop-up beach volleyball courts in Canada Square Park and the other two in its Red Room studio on the lower level of Crossrail Place.
Zoe Rogers is the instructor tasked with leading the outdoor session. Originally from Essex, she discovered the Red Room having moved to London to go to drama school.
"I'd been involved in fitness one way or another since my teens," she said.
"I actually started out selling gym memberships through cold calling – it was absolutely horrendous.
"I heard about Barry's on the grapevine and this thing they do called 'Hell Week' – seven classes in seven days.
"Living in London, I couldn't afford to go very often as a student, but I could afford to do Hell Week every single time it was on.
"So, I'd be at drama school, save up my pennies and go and do those seven sessions.
"I remember my first class so vividly – it was with a trainer called Alex Castro and it was phenomenal."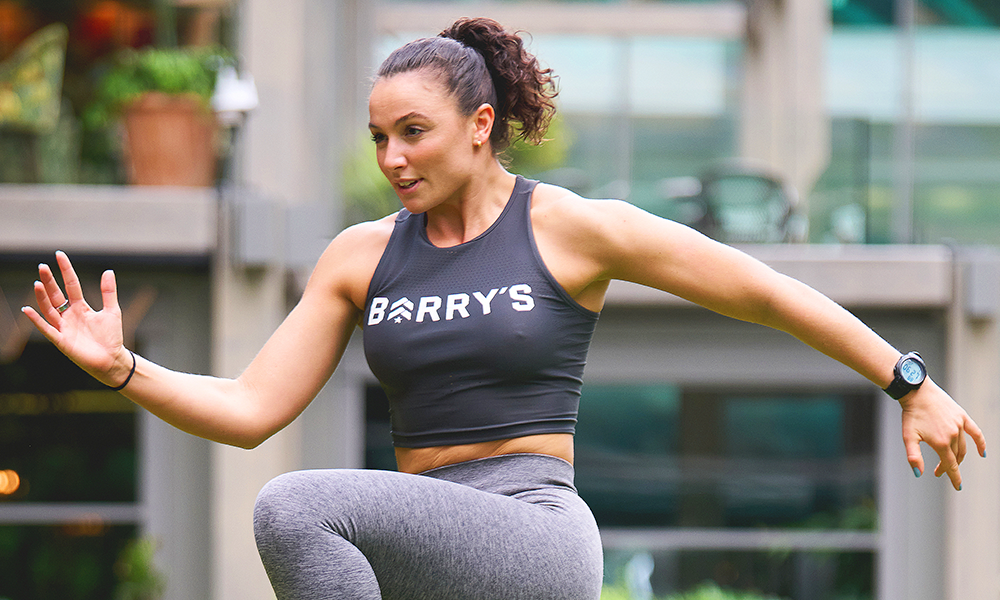 Zoe ended up taking a job front-of-house at Barry's in Canary Wharf, while continuing to pursue a career as an actor.
She then decided to train as an instructor – a role she's now been doing for two years.
Splitting her time mostly between Soho and the Wharf, she's also taught classes on the main stage at Pacha in Ibiza.
From noon on September 28, Zoe will be in command of a 50-minute class for 60 on the sand in Canada Square Park (with mats to protect participants).
"We'll have big speakers – participants will hear me out loud and the music will be pumping," she said.
"We'll have long resistance bands and mini bands to work the glutes and the legs and I'll be running a total body workout – we'll hit absolutely everything.
"The great thing about Barry's is it gives you a fantastic structured workout that you know is going to do the job every time.
"The product is flawless and with the tunes, the atmosphere is fantastic, it's almost like being in a club when you're in the Red Room.
"Then there's the community, which is very important to people who have just moved to London or to the area.
"That develops organically and it's something I'm personally really grateful for, as I've made some great friends.
"No-one can really define what they mean when people talk about 'The Barry's Feeling' but there's this buzz that just makes you want to come back for more.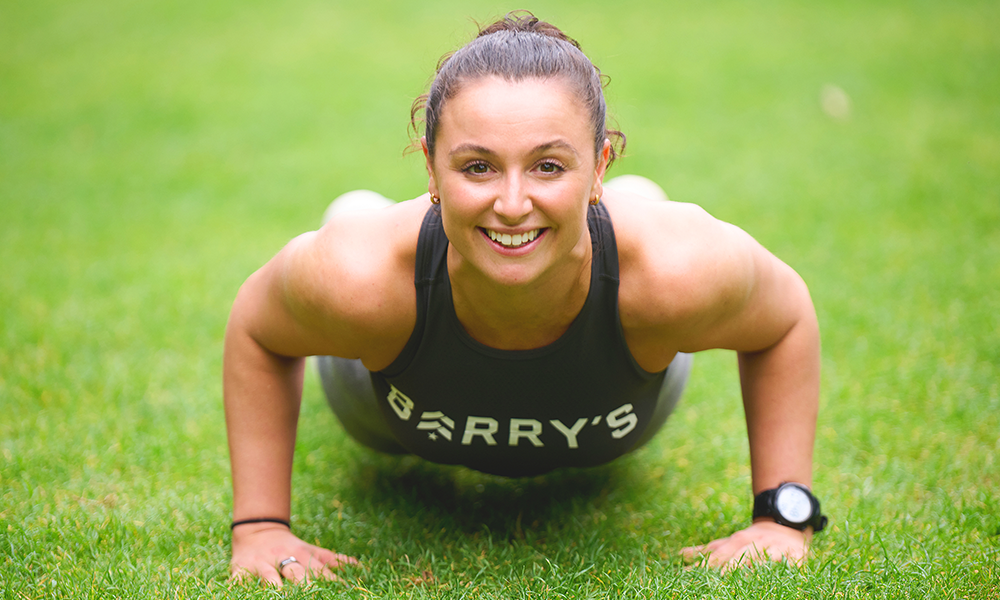 "It's magical, everyone feels it at the end of a class and that sense of community is beautiful.
"You don't have to think – we do the work and you can just rock up and put in the time."
Fellow Canary Wharf instructor Craig Waters will be running the Barry's session at 9am in the venue's red-lit studio for Wharf Wellness.
Originally from Nebraska, he found his way to Barry's through Yoga, Pilates and cycling classes before training with the brand.
He said: "It will be the classic Barry's experience.
"Every day we have a different focus, so you can get all your muscle groups taken care of over the course of a week.
"For Wharf Wellness, I'll be teaching a chest, back and
abs-focused class.
"It's an upper body workout using different types of rows, dumbbells, both heavy and lighter weights, as well as resistance bands to cycle through those muscle groups.
"Then, as a way to give your arms a bit of a break, we have core-focused abdominal exercises.
"Classes are typically spent half doing interval-based runs on the treadmills and half doing exercises on the studio floor.
"That means you get the best of both – it really is the best workout in the world.
"You can start off either on the floor or on the treadmill and then go back and forth.
"While running, your instructor will give you options for your speed with different patterns on incline and velocity.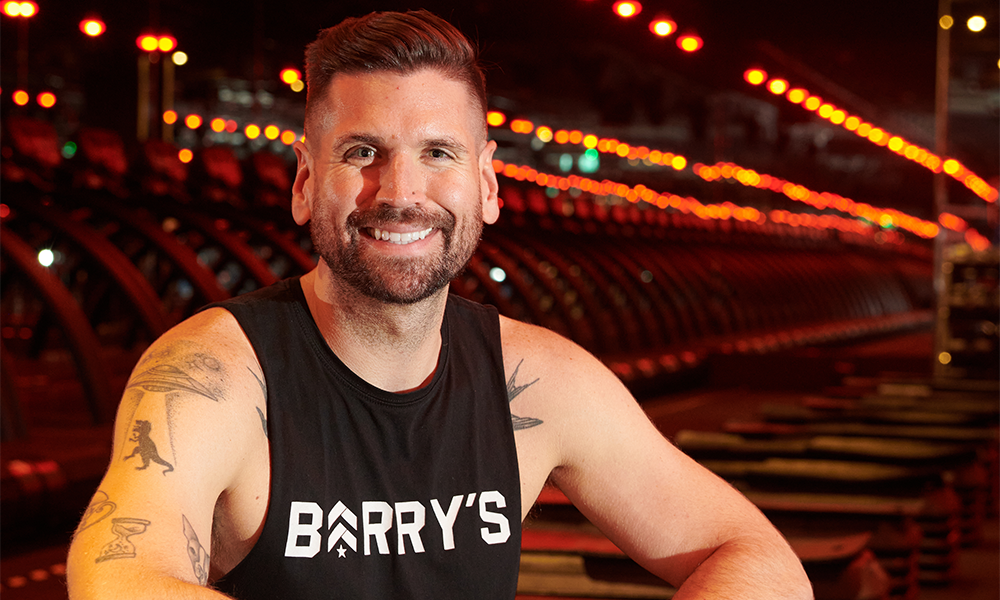 "These can be tailored to an individual's needs or preferences, which means everybody can participate.
"For people who are new, it's about getting used to the instructions as there's lots of activity in the room.
"It's a nightclub vibe, the lights go low and the music goes loud, with every instructor allowed to select the tracks they like to bring their personality through.
"You might have someone who plays techno and drum and bass or, like me, who prefers fun pop remixes so people can lose themselves.
"I sing along in almost every class – it's about enjoying the moment."
Craig said that while Barry's workouts were tough, people at any level of fitness could benefit from them.
He said: "The workouts are hard, so I always tell people doing it for the first time to pace themselves and go at a rate that works for them – to enjoy it as much as they can.
"People feed off each other's energy, which is why group fitness, for me, is the best way to train.
"Personally, I get more out of a session when someone has put it together – it's also a great way to hang out and meet people too.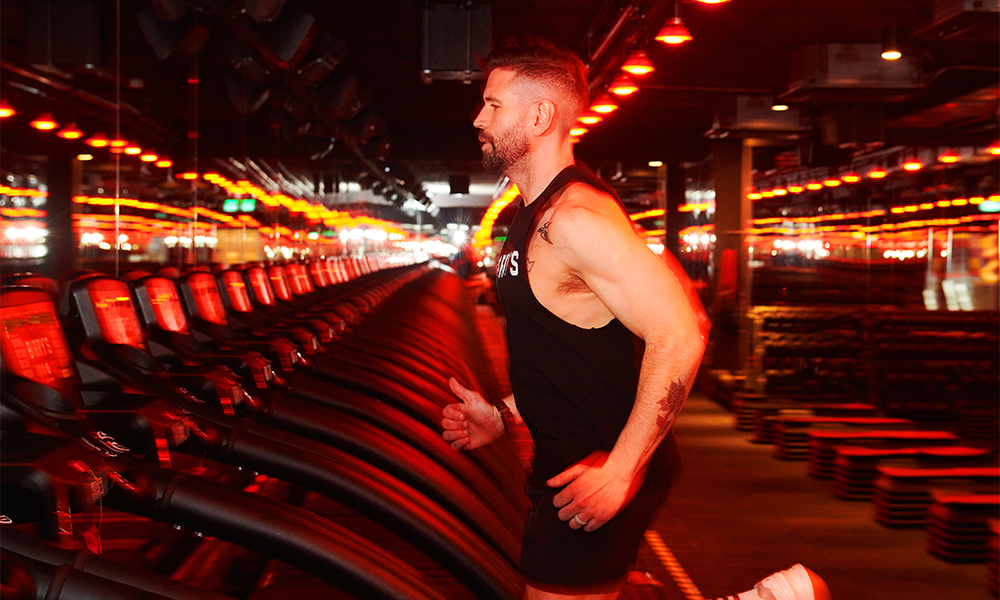 "My main thing is that I don't ever want someone to come out of a class feeling defeated. We celebrate whatever happened.
"It's always the case that what you did was amazing."
A third Barry's class will take place on the Saturday, with times set to be confirmed this week.
Throughout Wharf Wellness, brands such as Atis, Pure, Farmer J, Urban Greens, Le Chalet Cryo, Rituals and Space NK will be offering a series of special offers and discounts.
Full details of all these, other events and how to book classes will be available exclusively on the Canary Wharf App from Wednesday, September 6, 2023.
Find out more about Wharf Wellness here
Read more: Sign up for the Santa Stair Climb at One Canada Square
Read Wharf Life's e-edition here
Subscribe to our free Wharf Whispers newsletter here
- Jon Massey is co-founder and editorial director of Wharf Life and writes about a wide range of subjects in Canary Wharf, Docklands and east London - contact via jon.massey@wharf-life.com