Brand's European CEO Keith Bird on rolling out the Japanese super brand's 'amazing' value and quality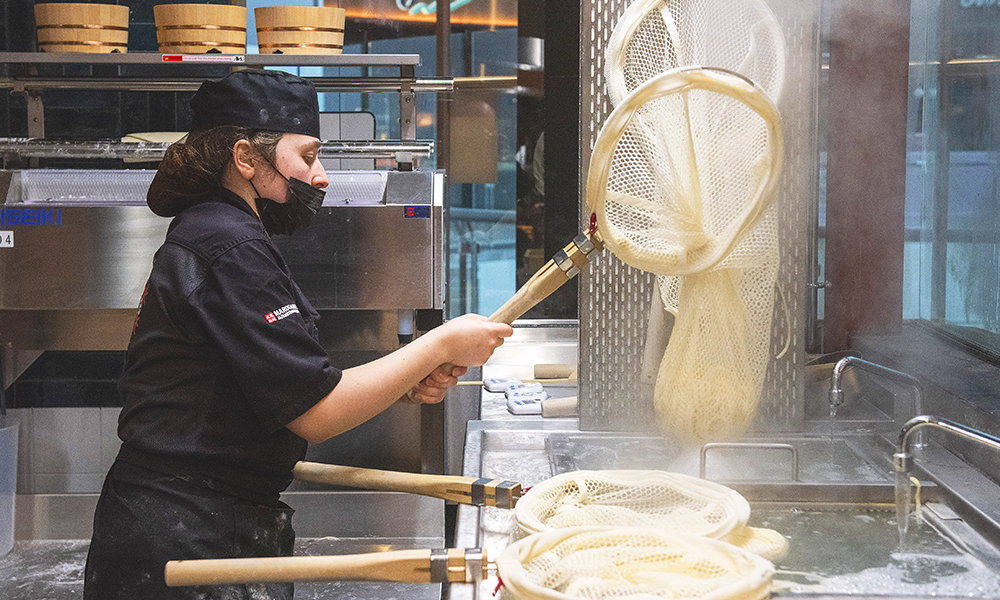 Subscribe to Wharf Life's weekly newsletter here
Marugame Udon is the latest restaurant to open its doors among a clutch of new arrivals around the rotunda at the top of Cabot Place's escalators.
It's located opposite Gallio, German Doner Kebab and what's soon to be Neat Burger – so there's certainly plenty of choice in the area Canary Wharf Group has decided to dub Atrium Kitchen.
But a few things make the massively successful Japanese brand stand out.
It's not the smiling welcome (somehow communicated despite the face mask), it's not the fancy strip lights hung to look like drying strands of noodles, it's the sheer attention to detail being paid second-by-second, minute-by-minute, hour-by-hour by those running the place and producing the food. 
Embarking on its 22nd year, the business has grown from one restaurant to around 800 in its native Japan with 1,250 now trading worldwide.
Canary Wharf is its third branch in the UK – following launches at Liverpool Street and The O2 – with St Christopher's Place already in the pipeline and many more to follow.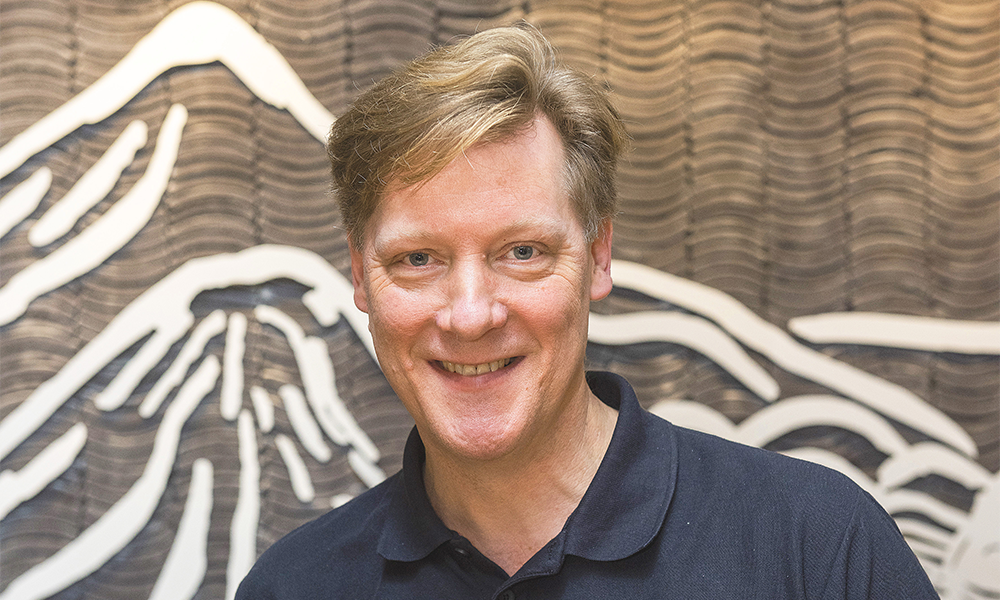 Away from the inevitable talk of roll-outs and bottom lines, however, the key ingredient for the brand's European CEO, Keith Bird, is fun.
"You could stand and watch this kitchen all day – I feel like I'm Willy Wonka in the udon factory," he said.
"I love hospitality, it's in my blood. When I was doing an MBA, a guy called Tony Hughes came in and did a talk about retail, restaurants and leisure.
"I'd spent my time in telecoms and banking and from what he said, hospitality sounded like the area I wanted to work in.
"The principle he was talking about was very simple – that if you look after your team, they are going to look after the guests.
"If the guests are happy, they'll come back more frequently, and then the business flourishes, it grows, and you keep investing in that virtuous circle.
"Sometimes businesses that struggle lose sight of that.
"You need to make sure that your team live the values, understand the business, really want to be here, so recruit them well, train them well and treat them well.
"Even with our delivery drivers we make sure we have a place they can fill up their bottles because they're carrying our precious cargo.
"In the restaurant it adds up to a special element you can't really codify. It's something about the energy – if people are happy in a great environment, guests want to be a part of that.
"So when customers go down our line with a tray it's show time – you get the theatre of seeing everything being made and served in front of you.
"We want people to have lots of fun – that's why you'll hear the shouts as ingredients are prepared, but it's something that can't be forced, the staff have to want to do it and that's what great hospitality is all about.
"That's fundamental for Marugame – we want to serve delicious food, but also want to lift people's lives a bit."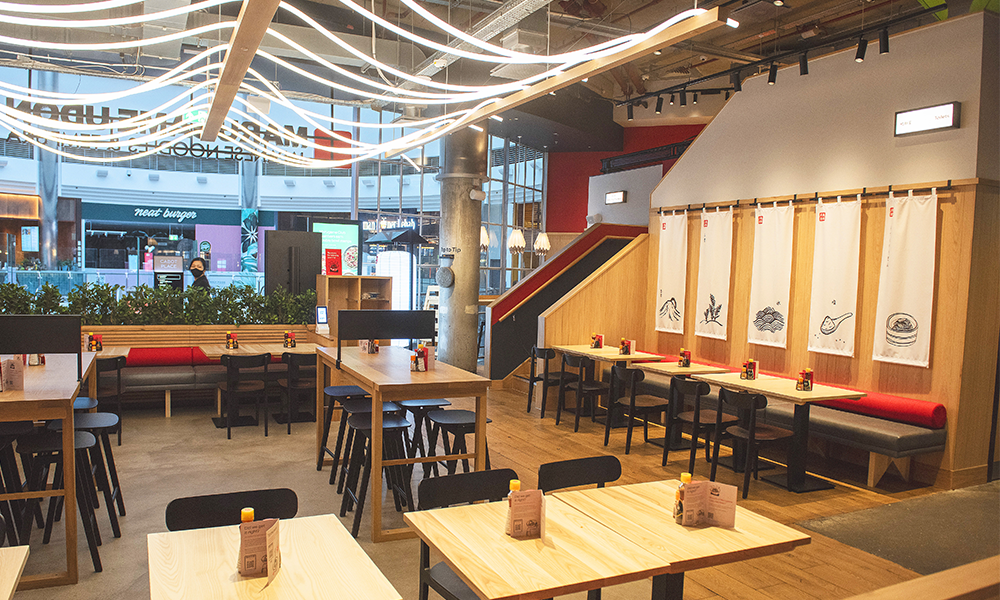 With calls of "Fresh Udon" peppering the air in the kitchen, the theatre of cracking sous vide poached eggs into bowls and pints of Asahi beer that miraculously fill from beneath via a Bottoms Up machine, there are plenty of acts to observe.
But that's not to say things aren't taken seriously.
"We've got our Udon master, who has come over on a one-way ticket from Japan – he's here for at least five years and probably longer," said Keith, who has worked with brands including Wasabi, Gourmet Burger Kitchen and Flight Club.
"The point is to make sure that the udon is absolutely perfect. We take it to the point of obsession that the ratio of flour, salt and water is correct.
"We go through a real process of making sure it matures, so you get the full flavour.
"Even the hardness of the water is measured on the Clark Scale. We have a really sophisticated water quality system to make sure every portion of noodles is absolutely perfect."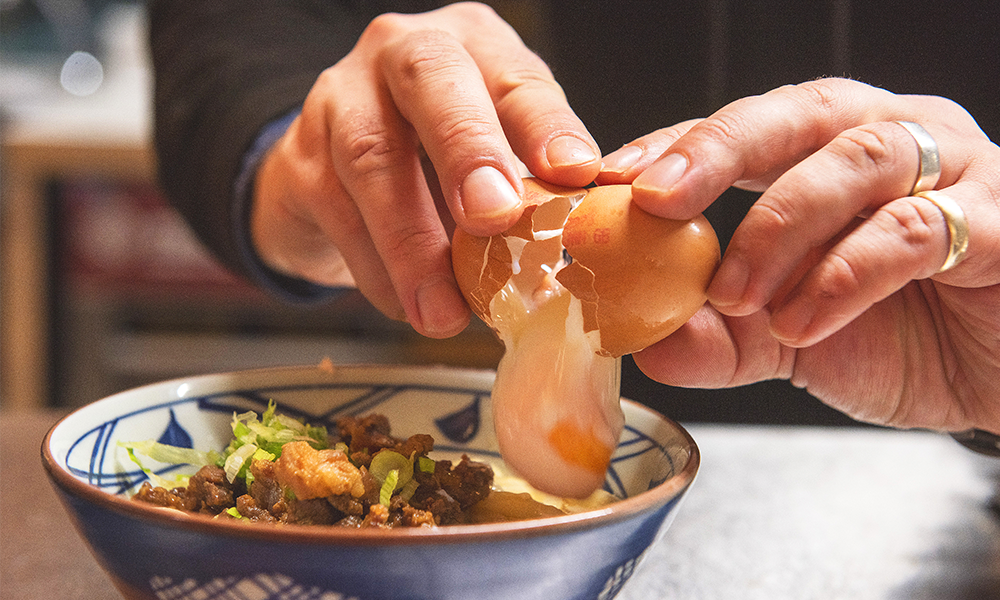 That level obsession has resulted in a special vacuum machine that sucks a very specific amount of moisture off the noodles after cooking – aimed at helping them to pick up the flavour of the broth or sauces they're put with.
"You can have the noodles in their purest form – Kamaage, which are served straight from the pot with either a sweet smoky dashi dipping sauce or a vegan version for £3.45," said Keith.
"Or you can have them in a light fish or vegan broth for £4.45.
"Then we've got loads of exciting dishes including a Chicken Katsu Curry Udon for £6.95 and a Chicken Paitan also for £6.95, which is sliced pieces of chicken thigh in a rich chicken soup with a poached egg that's cooked sous vide in its shell and cracked into the bowl.
"Then we have a big Beef Nikutama with caramelisd onions in a sweet smoky broth and an egg for £8.45.
"That's probably my favourite – it's really satisfying and the ingredients balance really well with the udon.Seeing the shell crack open and a cooked egg drop out is sensational.
"Then there's our range of tempura – deep fried in front of the customers.
"We offer loads of different pieces including prawn and chicken and it's great for people on a vegetarian or vegan diet because we have sweet potato, pumpkin, red pepper, asparagus and courgette."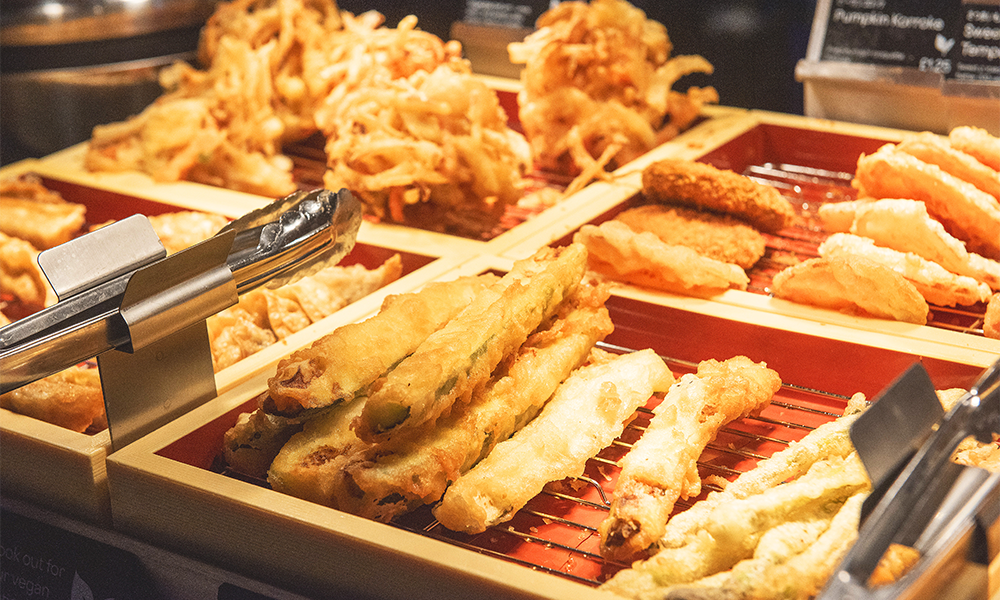 Tempura dishes range from 85p-£2.25, with customers able to serve themselves as they make their way to the till.
Keith said: "I've helped loads of amazing businesses in my career but the difference with this one is you have an offer that is for everyone.
"Udon is for the rich, the poor, the young and old – it's healthy, amazing value, and we have a team here that want to make your experience with us the very best it can be.
"This is one of Japan's super brands for a reason and to make it accessible to people here is really exciting.
"There was a survey in the country ranking all the top brands and Marugame came in at number 14 – one above the iPhone. 
"We chose to open in Canary Wharf for our third restaurant because it's a place where people work, but also where they live – and that's important for us.
"There's a solid population and a good Asian community as well and many know the brand already.
"Like any restaurant serving food from a particular country, you know it's going to be good if there are people of that nationality there.
"That makes a good foundation for us, but it's also about the people who will discover Marugame – Europeans who haven't been to Japan.
"The Wharf is fantastic, it's growing and ever-changing with housing going up on the estate and around it.
"We did this deal during the darkest times of Covid, but we believed that if you go to a great place that has always done well, with a great reputation and great shopping it will work.
"Workers are important, of course, but it's the resident population that's the key."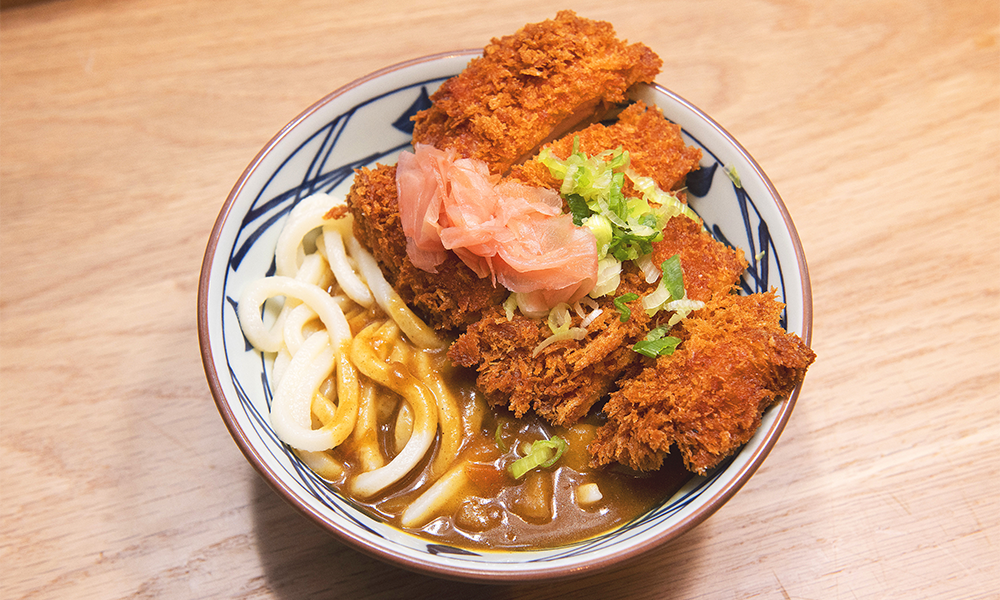 Visitors to Marugame can also rest assured the brand is doing its bit for the environment.
"In addition to beer filled from the bottom – which is great theatre, we have wine in cans which is better for the environment," said Keith. 
"We've got good green credentials. One of our key values is doing the right thing.
"All our packaging for takeaway and delivery is recyclable, so there's no plastic in there, and we're trying to minimise everything we possibly can.
"We practise the fundamentals of reduce, re-use, recycle – a simple but very effective message.
"You come in and there's a bowl that gets used and then re-washed, and will be used hundreds and hundreds of times, and that helps as well.
"It's important for our team as well, because they want to work for a place they believe in – the faith we put in them and they put in us, to do the right thing, keeps this journey going.
"We want to make Canary Wharf proud of us. We want to do something really special here and we think the brand can go in many other locations in the UK.
"It's on the money and we're delivering for customers."
Read more: Shutters opens its doors in Canary Wharf
Read e-editions of Wharf Life's print edition here
Subscribe to Wharf Life's weekly newsletter here