Founder Tescha Joy blended banana skins, spices and veganism to create a street food business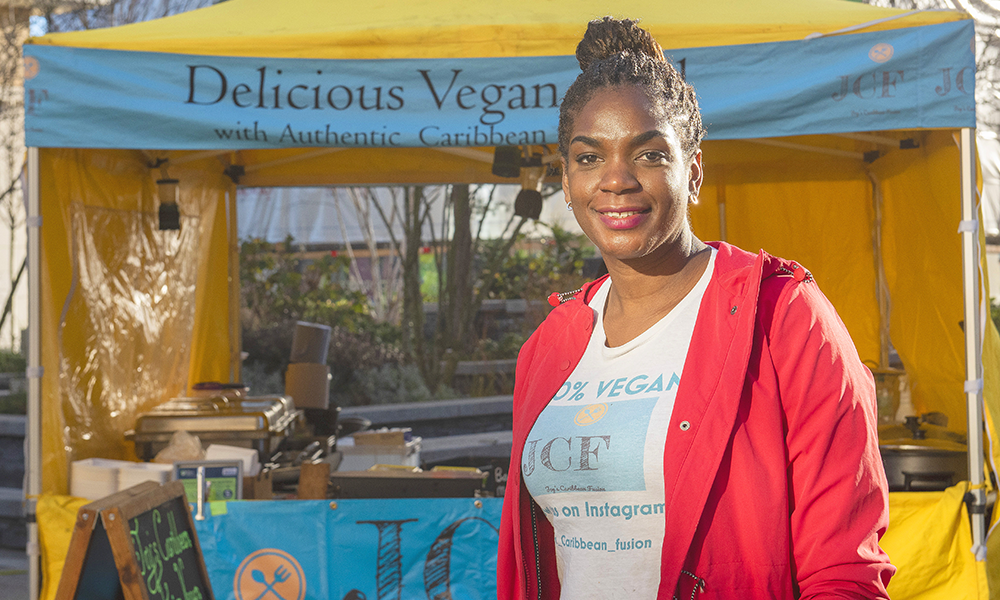 Subscribe to Wharf Life's weekly newsletter here
Taste and waste is what Tescha Joy is all about. Driven by a desire to create sustainable, eco-friendly, flavourful food, she created Joy's Caribbean Fusion – a street food brand that had its debut at Bexley's Wasteless Market two-and-a-half years ago.
Since then she's gone on to establish herself at RARE Farmers Market at Royal Arsenal Riverside and recently started a residency every Thursday from noon-8pm, at Pegler Square in Kidbrooke Village, just by the station.
 Her food is vegan and contains only plant-based ingredients, cooked with Caribbean spices to create dishes that attract longer queues at the markets she serves than stalls selling meat. And it all started with some banana skins.
Scroll down for Tescha's Banana Skin Curry recipe…
"I'm a public health nurse and work three days a week in the NHS," said Tescha.
"My first dish was banana skin curry – I was at work one day and everyone was throwing away their banana skins and I asked them to give them to me instead.
"I hate waste so I took those skins and created a dish with them. There's lots of iron, fibre and many other nutrients in them. The whole point of the dish was that I wanted to show people that you don't have to throw away certain ingredients.
"I showed you can create a nice meal from them and that's where I got the idea for the business – it's the dish I took to the Wasteless Market and it's the only recipe I'm happy to share because I want people to recreate it at home.
"I want to have it printed in this paper so readers can use it rather than throw away their banana skins. 
"We'd normally throw them away in the Caribbean too – people over there are amazed when I tell them.
"I'd decided to go vegan for environmental reasons – I think we eat too much meat in this country. I'm not anti-meat, but I think it's important to cut down.
"Climate change is important to me because I want a better future for my children – I want them to grow up in a world where we waste less food.
"I know what it's like to be hungry. The majority of people in this country don't know what that's like and we need to cut the amount of food we throw away.
"I'll literally make a dish from nothing – some potato peelings can be put in the oven with olive oil and you have some crisps."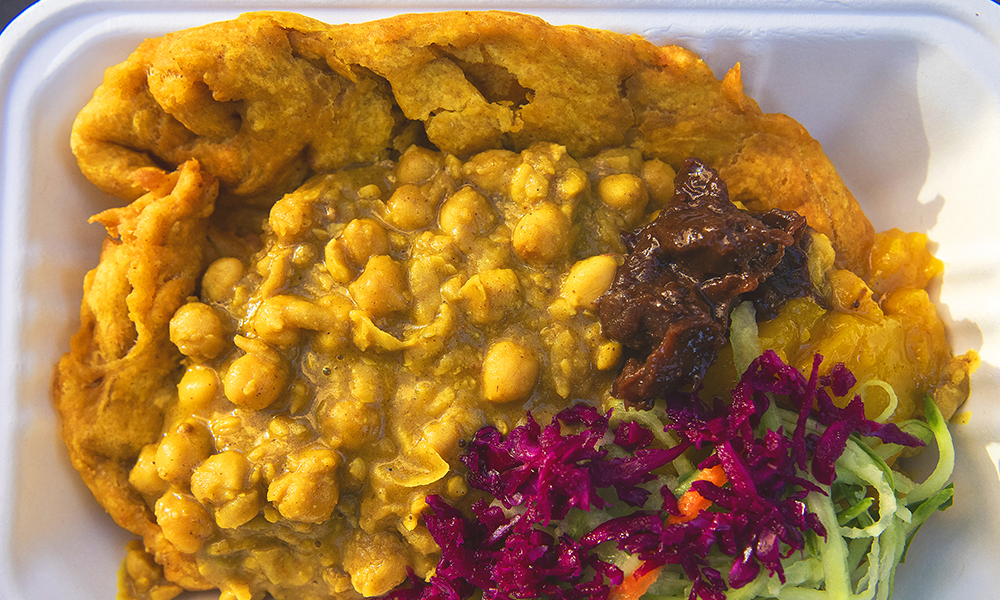 Tescha's banana skin curry remains a firm favourite on the menu at Joy's, joined by a host of core dishes intended to delight diners with both flavour and texture.
She said: "Cooking is also my passion and it's in my blood. My parents owned a restaurant in the Caribbean. I would have to just get changed after school and go and help whether I wanted to or not.
"My brother owns a restaurant in Catford and I have another brother who is in America and has a restaurant there.
"There's a long family tradition of cooking, but I'm the only one who does vegan.
"Normally you'd have jerk chicken and jerk pork – quite meaty dishes. I wanted to explore different types of food using Caribbean flavours.
"Also, I think it's good for my children to see that vegetables can be really tasty and it's better for the planet.
"On the classic menu, I have chickpea curry with flatbread – it's really naughty because it's deep fried – and that's served with mango chutney, which I make from scratch before every market, tamarind sauce and pickled onion, red cabbage and cucumber.
"In the Caribbean we call it doubles because you get two smaller breads, but I do it as one large one, just to be a bit different.
"We also do rice bowls with toppings of barbecue jerk mushroom, jerk tofu and cauliflower bites.
"My best seller is the combination bowl where you get a bit of everything including the chickpea curry and the flatbread. It all comes with the same toppings – the chutney and the pickles.
"Then we do specials such as vegan fish, which is made from jackfruit or banana blossom with plant-based marine ingredients to give it that fishy flavour.
"People can be a bit hesitant to try vegan dishes, but once they do, they usually come back and say they don't need the meat.
"I catered for a wedding in December and the bride told me some of the guests thought they'd need to go to the local burger shop after they'd eaten the food.
"But she called me back later and told me nobody had gone – they all were amazed at the texture of the dishes and the different flavours.
"I've built up a big following in the areas where I trade – at RARE in Woolwich I have a queue, which is longer than the meat queue and I think people are becoming more aware of veganism and meat-eaters are also cutting down and having plant-based food instead."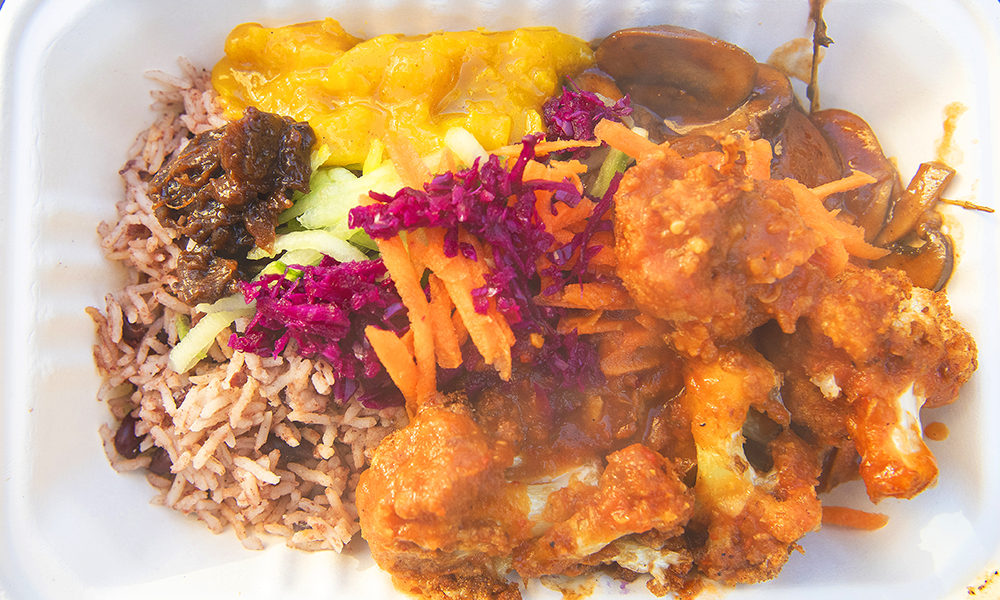 New dishes undergo strict quality control from Tescha's children who taste all of her dishes before they're allowed to make it onto the stall.
Her ambition is to keep growing the business to the point where it can operate more widely and be her sole focus.
"I'm still working as a nurse, which is something I've been doing for 20 years," she said. "I'd love to have Joy's in multiple locations, to train people up to run those stalls and serve the food.
"At the moment my goal is to get a van so the business can be more mobile.
"This really is my passion – it's something I want to develop. I now make and sell my own sauces too – called Island Drizzle.
"People kept coming and asking me for my recipes and my husband said: 'Don't tell them, just put it in a bottle'.
"It comes in medium, hot and extra hot. They're all vegan too and are quite different to a lot of sauces out there because you can use them as a marinade, a dressing and as a condiment.
"It's not the hottest sauce around because I'm more into the flavour than the heat – customers can come down and try it."
Cook it: Banana Skin Curry
While most of Tescha's recipes remain secret, she's happy to help people cut down on waste by sharing this one – perfect for using up that unwanted peel…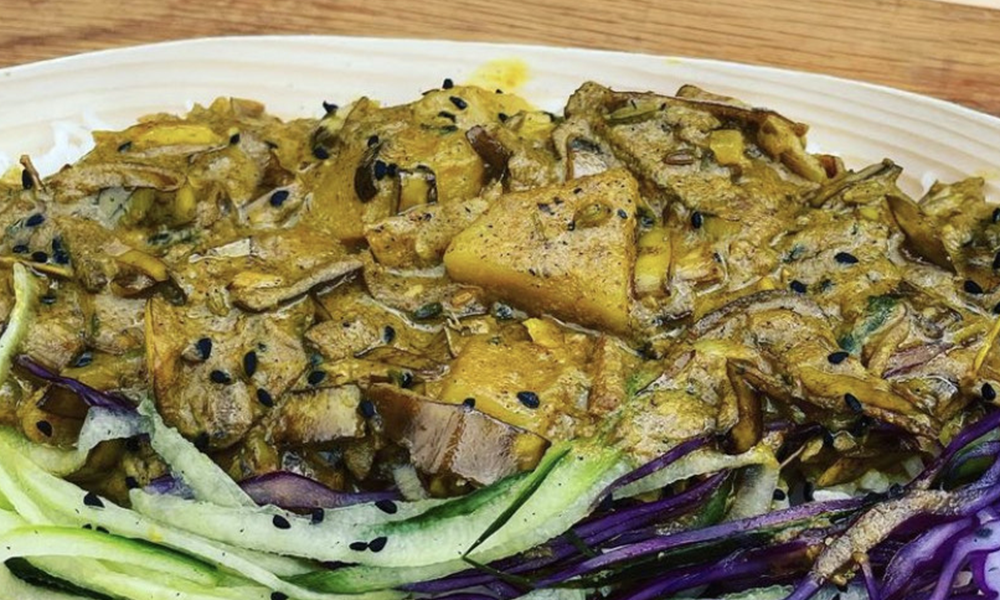 Ingredients (serves three-four)
4-5 large ripe banana skins
1 cup peeled, diced potato
3 tbsp lemon juice
1 tsp sea salt
1 tbsp curry powder
1 tsp turmeric
1/4 tsp fennel seeds
1/4 tsp cumin seed
2 cardamom pods
3 cloves garlic
1 tsp ground coriander
1/3 tsp chopped scotch bonnet
chilli pepper (optional)
3 tbsp vegetable oil
1 large onion finely (chopped)
1 tbsp fresh thyme (chopped)
1 tbs curry leaves (optional)
2 tbsp fresh coriander (chopped)
1 cup water
1/2 cup coconut milk
Method
Thoroughly wash the banana skins, remove the rigid woody end at the top and dark spot at the end.
Add lemon juice to the skins to stop them going dark while chopping (they will still be edible, even if this happens, so don't worry).
Use a spoon to scrape out the inner lining and discard the scrapings. Depending on your preference, finely or roughly chop the skins. Then add the diced potato to them and combine with salt, curry powder and turmeric.
In a pestle and mortar, place the fennel seeds, cumin seeds, cardamom pod, garlic, ground coriander and chilli. Grind into a paste. Add the paste to the banana skins and potatoes and mix in well. Add chilli here if preferred for a spicier dish.
Add the oil to a frying pan, heat and turn down. Add the chopped onion and stir until softened and then tip in the chopped banana skin mix. Increase the heat and sauté for 10 minutes.
Add the coconut milk, water, thyme, curry leaves and fresh coriander to the pan. Cover and leave to simmer for 15-20 minutes.
Add an extra 1/4 cup of water if you prefer a more moist curry. Remove from heat once the banana skins and potatoes are soft. Serve with rice of your choice, a flatbread or on a bed of salad.
Tescha Joy
Read more: Tom Carradine celebrates six years of Cockney sing-a-longs at Wilton's
Read e-editions of Wharf Life's print edition here
Subscribe to Wharf Life's weekly newsletter here